They penetrate through political fortifications. This stance, not through bribery but political blackmail of sorts. They call shorts on powers that be, of any country, for they are what is politically termed as king makers.
Lately, the Investigator scribes are wary of using the title `tycoon` whilst addressing issues to do with Kampala`s and or Uganda`s `public businessmen`. According to Investopedia, which we have elected to use as our yardstick, a tycoon is a prominent figure in a particular industry who, has amassed substantial wealth and power while building a business empire.
Tycoons are often identified in industries that have economic prominence. They have traditionally been associated with steel production, railroads, oil, and mining, but more modern tycoons have been closely associated with technology and Internet companies. The word tycoon is based on taikun, a Japanese term used to describe shoguns. Shoguns were hereditary military leaders who were technically appointed by the emperor. However, real power rested with the appointed shoguns themselves, than the emperors.
Going by the categories described above, one will easily notice that the most-sung Ugandan `tycoons` are actually the `emperors` of the real un-sung tycoons. The known proprietors to many massive assets are actually, proxies of the real owners. We needn't scratch the otherwise fresh sores left with whoever would swear upon the living God, that the Late Ibrahim Muwanga Kibirige aka BMK, owned all the properties to his name.

Ask any ordinary Ugandan about tycoons they know of and names of `public tycoons` like; Sudhir, Ham, Bitature, Mbiire, Kirumira, Kabuye, Ntaganda, Ssebalamu, Muwonge, Freeman and others, will easily pop up. A typical Ugandan can get provoked into fighting, if one tried convincing them that Alykhan Karmali, the heir to Amirali Karmali aka Mukwano, is wealthier than almost all the above-mentioned `tycoons` combined!
So, does Uganda have no known tycoons? The answer is, there are, but a few and yet, very subtle. Two months ago, we launched an investigation into who they are. Many Ugandans rightly believe in land as a yardstick for judging wealth. But we also go a little deeper into how that particular person acquired such land. Land can be stolen for long, but not for good. So, whoever acquire land dubiously is most likely a self-imposed caretaker of the same.
This serves as a Kiggulaluggi (opener) of our `know Your Tycoons` series. And we start with one who, to many, might even be their first time to hear and or read about. His name is Richard Munyaneza, a Ugandan tycoon of Rwandan origin. Munyaneza is a retired Captain of the UPDF Army. He is the same intake with the likes of Brig. James Mugira. Had he still been in service, he would be among the top known Generals. But he quit the army earlier enough. Enough not to be known by the public in those ranks.
His journey to wealth didn't come on a silver platter though. It started with the infamous Kisangani war between Rwanda and Uganda. Here, he got issues with the then Army Commander, Gen. James Kazini which led to his arrest. Investigations went on for long and he elected to desert the army. His, with Kazini seemed a personal, deep-seated beef. By deserting the army, he visited an arrest unto himself. He struggled with whatever case to his name, charged and later, given matching orders out of the army at that rank, of Captain.
Details of how, will keep flowing in the subsequent series. But he thereafter found his way into UN in Kenya. He rose into office ranks and attracted several high-profile connections worldwide. But, unlike many rich people with no prior focus on what industry they ought to pursue their riches, Munyaneza had real estate and security in mind. Even with the several would-be diversional connections, he kept focused.
He formed companies and joined others in his desired fields of investment. He is the CEO for Security Plus, a director at a global Clarks Insurance Brokers, and a CEO of Southgate Properties Limited, among others. Mr. Richard Munyaneza24710 is his registered trading name and number at Volza Crow Global Import, an automated data collecting engine. He topped the Ugandan importers in April this year.
He made four shipments and his top three property categories, via HSN Code 61034200000, HSN Code 61091000000 and HSN Code 62019200000 were imported from the United Kingdom. HSN stands for Harmonized System of Nomenclature and is used to classify goods in a systematic manner. It was developed by the World Customs Organization (WCO) and is considered the global standard when it comes to naming goods. Not any and every mediocre Ugandan businessman gets registered with VCGI.
A holder of an MBA in Finance and Accounting, and a BA in Economics, Munyaneza now has over 25 years' experience in Management and Financial services. His South Gate Company was incorporated in 2005 and has since become a gateway to a new lifestyle in Uganda by providing treasurable homes and a work-friendly environment while promoting eco-friendly developments. Though his main offices are in Bugoloobi along Luthuli Avenue, Munyaneza has several offices around town, region and across, save for Rwanda!
Like any other serious tycoons, Munyaneza is not into grabbing land but instead, embrace partnerships. Just like Agha Khan owns Mirembe Villas along with Buganda King, Ronald Muwenda Mutebi, Munyaneza owns Ssanga Courts in Nakasero, along similar royal lines. We are yet to establish whether Ssanga could indeed, be a short form of a name for the famous Princess. However, it sits on the land previously nestling Café Ballet, hitherto Buganda`s Nabagereka, Sylvia Nagginda`s restaurant and a Ballet Dance School.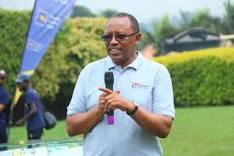 "Ssanga Courts is located in Kampala. Kabaka's Palace and Kasubi Tombs are local landmarks, and travelers looking to shop may want to visit The Acacia Mall and Metroplex Shopping Mall," is how they chose to summarize its introduction via their website, to potential clients, mainly visiting expatriates, business tourists and other international dignitaries. On the other side of town in Nsambya, he also caters for the `everybody`, or so, he says.
On August 2nd 2019, Richard Munyaneza unveiled another of his hitherto known apartments in Nsambya. Its trading under the name Dashen Heights. At Dashen, he said; "We are offering a 64 roomed apartment, with a maid`s room and utility area. [Our] target market is everybody. Nsambya is easily accessible and will be a nice residential place for the "happening age".
Indeed, cushioned in the eclectic Nsambya neighborhood, close to Nsambya Hospital, US Embassy and a stone's throw from the upscale Mestil Hotel, as well as Arena Mall, the currently said biggest mall in Uganda, Dashen Heights is a development by Munyaneza`s Southgate properties (U) Ltd, which offers proximity, affordability and comfort to the discerning home buyer. "It is conveniently located just 2km away from the Main Post Office in the heart of Kampala; offering a secure, well-lit living space that also boasts of an expanse of pavements to the pedestrian and car access to the apartments through tarmacked Ave Maria and Kevina roads. Dashen Heights is the new standard in comfort for homeowners."
Southgate also owns Heritage Apartments spread around Namugongo. But, hey, did we say this is an introductory (Kiggulaluggi) story? Yes, we did. We are introducing the unsung tycoons but mostly, their ways which are way separately from those we claim to be. Munyaneza have properties and businesses allover Kampala, Uganda, region and globally. But unlike other local tycoons whose arrivalism syndrome sends them into games like goat race and rallying, for real tycoons, when at such a stage, they aim higher beyond borders. They spread their influence wings into across borders` business.
They penetrate through political fortifications. This stance, not through bribery but political blackmail of sorts. They call shorts on powers that be, of any country, for they are what is politically termed as king makers. Munyaneza is not exceptional of fellow real tycoons. His financial muscle sometimes protrudes through the walls of Countries like Rwanda, Uganda and Congo where, he is deeply rooted through friends and relatives. To be continued…
Author Profile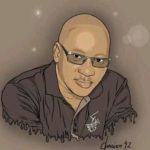 Stanley Ndawula is a two and a half decades' seasoned investigative journalist with a knack for serious crimes investigations and reporting. He's the Founding Editorial Director and CEO at The Investigator Publications (U) Limited