Kampala, Uganda: Police has launched a massive hunt for a one Balungi Maria, aged 40 years, a resident of Lungunja, Rubaga Division, a Kampala suburb in Kampala.
Balungi who has since disappeared is wanted in relation to the whereabouts of her husband Mutesasira Ronald who has been missing since he went to Arua Municipality for the By elections that was won by vibrant FDC opposition legislator Hon Kasaino Wadri.
Hundreds of FDC supporters including opposition Members of Parliament such as People Power Founder and Kyadondo East MP Robert Kyagulanyi aka Bobi Wine, Hon Francis Zaake (Mityana Municipality), Hon Assuman Basalirwa (Bugiri Municipality), and Hon Gerald Karuhanga (Ntungamo Municipality) were arrested and later charged with treason for stoning President Yoweri Museveni's car a day before the polls.

Balungi's husband, Mutesasira, a staunch Forum for Democratic Change (FDC) supporter and Mobiliser was present in Arua when the scuffle unfolded. The FDC Opposition politician Hon Kasaino Wadri was declared eventual winner in the tightly contested race that saw Hon Robert Kyagulanyi's driver Yasin Kawuuma shot dead by security operatives. "My husband has never surfaced ever since, he has gone missing. I am not sure whether he is dead or alive. After a while, I started getting anonymous calls asking me about his whereabouts," said Balungi. "It worsened when the callers started threatening to kill me if I don't reveal where my husband is," said Balungi who lives in terrible fear.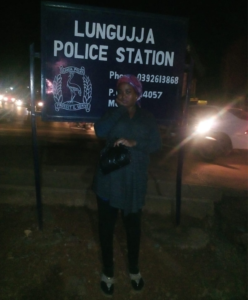 Kampala Metropolitan Police Commander told this news website that Police was just hunting for Balungi to help record statements regarding her missing husband. West Nile Regional Police Commander, Mr Christopher Barugahare, said they have preferred treason charge against Mutesasira.
"We are hunting for him (Mutesasira) because he was implicated in last year's fracas where the President's car was stoned," Mr Barugahare said, referring to the August 14, 2018 mayhem on the last day of campaigns for Arua Municipality parliamentary by-election.
The seat fell vacant following the brutal killing, three months earlier in Kawanda, Wakiso District, of then incumbent MP Ibrahim Abiriga alongside his brother-cum-guard. Abiriga was a self-confessing mascot of the ruling National Resistance Movement (NRM) party and campaigns to replace him erupted in violence on the last day after Forum for Democratic Change party's Kassiano Wadri, who stood on Independent ticket, looked destined for a landslide victory. He later won.
President Museveni was in Arua that fateful day to drum up last-minute support for NRM candidate Nusura Tiperu, who lost the vote and election petition she filed, and the presidential motorcade ran into Wadri's supporters, singing and chanting pro-Opposition slogans, retreated to the town centre from his final rally.
"My husband has never surfaced ever since, he has gone missing. I am not sure whether he is dead or alive". –Balunji Maria
State House and police said a vehicle carrying the President's luggage was pelted with stones by the Opposition supporters, and Special Forces Command soldiers launched a retributive brutal crackdown during which they arrested 36 people, among them MPs and journalists.