On Friday last week, the Investigator broke the now trending story of property mogul and renowned Oscar Industries CEO, Mohan Musisi Kiwanuka's family unrest arising from reported impasse between his wife Maria Kiwanuka and son Jordan Ssebuliba over his property. In the story titled 'Maria's Dirty Linen': Unbearable agony as X-Minister Maria Kiwanuka uses Husband's vegetative state to swindle family property', it was reported that actually, Kiwanuka's wife Maria was taking advantage of her husband's dementia ailment to have him sign documents ranging from selling several of his property to evicting his old children and their mother Beatrice Kavuma from their work and residential premises. Through a family friend, Mr. Kiwanuka on Tuesday invited the Investigator CEO Stanley Ndawula to his Kololo home for an exclusive interview and below, are the excerpts.
Time check is 9:38am when the gates to the palatial home at Plot 15, Prince Charles Drive Kololo Hill, opens for our entry. In the compound, two other guests appear from their moderate cars to join us (me and my colleague George). One is familiar. He's Eagle Online boss Richard Wanambwa. We later learn both are close family friends. In the living room, a popular face of a lady elegantly dressed in a maroon linen suit with a true morning smile emerges from the inner corridors. Upon pleasantries, she announces that "The Chairman (Mohan Kiwanuka as addressed by all in the house), would join us shortly," The lady is tycoon Mohan Musisi Kiwanuka's wife, Maria Nabasirye Kiwana Kiwanuka.
Indeed, in a minute, the average size, tall, dark-skinned and cheery human structure of tycoon Mohan Kiwanuka gently walks in. Dressed in a brown pair of trousers and unbuttoned jacket calmly lying on a cream shirt smartly tacked into a well-pressed pair of slacks, he stretches out his hand to greet each of us; "I'm Mohan, you're all most welcome. Please take your seats," he permits. Cross-legged with both hands resting on his laps, he calmly beckons one of the two visitors to proceed.

The reason for this meeting is for the Investigator website to get the other side of Mohan's story right from the horse's mouth, the visitor (names withheld on request) announces before he asks me to take the floor. "It is in regard to the story of your family unrest Mr. Kiwanuka. In just about three years, you're reportedly putting almost all your property on market. Why this abrupt?" I shoot my first question.
The story
The visibly calm, well composed Mohan clears his voice, sits up in his leather couch and points towards us, swinging his finger sideways, "The problem starts from that chair. That's where Jordan rests in his free time when he's here. We look at that position as his in this house. He is the author of the said unrest in my family," he says, carefully picking his words and checking his tone, then he pauses…
"You see, when you retire home with Shs50, it is not the same amount you have in the morning. It is of course less, so I never keep money, neither do I bank it. I keep all my money in land. The population increase but land stays. The more people increase, the more land gains value. When I need liquid money, I point nowhere but my land… that's where I get money to do other things that require cash."
The visitor interjects, trying to show the need for money to settle the several debts at hand…, but I don't let him as I signal Mohan to tell his own story… "Of course, sure, as any other serious businessman, I have debts and I use money from land to clear them. All my life time, I have been paying my debts using money from my properties and even Jordan knows it because he has signed on some sale agreements before when he was still a signatory," he stops, his lightly squeezed eyes roaming through us, probably to see his message sinking in as he waits for another shoot.
"But Jordan is representing his siblings and their mother Beatrice whom you also want to throw out of the marital home! Don't you have other assets to sell than hers?" He looks at me as if reading his answer from my forehead… "Mr. Ndawula, first, you have misplaced the word 'marital home' because I haven't stayed with Beatrice for over 35 years. I am officially married to one wife (swings his left hand in the same direction) here, Maria Kiwanuka."
He further says that actually, upon his mother's death recently, he advised Beatrice to use his fallen mother's house in Kamwokya and let out hers in Kololo, for her upkeep. "I had someone who wanted to give her USD5, 000 per month and my advice was simple. 'Now that you're aging, you need not to hustle,' but the only answer from her was; 'who sleeps in Kamwokya." He totally dismisses the eviction allegation.
Going back to Jordan, the visibly irritated Mohan shakes his head in disbelief. "Actually, the whole thing is about Jordan himself. He represents nobody in the tricks of grabbing my property. I know and surely trust that his siblings will one day realize the truth that he's doing everything for personal and selfish gains…" he turns to the newest comer and personal lawyer, Faisal Mukasa with directives; "please share my letter to Jordan with Mr. Ndawula. He will then understand me better on this."
"But why push Jordan so hard to the extent of pouring hips of sand at his work premises' entrance?" Sliding back in his seat, he shakes his head again, intensely disgusted. "What would you do? First, he has occupied that property for four years without my permission. I had personally asked him as a father, out of those premises on several occasions but with little success until when I handed the matter to my lawyers. Before that, he was forcefully occupying another property on Plot 11 Ngabo road [in Kololo]. He only left when I sold it off."
"When was the climax that made you fire him as Company Secretary to Visa Investments, coupled with the desire to throw him out of your properties"? He pulls up, rests his elbows onto his knees as he leans forward with both hands free to swing in motion. "Jordan has occupied the property where his 'seven trees' is for ten years without remitting any monies. I asked him to leave some years ago but he stubbornly refused until recently when he humiliated me." He closes his eyes, lightly shaking his head in disbelief-like thought of what had happened.
I turn to the nameless visitor who narrates thus; "Recently, the retired Chief Justice Wako Wambuzi had a function and had several months back, booked the venue. Chairman had notified Jordan on time and instructed him not to book in any event on that day. To his surprise, in the middle of Justice Wambuzi's speech, loud music abruptly disrupted him. Jordan had booked in a wedding on the same day."
"I have gone through a lot with Jordan. He has so far put caveats on over 50 of my properties. It all started when I asked him to leave the two assets which have not yielded any income for the last 10 years. That's when he declared me lunatic, mad and vegetable. I am not in a vegetative state as you can see. I can still respond to my senses and command my feelings. He has dragged me to court over several allegations. He at one time dared me to sell off my factory and clear debts! How then can he purport to be fighting to save the same?"
Though she kept steadily firm in her seat, attentively listening like a stranger to her husband's narrations, Maria Nabasirye Kiwana Kiwanuka remains a power to reckon on in her family. Even when he was telling his own story, Mohan would occasionally steal a glance at her, in a gesture to confirm he was still on the right truck of what exactly was the question… and at all times, she would firmly nod in strong approval of his command of the story.
"You've been quiet all this time yet out there, it's you commanding your husband to do all what he does against your step children"? She wears her signature cheerful smile, composes self in a true gesture of an African woman speaking after her husband. "It also surprises me that the son I have brought up with all requisites of a good child can smear me before the public. The good thing is you have listened to the Chairman for close to an hour and he has personally responded to you without a single guidance from me. Another thing is he has a string of lawyers and legal advisors. I am not one of them."
"Well, Mr. Kiwanuka, is it true you have been diagnosed with Alzheimer's and how, if yes, has it affected you?" he pauses, clears his voice but before he speaks, Maria sets in; "Actually that question is…" (Mohan interjects), "Of course, sure, it is a sensitive question. However, any sane person above 45 years make regular medical tests. The results, whether positive or negative, doesn't mean one is a vegetable already."
"Mr. Chairman, we also have it that you're eventually disowning your children?" In almost a dying tone of a whisper to himself, he answers. "Of course, sure. That one… Jordan Ssebuliba is not my biological son. Beatrice was my girlfriend but along the way, she fell in love with her boss of the time and Jordan is the product of that affair. Her other children are mine."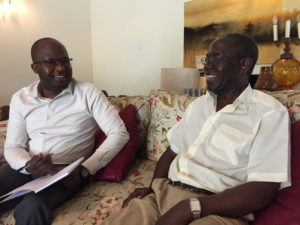 Asked whether Jordan was aware and when he made it known to him, Mohan simply replies thus; "When he was of age. He knows it. It's unfortunate he is treating me like this but he knows it. He is not alone, I have other kids I have brought up like my own. It is sad…," He leans back, in justifiably a retiring posture, signaling the end of the interview.
Maria now checks her wrist watch and reminds the husband of a certain meeting. "Gentlemen, I think I will see you off. I have another meeting at the factory. Mr. Mukasa should provide you with all necessary documents save for those that might affect the legal proceedings in court."
The couple walked us into the parking lot but before they jump into respective rides for their next destination, Maria stops, looks at me for a second, smiles and announces; "Mr. Investigator, that's the lot of dirt in my closet. True description of my dirty linen indeed. As you have seen, I'm actually not offended…" to be continued…
Below is Mohan's verbatim letter to Jordan
17th June 2019
Mr. Jordan Sebuliba Kiwanuka
Kololo – Kampala
My Son
DEMAND FOR VACANT POSSESSION FRV FOLIO 20 PLOT 21-29 GOLF COURSE ROAD, KOLOLO AND PLOT 10 AKII BUA AVENUE NAKASERO.
I have been forced to pen this missive to you to make you understand my reasons behind the position I have taken with regard to my above properties among others.
You should know me well enough by now to understand that under any other circumstances, I would not have to explain my reasons to you or anybody else for that matter.
The reasons I am doing this is because you decided to blow my decision to take back my properties out of proportion and to portray me amongst your siblings and other relatives as being inconsiderate and unreasonable, which is not true.
You will recall that you moved into the above properties without my knowledge and or permission, which no other sibling of yours has ever done. You occupied those properties for the last ten (10) years on commercial basis generating money therefrom without any accountability and without paying rent.
You knew from the beginning that I acquired those properties as commercial investments and not charity. On several occasions, I have verbally asked you in a parental manner to make arrangements to return the properties back to me for proper management but you turned a deaf hear.
It is therefore not true that the notice from my lawyers came unexpectedly or was a surprise. You knew I needed you out of these properties many years back.
I was taken aback recently when you dared to suggest to my face that I should close up and sell my factory! Jordan, I was greatly disappointed and hurt. You cannot fathom where I have come from to achieve whatever I have achieved and for you, you have the audacity to dare to suggest that I should sell my factory because in your view, I can no longer manage to run it, was an insult to say the least.
In light of your ill-advised actions, I have come to learn how you have been trying to influence my staff behind my back to stop them from working on Saturdays and how you deducted payments from the security staff without you declaring it. This is a direct interference with my workers and intermeddling in my work which I cannot continue to tolerate.
After your ill-fated advice or directive for the sale of my factory, you instigated people who claimed to be KCCA enforcements people to come to the factory on or about the 21st May 2019 and threatened to close the factory for unpaid dues. Fortunately I had previously given a payment schedule to KCCA which they had accepted but their response was received at your office and [you] never forwarded to me.
There are a number of other unpleasant incidents I could mention but I hope the above gives you a sense of my feelings and the reasons behind my decision.
I gave you the best education and upbringing just like all your siblings. In return, I have not seen any particular moment where you have shown care for me, your father but only insatiable desire to grab whatever you can lay your hands on.
Lastly, I want you and your siblings to know that I made my investments on my own business instincts which most people could not appreciate at the time but turned out as well as I had anticipated. I now need those properties and it will be decent of you to hand them back to me without the embarrassment of resorting to auctioneers or any other forceful methods for that matter. By copy of this letter, my lawyers are hereby instructed to follow through my instructions to the letter.
Your Dad [signature] … Cc M/s Buwule & Mayiga Advocates.
Author Profile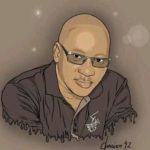 Stanley Ndawula is a two and a half decades' seasoned investigative journalist with a knack for serious crimes investigations and reporting. He's the Founding Editorial Director and CEO at The Investigator Publications (U) Limited