After failing to censure Finance Minister Matia Kasaija for reportedly signing a dubious UGX720Bn Entebbe Airport Upgrade contract with the Chinese, COSASE Chairman and Nakawa West MP, Joel Ssenyonyi resorted to the renowned politicians' tricks of playing to the gallery.
Ssenyonyi took to his Facebook account on Monday and whined about how the president has failed to fire Kasaija yet the minister had 'conceded' to signing a bad deal for Uganda. For starters, previous serious parliaments and or parliamentarians never went before the public to lament about such public officials. They would censure such ministers they deemed culprits of office abuse and, many were pressurised into resigning and, or being relived of their duties by the appointing authority, just to save them the embarrassment.
To be specific, the Sixth Parliament on March 4th 1999, censured President Museveni`s then powerful state minister for Finance/Investment and in-law, Sam Kuteesa for alleged misuse of office and influence-peddling. One hundred fifty-two MPs voted for his censure, while ninety four supported him. Two hundred forty-seven of the 276 MPs, voted amidst a charged debate in full view of the fully-packed public gallery.

In 2017, the same Kuteesa narrowly survived a censure over allegations of reportedly taking a UGX1.8Bn bribe while serving as President for United Nations General Assembly (UNGA). "Now we must recall that shortly before Honorable Sam Kuteesa's appointment or election to the presidency of United Nations, a number of us were here opposed to that appointment. One of the things we mentioned was that this man is so incredible; he is so wrong, so grossly wrong that he may even sell chairs of the United Nations. And people thought we were joking and now time has come to vindicate him. Time is the best judge. Listen to what he did", Gerald Karuhanga, who led the attempted censure motion alleged on the floor of Parliament.
Kuteesa only survived after President Museveni`s facilitated investigations that exonerated him to the satisfaction of Parliament. Kuteesa elected to forgive Karuhanga and buried the hatchet for good. An equally strong Bush-war General, Jim Katugugu Muhwezi was too, successfully censured along with Sam Kuteesa in 1999. Then State Minister for Primary Education, Muhwezi was accused of mismanaging Universial Primary Education (UPE) Program.
Furthermore, past serious Parliaments have forced several ministers into packing via resignations. This posture, at the verge of their imminent censure just in case they had chosen to cling on. These include Kabakumba Matsiko, Kidhu Makubuya, Syda Bumba, Kirunda Kivejinja (RIEP), and Mathew Rukikaire respectively. All the above successful censures and resignations occurred at a time when, President Museveni was full of energy, power, ego and incomparable authority but he never raised a figure against Parliament` decisions.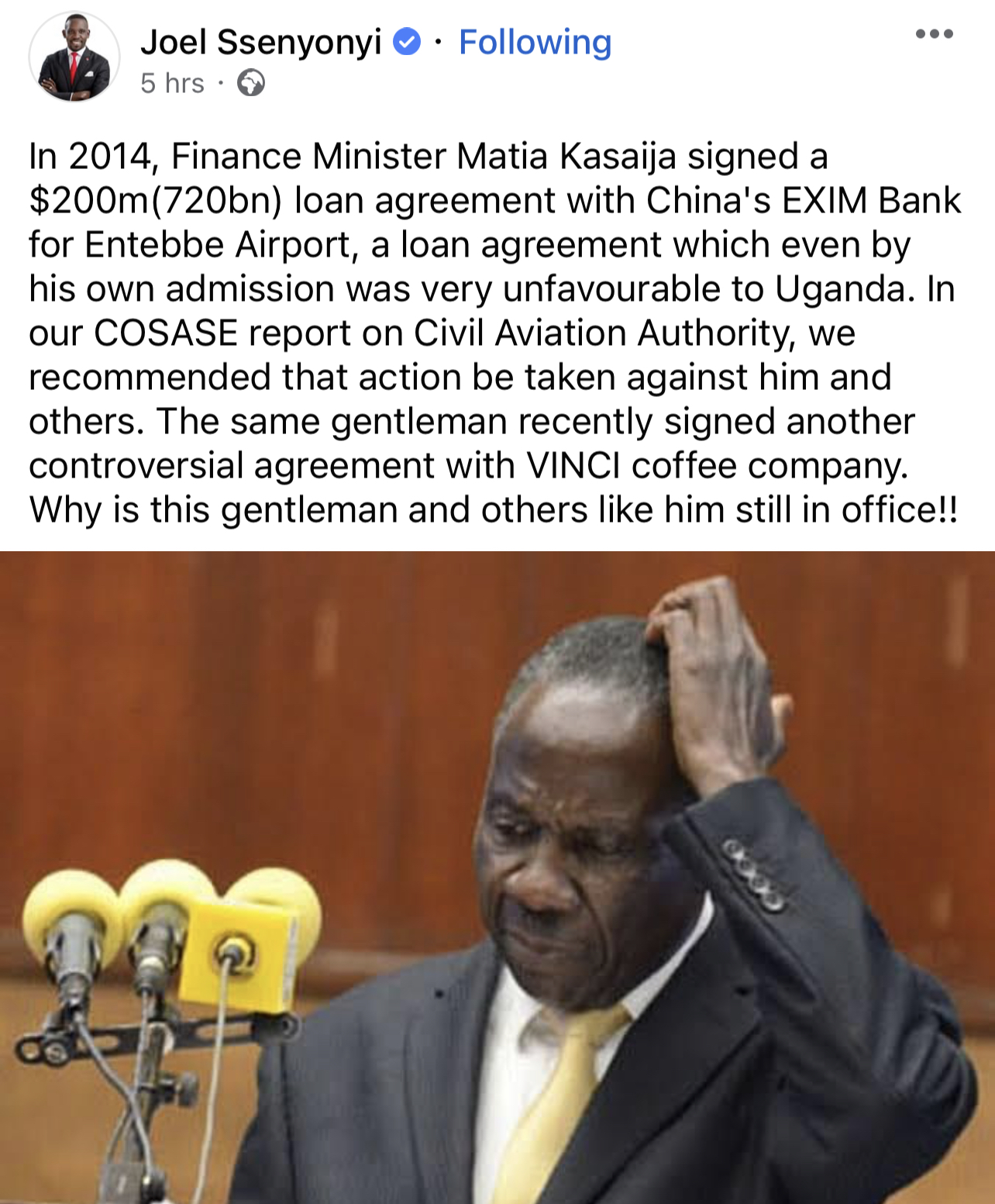 It is important to note, that not a single Parliamentary procedure in connection with censure motions has ever been lifted and, or scrapped. However, today`s parliamentarians have not only turned social media into their gallery, but also moved extra inches to making the court of public opinion into their `court of appeal`. And we believe it's this misconception that is making Ssenyonyi whining how Cosase recommended the sacking of Kasaija, but Museveni never carried out their wish. He says instead of firing Kasaija, Museveni retained him even after signing another bad Coffee deal with Italian woman, Enrica Pinetti.
If Museveni is unwilling to fire his gaffing ministers, Ssenyonyi, just like his predecessors, should be lobbying colleagues to enforce the law forcing the president to do so, other whining about it over social media. What Ssenyonyi doesn't want the ordinary Ugandans to know, and which we are privileged to let you aware, is the fact that a big, fat bribe was dangled to COSASE MPs which, sharply divided the members.
Rife talk freely snaking through parliament corridors, we impeccably gathered, is that the bribe was picked by one of the senior committee members, reportedly from Civil Aviation Authority agents, on behalf of the others. The MP, who had convinced colleagues that he was the only best suited to pick the dimes, shared the bribe with some committee members, leaving out others whom he deemed incorruptible or hard to easily convince, hence deviding them in the process.
We can authoritatively aver that those who didn't partake of the bribe, ended up 'cutting wires' and recommended the firing of Kasaija. Yet those, who did pocket the inducement kept stammering over the matter throughout the procedures, not mentioning those who elected to be `dumb` all through. This is how the compromised legislators ended up writing a lukewarm report which doesn't make a good case for Kasaija's firing. If today`s COSASE members and other parliamentarians are innocent of the synonymous bribery allegations, we counsel them to emulate the past parliaments on ministers like Kasaija.
Lest we forget:
Recently while addressing members upon his appointment as COSASE Chairperson, Ssenyonyi decried public concerns about bribery amongst accountability committees, mainly COSASE. He called upon fellow members to restrain from soliciting bribes. Ssenyonyi said that there have been concerns about accountability committees including COSASE; "engaging in corruption tendencies, with members courting or lobbying the different entities they are supposed to supervise."
He said several members of Parliament were fighting to be included on Cosase, forcing him to find out the basis of their interest. His findings were that the lobbying had nothing to do with their role as legislators but other targets, bribery on the forefront. He called on members to remain independent, reject bribes and work with integrity if their work is to progress. On whether he is himself practicing what he preaches and or labour to remind fellow members of the same, is a conundrum the public will solve by itself.
Author Profile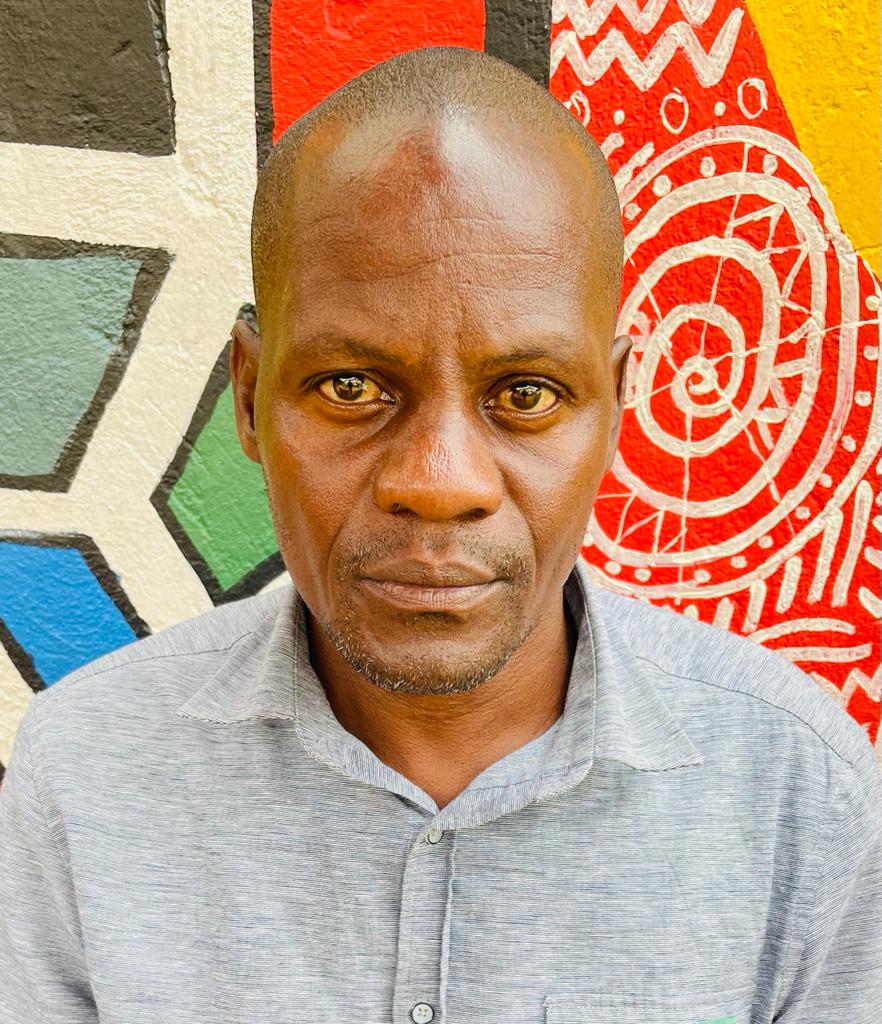 Mr. Stephen Kasozi Muwambi is a seasoned crime investigative writer, majoring in judicial-based stories. His two decades' experience as a senior investigative journalist has made him one of the best to reckon on in Uganda. He can also be reached via [email protected]