STATE HOUSE Kampala, Uganda:The President and Commander in Chief of the Armed forces in Uganda, Yoweri Kaguta Museveni has finally ordered for the arrest of the renowned criminal elements cum Police officers/operatives whose notorious torture pranks have left the Uganda Police Force a laughing stock and a shameful institution with no formal structural operations.
The positive, surprising gesture seem to exonerate the First Citizen who's guidance on police operations issued yesterday, attracted mixed feelings with sections of society claiming, he was hoodwinking the public. The president had earlier dismissed claims by suspects in the AIGP Andrew Felix Kaweesi murder who told court they were badly tortured for confessions. He said they deserved it because they also 'murdered' people.
Sensing the president was taking the matter lightly, and police had successfully dismissed the claims as pure 'false news' spread by negative journalists, we went down to work. And on May 10th2017, we returned with a huge harvest.Kaboom! "State of Horror as Brutally Tortured Kamwenge Mayor is Discovered Rotting in Nakasero Hospital," was the story we broke in these lines with pictorial evidence.

The Mayor, Geoffrey Byamukama, is an ardent President Museveni and his ruling NRM supporter. On seeing his friend's nasty photos of a rotting body, the president went down to pen the 'guidance' to security organs, discouraging them from further torturing of witnesses in search for confessions. He rightly guided that a professional detective can implicate a suspect without the latter's confession.
"Therefore, the use of torture is unnecessary and wrong and must not be used again if it was being used as I see some groups claiming in the media." He continued thus; "Number one, you may torture the wrong person… This is very unfair. Secondly, somebody may admit guilt when he is innocent in order to be spared being tortured." This will make the real criminal escape in order to commit more crimes later. Thirdly, confessions by the criminals are not necessary. Even if the suspects do not admit their guilt, if the investigators do their work well (finger-prints, photo-graphs, DNA tests, eye-witnesses, the use of other scientific methods, the use of dogs etc.), the criminals can get convicted.
The Story:
After his above letter which he ordered his lieutenants to also leak to the media, he advanced to direct the Police's Crime Intelligence boss, Col. Atwooki Ndahura and the Chieftaincy of Military Intelligence (CMI) to hunt down the culprits in the Byamukama torture and have them arrested for attempting to murder his supporter. The executive directive was not through the IGP Gen. Kale Kayihura probably because he happens to be the godfather of the gang some of whose members, he introduced to the president as the most potential 'officers' to drag to book, Kaweesi killers.
Theinvestigatorhas persistently paraded the same group of operatives as criminals at large, some with sanctioned murder files against their names. The suspects include ASP Fred Tumuhiirwe, Sgt. Abel Tumukunde, ASP Patrick Muramira, and the dreaded operatives Moses Kasiba, Hajji Abdu Ssemuju aka Minaana and Seemu Kawooya. Surprisingly missing on the list is their commandant SSP Nickson Agasirwe.
The entire group members have since yesterday switched off their known phone numbers for fear of being arrested before they meet their top boss and godfather, the Inspector General of Police (IGP) Gen. Edward Kale Kayihura with whom, they placed an appointment tonight.
"Owaaye, tukyali mu cover nga bwetulinda okulaba IGP leero ekiro nga tebanaturyawo," Muramira is reported to have told a close pal in Luganda, literally meaning; "My friend, we are still in hiding as we await our appointment with IGP tonight before they get rid of us."
It is reported that on the day Byamukama was picked from his friend's office at Ministry of Lands, Fred Tumuhiirwe, and Ronnie Byenkya dragged him to the waiting van where, Muramira, Tumukunde, Minaana and Seemu were waiting to treat him to their dreaded vice – torture. "They hit me with different hard objects and said to save my life, I should confess to Kaweesi killing at the orders of Gen. Tumukunde," Byamukama told our pries from his Nakasero Hospital bed last week. The rest is history.
Asked about the development last evening, Police Spokesman AIGP Asan Kasingye said he wasn't aware of the presidential directive. But he hastily added; "Only I saw is his (President) letter which was very clear. But even without his directive, it is obvious there's a case and the Director CIID has opened a General Enquiries File (GEF) over the same."
Pressed on the fact that police dearly needs a clean-up, Kasingye concurred thus; "True. The institution of the police is too important to be allowed to be abused by a few self-centered individuals. People come and go, but the institution that is created by art. 210 and 211 of the Construction must be protected against unlawful actions of individuals."
He added; "I agree the IGP must clean the police. And he has been doing it. Although some of those incompetent ones are being defended by some people that they are on katebe. In fact, I think we must bite more. The UPDF is good at this. They isolate the errant ones and expose them. I think we must too. The police Act and standing orders especially the latter must change. The SO we're last reviewed in 1984. Trying officers must be so open like in court martial. By doing this, the public see that justice is not only done but also the sanctity of the institution is protected," concluded Kasingye.
Kasingye said it is time to tell the truth. "I want to leave behind a clean legacy. Every day I make mistakes and whenever I am made to know them and I realize I real did a mistake, I own it up and apologize." Kasingye's statements contravenes those he made when he said there's no torture in police cells. It is however, never too late to change one's mind in a positive direction.
The criminal gang Members' atrocities:
In these lines lies several stories about the gang members' involvement in murder, robbery and torture cases. Nixon and Hajji Abdu Ssemuju aka Minaana are the Gen. Kale Kayihura's blue-eyed criminals-cum-'reformed' civilians-cum-operatives whom he has, repeatedly paraded to help himcleanthe Uganda Peoples' Police Force. That the Gen. also presented them to the President as the angels to help in apprehending Kaweesi killers remains an ugly, black spot on his uniform.
Minaana has a sanctioned murder file following his direct involvement in the fatal robbery of a forex bureau at Arua Park some four years ago, a robbery along Hoima road where he reportedly stole a lorry truck, and robbery of cash from Chinese investors along Entebbe road in 2014 among others. His accomplices Dog, Kasiita and Ssekajja were implicated and incarcerated as he was recruited by police as an 'informer.' He has since risen to the 'rank' of those who directly briefs both the IGP and the President.
Recently, Byenkya, Muramira, Tumuhiirwe and Kasiba were sent to Kenya to cause another arrest of one of the Kaweesi murder suspects. In the main photo is Kasiba on the plane to Kenya. They reportedly blew a Shs80M budget. What they extracted from the 'suspect' remains a story of another day since this writer is gagged by a court order from reporting about Kaweesi murder investigations.
Other members are implicated in murder, robbery and torture cases at hitherto Kireka based Rapid Response Unit, under the command of Nickson Agasirwe. Please read;CIP Records P.II: Unveiling Nixon, the Murder and Torture Prime Suspect Gen. Kayihura has entrusted with Ugandans' [In]Security.Watch this space for more CIP Records' series.
Author Profile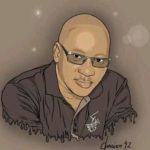 Stanley Ndawula is a two and a half decades' seasoned investigative journalist with a knack for serious crimes investigations and reporting. He's the Founding Editorial Director and CEO at The Investigator Publications (U) Limited