KAMPALA, Uganda: Yvonne Nhinga Ntobizodwa aka Yvonne Chaka Chaka jetted into the country on Monday. She was scheduled to perform at the Buganda Kingdom's organized end of year annual event popularly known as Enkuuka ya CBS. But this was cancelled at the eleventh hour.
In an audio press release this evening, Police Chief Mouthpiece Fred Enanga said Chaka Chaka had been "escorted" by security to the Entebbe International Airport from where, she left the country abord Rwanda Air at exactly 4:15Pm.
He gives the reasons for her deportation as irregularities in her Visa. Whereas Chaka Chaka's visa indicated she was in the country as a visitor, it was established she was destined for a commercial activity, a thing that violates the immigration laws.

"This to inform the public that the security task force in conjunction with immigration officials today escorted Ms. Mhinga Ntobizodwa Yvonne aka Yvonne Chaka Chaka to Entebbe International Airport where had an immediate flight to South Africa via Kigali," said Enanga.
Enanga added that the foreign musician had initially been granted an ordinary visa but it was cancelled by immigration officials after it was realized that she had come as a performing artist at one of the New Year's events.
"She was advised along with her promoters to apply for a working visa to perform a working visa for her music performance and avoid the pretense of being an ordinary visitor which cannot enable her to perform in any income generating activities within the country." He said this was done to help maintain the integrity of the immigration rules for all visitors in the country.
Author Profile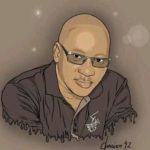 Stanley Ndawula is a two and a half decades' seasoned investigative journalist with a knack for serious crimes investigations and reporting. He's the Founding Editorial Director and CEO at The Investigator Publications (U) Limited