It's been a long journey. The day was 12th March 2013 when, the Mighty Investigator penetrated through the internet fibers to launch the first-ever fully fledged, unlimited online news publication.
Those were days when, conventional newspapers` online sections` accessibility was strictly via subscription. But The Investigator came in with unlimited access to hard-hitting, well investigated, researched and deeply informative pieces. Only what the reader needed was, and still is, internet data on their gadgets.
To us, a good story is not the one where we attract a long spell of applause, but that piece which entices mixed feelings. The former is always what everyone expects but with a unique or more appealing presentation. Yet the latter, is a well fact-packed piece, a great read but full of pain, phrenzy and yet, the bitter truth. Call it sweet pain, both to the reader and the news maker under appraisal. This normally attracts a standing ovation upon settling in.

And that is the expression we attracted upon introduction of the hitherto popular CIP Records on March 20th2017. This was two days and a few hours after the fatal shooting down, of the then Uganda Police Force Mouthpiece, Andrew Felix Kaweesi, on the morning of 17th March 2017. This happened in a distance of just 100 meters from his home in Kulambiro where, he had just left to go for work.
At his vigil on 19th, President Museveni deeply expressed his discontent in the Police Force, describing it as the burrow of criminals. "Police is infiltrated with criminals. Kayihura, you need to clean your force of criminals," the Commander in Chief of the Armed Forces had exclaimed. In our editorial meeting the following morning, we snubbed taking the President`s speech as a report to our readers. We elected to instead point out for him, the source of criminality in the Gen. Edward Kale Kayihura-led Police Force.
"Mr. President, here are Details Why Gen Kale Kayihura cannot Clean a Force He Himself Helped to Soil [with criminality]," shouted our maiden CIP Records story. For starters, CIP Records stands for; Crime Infiltrated Police Records. In the said editorial meeting, Yours Truly also vowed to leave no stone unturned in reporting about Kaweesi murder. This stance, to amazement of my collogues. Why?
Until then, I had spent close to two years moving about in a zig-zag style. This mode, in avoidance of wrong elements who kept me in check on a 24/7 trail, of course for ill motives. These hitmen were Kaweesi`s agents. "Why do you want to kill me," I had once asked him in a three-man meeting at Sheraton. The meeting had been, of course against my will, convened by mine and Kaweesi`s mutual friend, Frank Gashumba. To this question, he simply held my eyes with his, visibly grinding his teeth.
He held a long gaze and, in this silent moment, the unsaid words seemed to be; `How I wish I could do it right now`. Well, the meeting ended prematurely, obviously at the great distress of our host. Like his boss General Kale Kayihura, my hitherto `unshakeable` relations with the duo had turned sour and deteriorated to this level. This was courtesy of my questioning their continued stay in a comfy space as murders of prominent people freely whistled away. This situation, without a single sign of them willing to find solutions. To the contrary, they would even frustrate the little that were being done by the ill-facilitated Detectives.
Standing out in my charge was the `murder most foul` of businessman Wilberforce Wamala. The hitherto Kikuubo entrepreneur had been slaughtered like a goat, alongside his shamba boy at their home of Mutungo. The investigations had revealed enough positive clues that even a detective on probation would close it in no time. But alas! Every effort by the officers were frustrated at all levels. It ended with the killing in the police cells, of the prime suspect who had been sought and delivered with the help of the complainant and widow to the deceased, Elizabeth Wamala.
Guess what? Kaweesi, who detectives had pinned as one who took the scene of crime photos from them before they went missing for good, was trying to place Elizabeth in the driving seat of the prime suspect in her husband`s murder! My fall-out with Gen. Kayihura was a result of my insistence for him to get Kaweesi accountable. For starters, that was the genesis of my troubles with the two men.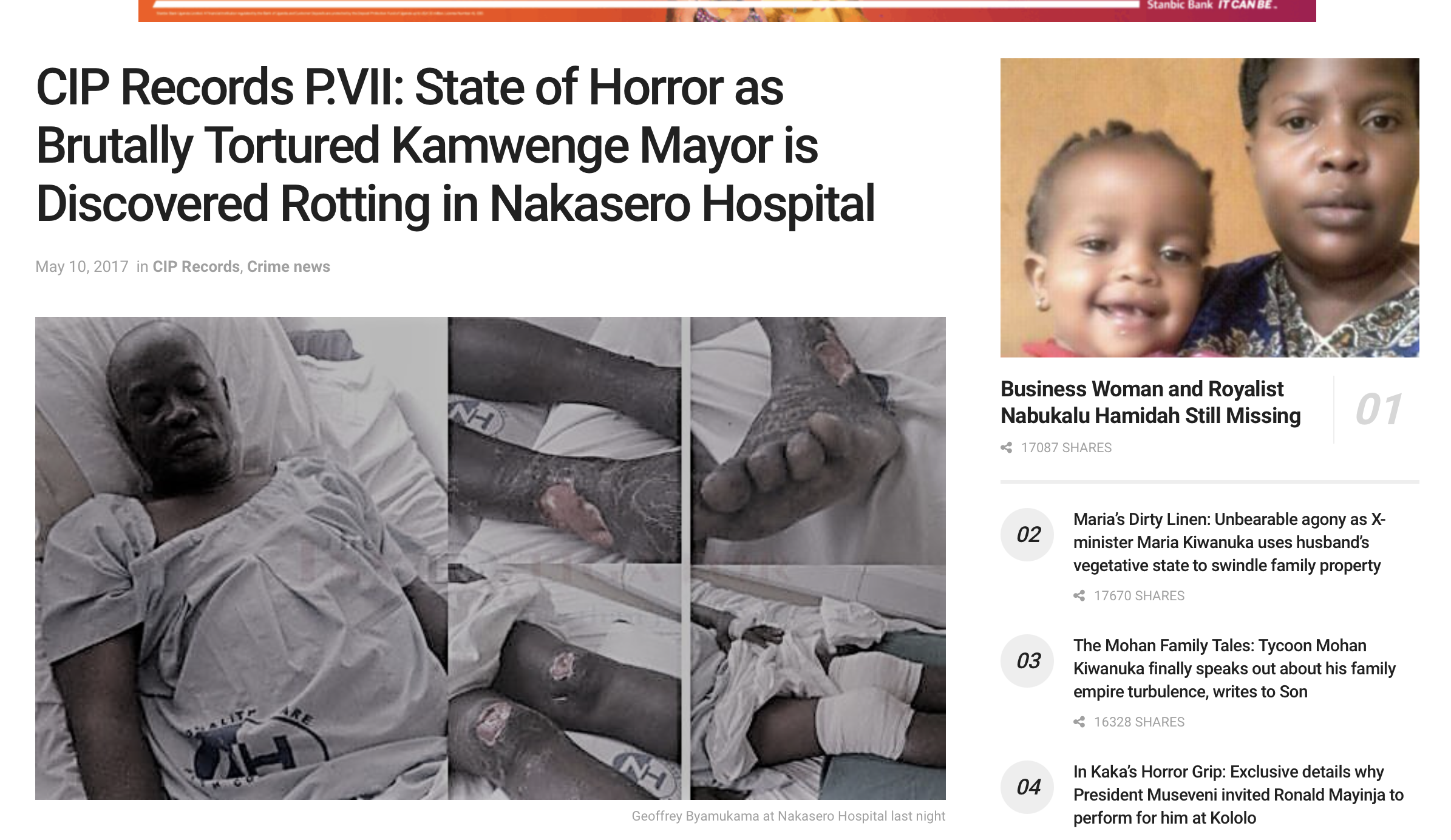 Now, my colleagues couldn't believe when I vowed to fight alongside those seeking justice for the fallen senior police officer. Actually, one of them had been the first to announce Kaweesi`s murder to me and she had described it as `good news` to me! Well, that's not me. Two wrongs can't make a right. I needed Kaweesi in the dock and not in the casket. Going forward, the birth of CIP Records was unstoppable and, I made it known to my colleagues.
In a short time, these records became a must-read to even the laziest reader. They survived the test of time, at least enough until when the President elected to overhaul the Police Force top brass, commencing with sanctioning the wrong elements` arrest. This beautiful development, before he went for the top man himself, Gen. Kale Kayihura. However, Kale`s agents had long started on the project of bringing down our mighty website, off the internet. They failed on bringing down the entire site, but through insiders, managed with the CIP Records and other pieces.
For the last four years, our technical team have been trying to recover the same but with little success. On October 14th 2022, I received a call from our main IT man in Europe. "I have some good news for you. Check your WhatsApp in a few minutes," he announced. I held my phone like my life depended on it, waiting for the message to pop up and indeed, in a few minutes, a link popped up.
It was a story of Kamwenge Mayor Geoffrey Byamukama, which was published on May 10th 2017 under the headline; "CIP Records P.VII: State of Horror as Brutally Tortured Kamwenge Mayor is Discovered Rotting in Nakasero Hospital." Robert now informed me how, they had finally restored the pieces he unquestionable knew, I loved and cherished most. He said it was my gift from him, for The Investigator 10thAnniversary.
Author Profile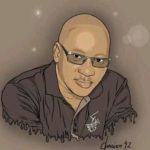 Stanley Ndawula is a two and a half decades' seasoned investigative journalist with a knack for serious crimes investigations and reporting. He's the Founding Editorial Director and CEO at The Investigator Publications (U) Limited