Thanks to the errant government departments` bureaucrats, that the Government continue to lose valuable property and money in billions. And this is how Uganda National Roads Authority (UNRA) is set to lose three brand-new vehicles worth close to a billion shilling, over failure to attend to a matter worth just UGX53M!
Each of the vehicles subject to the already okayed attachment is well above UGX200M, but can be undervalued to less than UGX50M considering the cost of depreciation, just in a bid to solve a matter that would have been managed by less than UGX30M by the time of its occurrence. And now, Govt will find it easier to order for other cars where a `difference` can easily be secured at the taxpayer`s cost!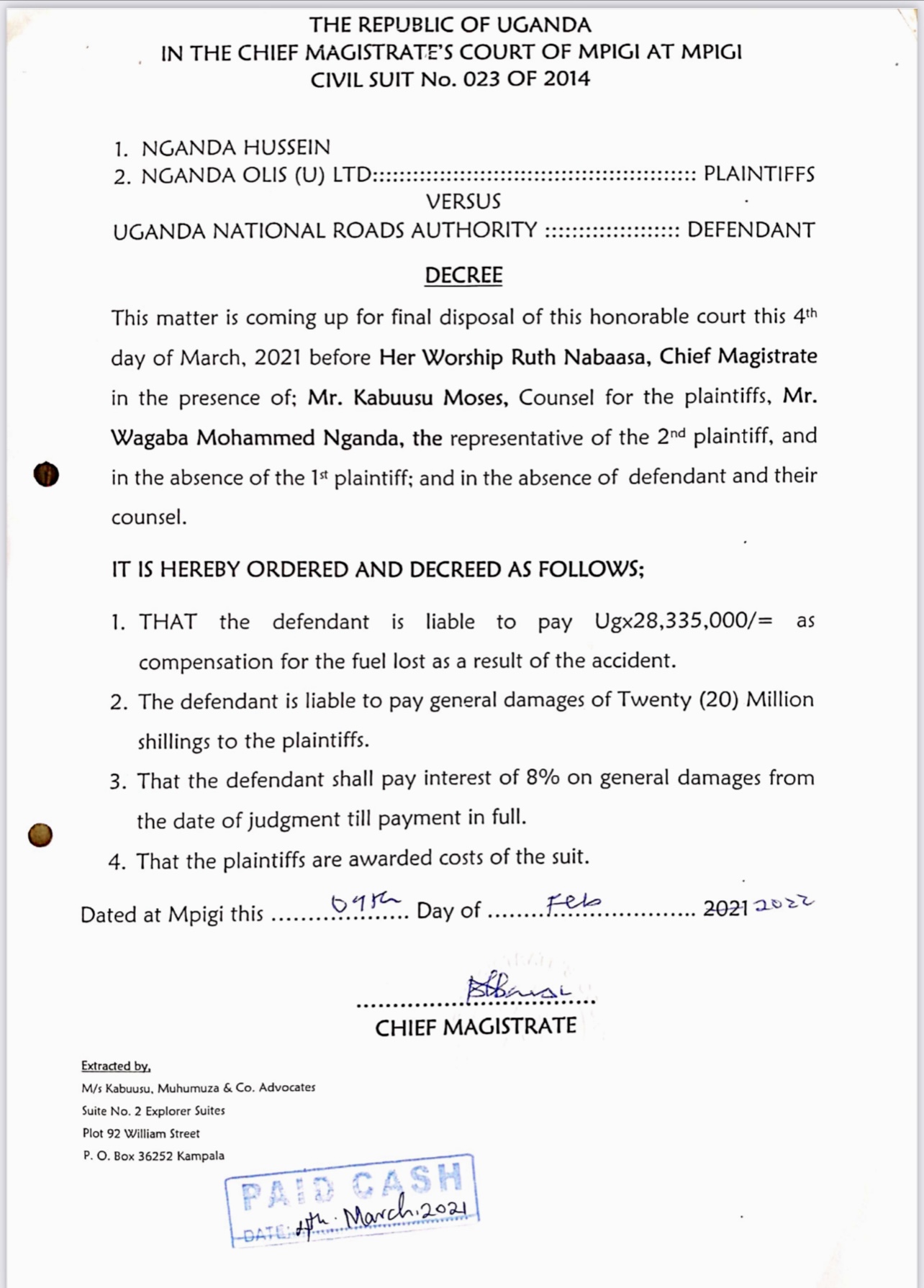 The Story:

Unless otherwise, these posh UNRA vehicles; a Toyota Landcruiser registration number UBJ 410w, a Toyota Fortuner Reg. Number UBH 954B and a Toyota Double Cabin Pickup registration number UBL 071D are set to be attached and sold for failure or refusal to pay just UGX53,774,740, to a Businessman, Hussein Nganda via his Company of Nganda Oils Uganda Ltd. This arises out of Mpigi Chief Magistrate`s Court Civil suit No.023 of 2014, which was determined in his favour.
Details indicate that the Ngandas (Plaintiffs), through their lawyers of Ms. Kabuusu, Muhumuza & Co. Advocates, on February 15th 2023, applied for execution of decree under order 22 rule 8 of the Civil procedure rules in which they asked court to order for the attachment of any of or all the three vehicles, to be attached and sold pay the Judgement creditor.
According to the the summons before us, issued on February 22nd 2023 by Her Worship Jane Francis Nanvuma Kaddu, the Chief Magistrate Court of Mpigi, at Mpigi and received by the UNRA Legal Services on the same date, the Executive Director UNRA is summoned to appear on 20th March 2023 at 9.00am, to show cause why execution should not be issued against them.
It is a decade plus old case where, Nganda filed a case against UNRA, alleging that in 2014, he lost business worth millions via UNRA`s shoddy product in a road. The Plaintiffs told Court how, on January 15th 2014, Nganda procured 13,000 litrrs of fuel from Olympic Petroleum along Lubaga Road, valued at UGX28,335,000. He loaded the same on Motor vehicle truck registration number UAM 283F.
Upon loading, they set off for Bulo Town in Butambala District around where3, he owns an oil and gas business. On their way, they encountered a broken culverts of a newly constructed road at Kabiga swamp,near Jalamba, a few kilometres from Mitalamaria along Masaka road. The unsuspecting driver moved on and stepping on the culverts, they instead gave way, falling into the river with all the goods on board. Well-vast with his rights, Nganda put it that he lost his goods worth UGX28,335,000M due to negligence of UNRA staff who were repairing the road at the spot.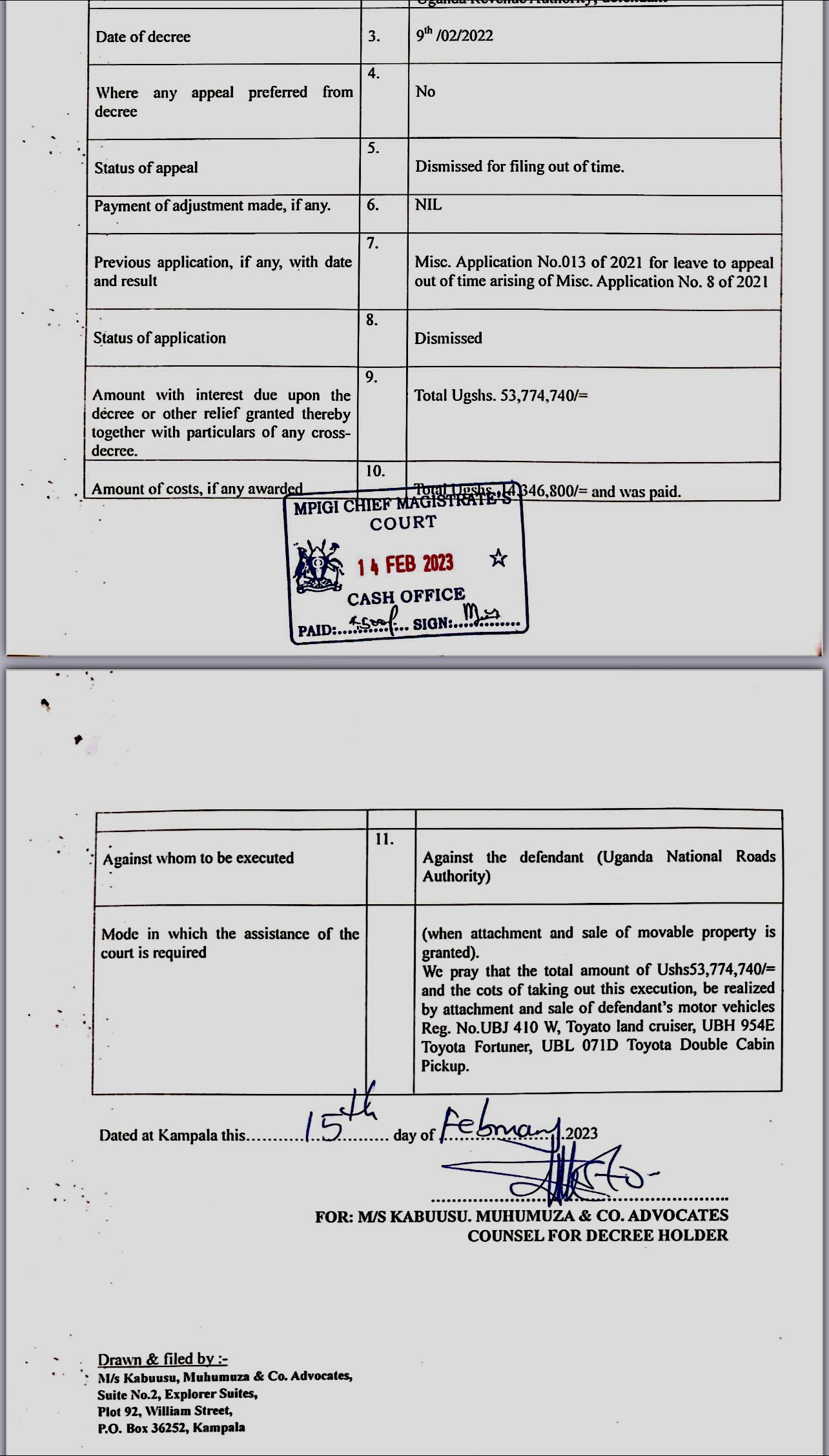 He since filed a case against UNRA whose legal department under looked until it was determined in favour of the Ngandas, on March 4th 2021. Court proceeded to issue a decree, ordering UNRA to pay the UGX28,335,000M as compensation for the fuel lost as a result of the accident, to pay General damages ofUGX20,000,000M, as well as paying interest of 8% on General damages from the date of judgement till payment in full. Court also awarded costs of the suit.
According to Ngandas` lawyers, the taxation inter-party hearing was conducted on the March 17th 2022 and allowed at UGX14,346,800M which UNRA paid in May 2022, but never bothered to pay the decretal sum which has since accumulated to UGX53,774,740M. All attempts to appeal against the Judgement of the lower court were futile as UNRA's applications for leave to appeal out of time were dismissed for service to the Respondents out of time without leave of court to do so. Watch this space…
Author Profile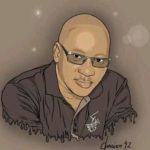 Stanley Ndawula is a two and a half decades' seasoned investigative journalist with a knack for serious crimes investigations and reporting. He's the Founding Editorial Director and CEO at The Investigator Publications (U) Limited