Despite all sorts of odds staked against it, the mighty Investigator remains to date, the one and only media house which continues to stand up against the Ruparelia Sudhir Group's untold impunity. For refusing to be enlisted into their `Yes-men` lot, the Sudhir fraternity has done virtually everything to try to strangle the mighty online publication to death.
From tempting Investigator workers with juicy carrots, to trying to put out of circulation, the website itself through use of paid hackers, the infamous Sudhir Ruparelia family and it's sidekicks have done it all. Fast forward to the present. Following an advert which appeared in the media, advertising the purported `sale` of the Investigator CEO's property, Sudhir Ruparelia's son, Rajiv Ruparelia has gone into overdrive in a dying attempt to malign Investigator the Man himself.
Smarting from a sabbatical leave in the UK after reportedly punching the shock out of an old fella around town, for reportedly refusing to take care of one of his supposed town sluts, Rajiv now has the audacity to brand Ndawula a `hooligan` merely because a bank in town has advertised his property! Rajiv took a photo of the advert in The Daily Monitor, screenshot it and started sharing it to all and sundry, including to his own foes. So excited that he even shared it with Ndawula via a WhatsApp group!

"This hooligan is paying the sins he owes those he blackmailed (laughing emoji) his property on sale," Rajiv, whose intellect and sobriety we can't put a hand for, jubilated away. This further effort he went himself, we have ascertained, Rajiv had reportedly failed to raise enough number of news websites to help him celebrate Ndawula`s plight. "Most of us turned down his please. I personally told them off," one of the Website owners told us last night.
While Ndawula doesn't deny dealing with Equity Bank, he thinks what the latter is demanding from him is highly inflated. "Well, am a lay person. I have already handed over the matter to my auditors and the lawyers to do the needful," he states in response to Equity's advertisement of his property including his side hustle known as Yaya Xtra Residence along Kulambiro Kisaasi. Looking upbeat and jovial, Ndawula says this is not the first-time naysayers have tried to build a mountain out of a mole, following an advert related to the purported sale of the same properties Equity has regrettably advertised for `sale`…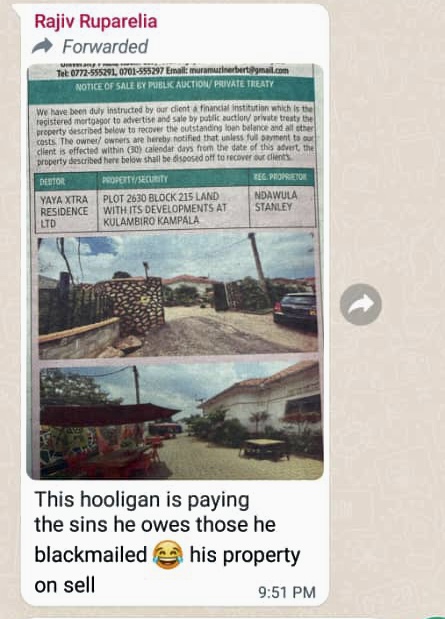 "Just a few years back, another bank advertised these very properties for sale. Years later, we are here without any hitch. Yaya is a dinning for all. Yeah, including those celebrating her supposed plight. It is therefore understandable when people get concerned." However, Ndawula laughs off the fresh auction of his properties saying; "In Uganda`s economy, I salute those who run businesses without creditors. How our creditors behave and how we handle issues is the difference." He refuses to say anything more than that affirming that his lawyers know better how to handle such kinds of eventualities.
Despite Ndawula's refusal to discuss this matter beyond that above, it should be remembered that the celebrated investigative Scribe has had a protracted run-in with both Equity Bank and the Sudhir Ruparelia family. That run-in has since seen the Ruparelia Family paying hackers to put down this mighty website. This development, sandwiched with volumes of evidence.
Using his investigative skills, Ndawula managed to smoke out and occasioned the arrest of the hackers, including their lead agent and Sudhir`s PA Ussa Ssegawa who, duly confessed to have acted on instructions of, and for Rajiv`s father, Sudhir Ruparelia, to deactivate the mighty Investigator. The Sudhir Family were doing all this merely because the Investigator had taken the bold resolve to expose what was seemingly the dubious manner in which Equity Bank had disposed of Simbamannyo building and its sister company known as Afrique Suits, to Sudhir`s Meera Investments.
The Investigator not only backed up its investigation report with boardroom email exchanges between Equity Bank's lawyers of Katende, Ssempebwa and Company Advocates and Sudhir himself, which culminated into the regrettable sale of Ssimbamannyo to Meera Investments, but also went on to provide evidence to prove that what Equity Bank had misrepresented as a public auction, in truth, took place seven days before the actual date of auction. To our ardent readers, the rest is a known history…
Author Profile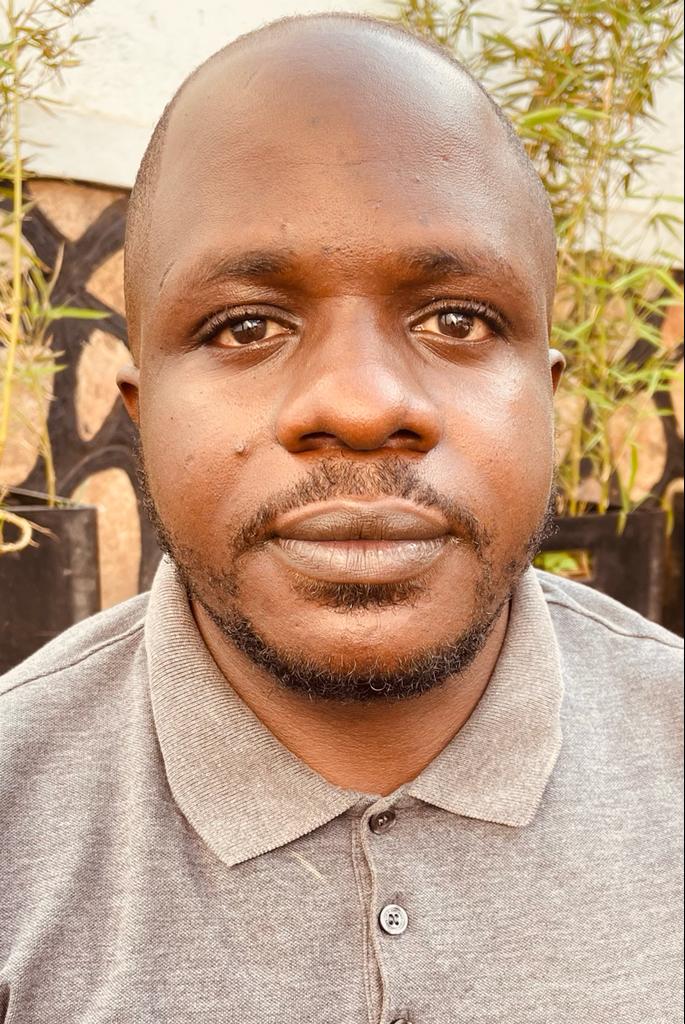 Kiyimba Pius is a senior editor at The Investigator. He joined in 2018. His journalism background includes writing for both business and human rights. Connect with him by email: [email protected]