KAMPALA, Uganda: The Electoral Commission has launched an awareness campaign throughout the country aiming at re-organizing polling stations where, some will be emerged, others created and some voters re-located, in a bid to smoothen the electoral process with transparency.
Flagging off the campaign on Wednesday, the EC Chairman Simon Mugenyi Byabakama unveiled a detailed guidelines for countrywide re-organisation of polling stations in preparation for the 2020/2021 general elections, saying if well-followed, lesser inaccuracies will be observed by both voters and the electoral body.
He elaborated that the exercise is conducted in accordance with Section 12 (1) (d) and Section 33 of the Electoral Commission Act as well as Section 30 (1) of the Presidential Election Act 2005, which mandates them to establish and operate polling stations within in each Parish or Ward of every Electoral District.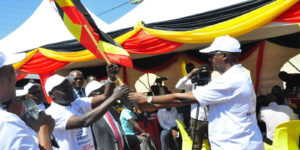 "The Commission would therefore like to inform the general public that ahead of the 2020/2021 general elections, it is planning to reorganize Polling Stations across the country to enable voters to conveniently cast their votes," he declared at a function held at CE headquarters along Jinja Road.
The reorganization is to among other reasons, ensure that each parish/ward and electoral area at Sub County level has got at least one polling station and that each polling station has suitable numbers, is conveniently located and appropriately named.
The reorganization, shall involve any, some or all of the following procedures; splitting, merging, relocating, re-naming, and/or creation of new polling stations as well as updating villages on the register. Exercised and supervised by Parish Supervisors/reorganization officials, Sub-county supervisors, Returning officers, Party agents and Local leaders, the exercise will also lead to crucial updates in the National Voters Register.
Responding to journalists questions about the usage of National ID Cards, the Chairman stressed that whereas the National ID is a necessity to have as a voter, it doesn't necessarily make one an eligible voter. "One has to be on the National Voters Register to be eligible to cast their votes," he said.
Saying that they intend to have the people man and own the electoral process, Byabakama requested for the cooperation of the public whenever necessary, in order to make the process smooth and fruitful.
Author Profile
Uganda's First online News Paper. "More than Just News" Investigative, Informative, without Fear or Favor