KAMPALA, Uganda: Former Vice President, Prof Gilbert Baalibaseka Bukenya has instructed his lawyers ahead of mediation to tell the Family Court that he is at all not interested in reuniting with his estranged wife, Dr Mary Margaret Musoke Bukenya, or anything close to such.
On the contrary, Prof Bukenya wants the divorce proceedings to end quickly so that… "He can retain his freedom to tangle freely [with any tribe of his chosen silly-queen] minus any hindrances."
To ensure that his above desire and dream materializes fast, Prof Bukenya is now even willing to surrender some of the material wealth, including a luxury beach in Entebbe, buildings in Ntinda and Kakiri, the same his estranged wife has been pursuing from him, just if that will bring the proceedings to a "very quick end".

Dr. Margaret Bukenya filed for divorce accusing her 45yr-long husband, of sleeping around with a string of women, some of them fit to be his grandchildren. It has emerged that Prof Bukenya even sired children with some of those women.
Mediation proceedings into the matter are set to start on August 30th this year. Thereafter, the Family Court sitting at Makindye will hence be trying to reconcile the former lovers-turned-antagonists in a bid to save their marriage.
But telling from what the flamboyant Prof Bukenya has been telling confidants and his lawyers, mediation is not likely to reconcile him and the mum of his children. All Mahogany wants is to let go of his wife, Dr Bukenya.
But why offload a wife of 45 years-stay in such a humiliating fashion? Bukenya asserts that Margaret has with ages grown into an old woman. He argues how Margaret's old age has since turned her into a less appealing, flailed sexy woman as compared to the many young girls walking the planet earth.
Being old, Bukenya asserts that Margaret is no longer capable of quenching his raging libido. This, he explains, is the reason he now prefers to go with fun-filled members of the opposite gender. "Am still sexually active and am going to remain so for some good years to come. I can't be a husband to a woman I no longer enjoy conjugal rights with," is how Bukenya has been telling off moralists including priests from the Catholic Church who, have been counselling him to mind his stature and stop going through all the rivers between…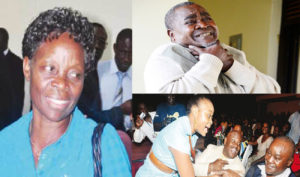 Prof Bukenya belongs to the Catholic faith which strongly preaches against divorce, arguing how it is only death which can put married couples asunder. Bukenya begs to differ arguing that women is a sport for many an African man.
For the uninitiated, Prof. Bukenya has had sex with women raging from TV and Radio personalities, musicians and even those known to be part-time sex vendors in town. The jolly-old professor has even had the audacity to tangle with married women including that of his driver.
He has been filmed on beaches having fun with girls fit to be his grandchildren. And he has never been apologetic for it. He now prays that Court offers him freedom to keep sleeping around with every tribe of female creatures he feels like.
That is the man Dr Bukenya wants to part ways with. And fortunately enough, Bukenya has no qualms walking out of the 45 year old relationship.
Bukenya has had sex with women raging from TV and Radio, personalities, musicians and even other women known to be part-time sex vendors in town. The jolly-old professor has even had the audacity to tangle with married women including that of his driver. Watch this space for developments on this story…