OYAM, Uganda: An Uncle to the Uganda's Solicitor General, Francis Atoke has trotted to Justice Catherine Bamugemereire – led Land Tribunal, in hope of reclaiming his family property he claims, was grabbed by the latter, the Investigator exclusively report.
The loaded Atoke is being accused by his Uncle Geoffrey Odongo of grabbing the family land in Buga and Dogabam villages, Kamdini Parish, Kamdini sub-county in Oyam district, reportedly via influence pedaling over police and judicial systems, after which, he rendered the family homeless by demolishing their house.
Atoke is a step son to Odongo's older brother, a one Abel Olero Maktim. A farmer from Oyam District, Odongo says that upon his death, their father, Mzee Sezi Otim left 100 hectares (247.1 acres) of land in Dogabam village and another 1500 acres in Buga village.

"When our father died in 1986, our eldest brother Olero took over as administrator of the land on our behalf. When he also died in 1994, the land remained unoccupied until 2006 when we held a family meeting to decide how to manage it, said Odongo.
But as they were at it, Atoke claimed the same land. He went to court to block his Uncles Odongo Geoffrey, Ogwal Wilson, Jury Babel Opio Okari and Ogwanga Atoli Bosco from accessing it claiming he owned the land through a will.
However, Magistrate Grade I, His Worship Faith Everest Palodi ruled that Atoke had failed to prove his claim on the land. In his wisdom, the magistrate ruled that the land was customary and it was first owned by Oyo Reuben before it passed on to Sezi Otim and not Olero, whom Atoke claimed.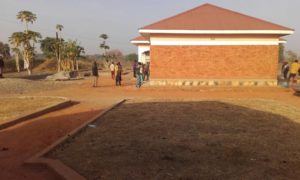 Not convinced, Atoke made an appeal to the High Court where, Justice James Byabakama overruled the G1 Magistrates' court and returned the land to him (Atoke). "We also appealed to the Court of Appeal and our petition was dismissed before the land was again given to Atoke," cries Odongo.
Giving up was their last thought. "We went to court to protect the remaining and uncontested land at Buga village." But it was a little too late as court issued an eviction order for the same land before Atoke sent bailiffs to evict them.
"He sent Moses Kirunda to demolish my family house Dogabam village," Odongo said, adding that the land in Dogabam was not contested. Moses Kirunda is a renowned no-nonsense court bailiff from Spearlink Auctioneers and Court Bailiffs in Kampala.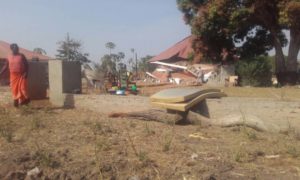 "I looked on helplessly as young men hired from Kampala demolished the house I built while working under harsh weather conditions in Canada," Odongo narrated, tears streaming down his face. He believes he was selectively targeted by Atoke.
He had earlier caused a meeting with the first family members, a thing he believes, attracted Atoke's revenge against his person. Odongo points out that its surprising the court bailiffs never demolished his other brothers' houses on the contested land in Buga village.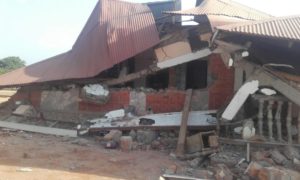 Odongo says Atoke has since fenced off the land in the two villages and planted pine trees on the same. Not done, Atoke has also had court slap a Shs125m bill on him, supposedly as a cost for the Court Bailiffs that drove down his property.
When contacted recently, the Solicitor General denied using his office or any influence to acquire the land. "Mr. Odongo is falsely accusing me because the record is very clear. I wish he could show you how I used my office in court."
Atoke further says of his Uncle; "He (Odongo) has been to court, the land tribunal and other offices, I have all the records, the judgments and court orders," he said, evading the fact about a demolished house premised in an uncontested piece of land.
Nevertheless, Odongo last year petition the Bamugemereire Land Commission in search of justice on the matter registered vide file LI/275/2018. He still camps at the Wandegeya premised Tribunal whenever he gets time, to have his petition heard but it's yet to be fixed. As he is at it, Odongo's clan, the Okarowok Okwera Amar administration has also, on three occasions petitioned President Yoweri Museveni over Atoke's conduct but to no response.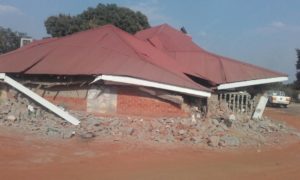 "We write to seek your, intervention over this matter for abuse of office and power. Our belief is that his influence in the courts of law has not only tampered with natural justice but interfered with court decisions that has resulted into sufferings of innocent family members and the community of Dogabam village," Alfred Michael Apita the Awitong (Clan head) of Okarowok okwer amar wrote in a July 29th letter to the President.
Odongo claims that they have tried to get their petition through to the President Museveni but they believe the same is always blocked by Atoke's conduits around the Entebbe housed Court of Last Opinion.
Author Profile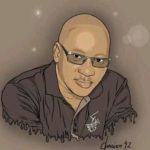 Stanley Ndawula is a two and a half decades' seasoned investigative journalist with a knack for serious crimes investigations and reporting. He's the Founding Editorial Director and CEO at The Investigator Publications (U) Limited