Nestled in the lush leafy Kampala suburb of Najjera off Buwate-Kungu road, is DI International Premium Farm centered on an urban dairy production system. The system involves the production, processing and marketing of milk in the adjacent urban centers.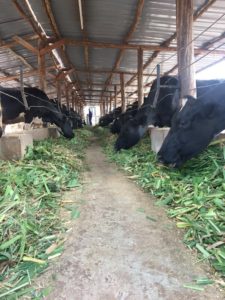 Premium, boasts of over 150 cattle of the Friesian and Jersey cows ,65 calves and still growing, churns out over 900 liters of milk daily, after launching recently, now delivers its natural organic fresh milk to its clients using its fleet of boda bodas while for those who are in its neighborhood can pick up their orders from its in-house sells point that is located a few meters away from the farm.

Like window farmers in India, The farm which sits on 1 and half acres of land, exhibits the ability for one to maximize space utilization of land and space, with modern wooden and metallic paddocks that house the cattle according to breed and age.
Premium, is a professionally run farm with management system that includes; a manager, a highly qualified on-farm Veterinary doctor, and a support team of over 30 people.
At only shs 2000 per liter, and with the first of its kind dairy online order app in offing, the delivery of its milk will be made easier at ones' finger tips. Premium farm, has also now branched into the supply of its fresh organic milk to, hotels, organizations, and ministries for orders big orders.
Unlike other such business entities, Premium, also offers farm educational tours for individuals, groups and institutions on appointment.