The Uganda Registration Services Bureau sang praises for its outgoing Registrar General at a dinner hosted in his honour. A press release, for your viewership, was issued; which we now duly quote:
Management of Uganda Registration Services Bureau and its Board of Directors yesterday officially hosted the out-going Registrar General, Mr. Bemanya Twebaze to a farewell dinner to celebrate, honor and thank him for his contributions. Mr. Bemanya was in November elected the Director General of the African Regional Intellectual Property Organisation (ARIPO). Former Director of Intellectual Property at URSB, Ms. Mercy Kainobwisho takes over as Registrar General and official Government Receiver
The highly attended dinner was graced by Ministers, Senior Government Officials, Executives of Government Ministries, Departments & Agencies, private sector executives, academics, diplomatic representatives among others.

Over the past 09 years, Mr. Bemanya has created a culture of steady performance, collaboration with other Government Agencies and innovation within URSB, supported Private Sector growth, enhanced registrations of vital services and led the engagement of stakeholders for collaborations vital for URSB's growth over the years, turning it into one of the best performing government public service organisations.
The dinner provided an opportunity for leaders in attendance to praise Mr. Bemanya for his transformational leadership. Speaking first, Mr. Gideon Badagawa, the Executive Director of the Private Sector Foundation praised Bemanya for his selfless efforts to enhance private sector growth. Other speakers included the new Registrar General, Ms. Mercy Kainobwisho, Minister of Justice and Constitutional Affairs, Prof. Ephraim Kamuntu, URSB Board Chair, Ambassador Francis Butagira.
'We are saddened to see him leave, but we are so grateful for his tireless efforts in supporting private sector growth. Bemanya envisioned and managed great change throughout URSB by creating successful reforms for business registrations and initiated ground-breaking systems that saw the registration turn-around time drop from 31 days to an average 4 hours'. Badagawa said
'He turned around URSB from a perennially limping organization to one that was credible and was delivering results. His dedication resulted in the growth of Non Tax Revenue for Government taking it from a paltry 300m to over 56.9 billion in the 2019/2020 financial year. Bemanya's legacy leaves a lasting impact on hundreds of thousands of businesses, and this number doesn't include families, staff and others who were also impacted through his efforts and leadership' the PSFU ED added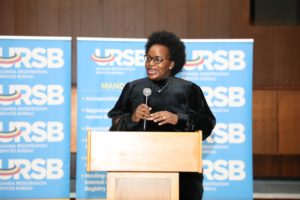 Ms Mercy Kainobwisho praised Mr. Bemanya for being a hands on formidable leader who will be hard to replace. ' I have been mentored by the best. Mr. Bemanya not only guided me, but offered my colleagues and myself opportunities to individually serve. He believed in gratifying our abilities and engaged us in countless leadership trainings. I am happy that I now step into the shoes of a heroic leader who has been instrumental to URSB's stellar performance' She said
"Bemanya has developed and led a committed team, each of whom plays an integral role in the everyday running of URSB," said Francis Butagira, Chair of the Board of Directors. "We will miss him but he leaves URSB in a very strong position for future growth and we sincerely thank him for his vision, leadership and contributions."
Prof. Ephraim Kamuntu on his part said Bemanya's elevation to the position of Director General at the Regional Intellectual Property Body was a win for himself and Uganda. 'It is no doubt that Bemanya's credible personal attributes helped us lobby for him for this ARIPO position as a country. I have visited nearly all organisations under my Ministry but URSB stands out as star performer. URSB's One Stop Centre that is helping to ease business registration while formalizing our economy and supporting the creative industry through Intellectual Property is one such of the many outstanding achievements' Kamuntu said
The Minister also took time to advise Ms Mercy Kainobwisho the incoming Registrar General to solidify the gains made under the tenure of Mr. Bemanya.
On his part, Bemanya said he was confident that URSB would continue to excel. "I am truly heartened by where URSB sits right now, "said Bemanya. "In fact, it is the favourable state of our organization that has helped me get recognized and elected for the DG position. To be sure, there will always be challenges, but I feel that URSB is now poised to enter an exciting period in its history. The staff is led by both a committed Board of Directors and a very solid senior management team. URSB's services delivery, and operational model are all in good standing. I believe that Mercy brings along new leadership with a keen eye, a fresh vision and boundless energy."
Bemanya advised his successor to curve her own style of management as long as it can deliver results. 'Mercy, don't try to fit in my shoes. They could be too small for you. Create your own unique path and keep the ball rolling. I believe in your abilities to keep URSB at the top' he said
The dinner in honor of Mr. Twebaze Bemanya was also graced by Attorney General Hon. William Byaruhanga, State Minister for Urban Development, Hon. Isaac Musumba, Assistant Auditor General Keto Kayemba, former Finance Minister Hon. Maria Kiwanuka, Uganda Law Society President, Fiona Wall, Past President Ruth Ssebatindira, UMRA ED Edith Tusuubira, Head, State House Anti-Corruption Unit Col. Edith Nakalema, Uganda Industrial Research Institute Executive Director, Prof. Charles Kwesiga, High Court Judge Billy Kainamura, designate Female Justice Margaret Apinyi, Brigadier General Stephen Kwiringira, Kampala Business man Bob Kabonero among others.