KAMPALA, Uganda: Just two days ago in this mighty investigative website, we broke the story of President Yoweri Kaguta Museveni quizzing Ronald Luwangula, the Supreme Court Clerk behind the dubious auction of Simbamannyo House and Afrique Suites hotel.
Breaking news on our desk now indicate how the son of Kaguta, following an interface with the Clerk who, we cooperatively know spilled the beans, has sent a missive to the Central Bank boss Prof. Emmanuel Tumusiime Mutebile, commanding him to quickly investigate and write a report explaining how Equity Bank managed to sell the two properties dubiously and especially against his orders stopping banks from auctioning customers' properties during the Covid 19 crisis.
To demonstrate he is not joking, Museveni himself is handling these matters as opposed to occasions when he instructs his aides or ministers to manage matters of this nature. Museveni wrote the unusually short letter and even signed it off. We aren't joking, we have the letter itself, let it speak for itself. The no-nonsense Tibuhaburwa in the same breath penned the Attorney General with the same orders.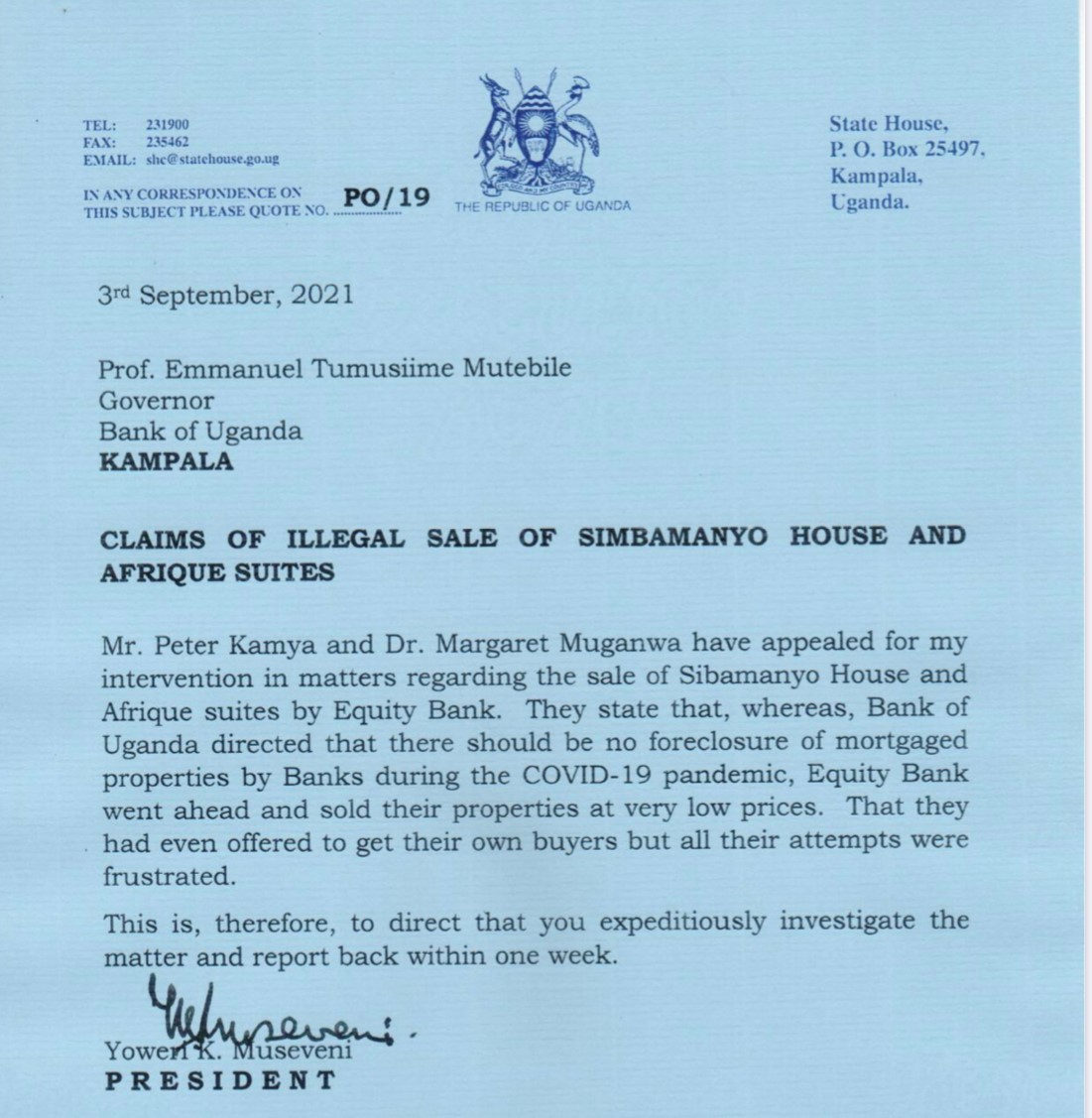 Gen Yoweri Kaguta Museveni summoned the junior Court officer to State House in Nakasero after reading about our stories which raised doubts about the financial capabilities of the Court Clerk, but who, Equity Bank maintains, bought the Hotel at UGX12Bn. The same also reminded him of the letter Arch Peter Kamya, the proprietor of both properties had penned him earlier.
But the Investigator, contrary to claims by Equity above, is in possession of evidence of Sudhir paying out a total of USD700, 000 to Luwangula, just to act as the buyer of the 3-star Hotel. Sudhir wired the Dollars on October 1st 2020 to the lawyers of Equity Bank trading as Ssempebwa, Katende and Company Advocates, through their Account in the same financial institution.
The dollars, in point of fact, equaled to USD1m. The balance out of that is said to have been spent as recovery costs for the Simbamannyo building, but the same, Equity Bank 'innocently' contends was auctioned on October 8, 2020. Before wiring the money, Sudhir had written to Sim Katende, a lawyer who was acting in these transactions to enquire if the buildings were indeed available for sale, which Sim confirmed and even guaranteed Equity would not sell them to anyone else but to the businessman.
Basing on the communication between the lawyers for the bank and Sudhir, we suspect Equity didn't receive any bid from any interested buyer apart from transactions with Sudhir and may be his proxy (Luwangula) for purposes of the auction which, to make matters worse, even took place before the due date of October 8, 2020.
That Sudhir moved hurriedly on the same day of October 8, 2020 and removed caveats, which the owner of the properties, Architect Peter Kamya, had placed on the properties to stop altering them, going on to transfer the properties into third parties on the very day, and again placed caveats on them still in the same time, all goes to show that he knew the transactions were not clean at all.
Simply put, things don't move this quickly at our land office like they moved speedily on this occasion when Sudhir badly wanted to take over the properties which he, of course, took over. May be, Kamya has a reason to smile a little seeing that even the President has intervened.
If our analysis above is right, it would then render all the auction exercise to be a bogus, and by necessary implication, an illegal process. If what our intelligence radars are telling is right, Sudhir is in deep trouble. We have gathered how Luwangula was a bait placed on him to finally catch him at his game of land grabbing.
Contrary to what he thought when he chose to work with Luwangula, according to our informers in State House, the lad carries out some covert operations work for the intelligence services in this country. This explains why Museveni summoned him and not Sudhir yet both are supposed buyers.
But as it now turns out, Luwangula could have somehow been planted on the businessman who innocently paid him thinking he was dealing with any other interested party in making some money for himself. "You could have been there, oh dear, you missed a lot our boy (read Luwangula) revealed some really interesting things about how that man does his things," our informers reveal.
This is not the first time President Museveni is investigating Sudhir for engaging in dubious property acquisition. The Head of State did so in respect of Plot 8 Nakasero where he ended up chasing the businessman out of the property he had acquired using a Title improvised on Nasser Road.
This property belongs to Gulam Hussein, an Asian based in Canada, but Sudhir exploited his absence to forge a Title which he used to take possession of the same. Gulam Hussein had sold the property at USD12m and was moving to transfer it to the owner when he learned Sudhir had stolen it. Imagine!
The son of Kaguta was alarmed upon learning that Sudhir had expropriated the property just next to where he (President) resides. He sent in Gen Kale Kayihura with a full truck of cops who handcuffed and detained Sudhir's private body guards before giving the property back to the owner.