We can authoritatively reveal that UGX16 million has been raised by the Mwiri Old Boys Association and the Makerere College School (MACOS) old boys and girls towards the hospital bill for Ex Nile Breweries sales guru Shem Ssemambo aka Kagutunda .
The Investigator broke the news of Ssemambo`s fight against Transverse Myelitis, a disease that has since left him partially paralyzed and hospitalized. We further called on the public and friends to give a hand. The story published on March 15th attracted a reach of 89000 views and attracted a positive response.
Indeed, our source who preferred anonymity told us that Mwiri had contributed 10M whilst Macos had collected 6M by the time we went to press.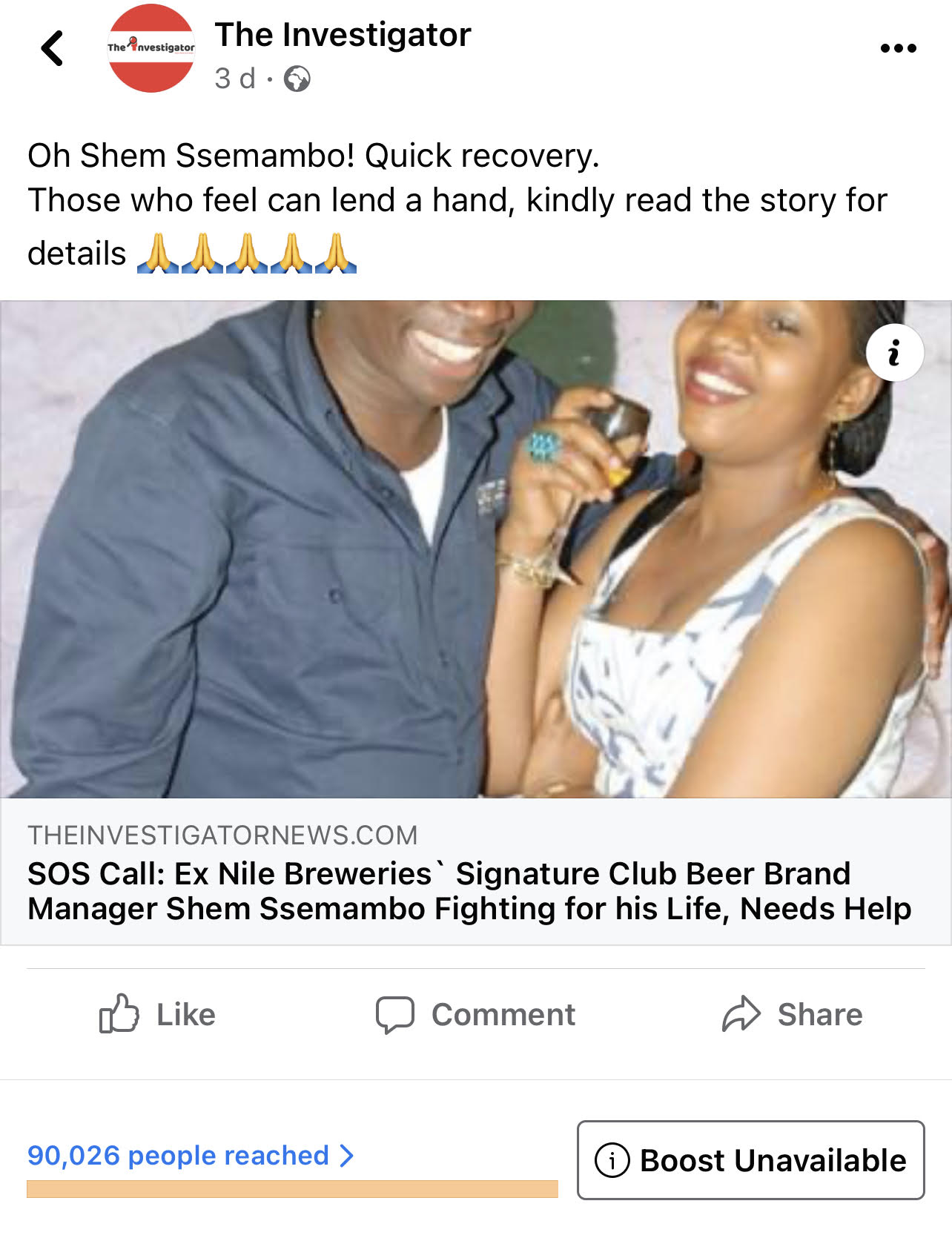 Shem at one time was the signature face of Nile Breweries' Club Beer Brand in the 2000's. He is currently fighting for his life at Paramount Hospital in Kampala.
Information from his family circles indicate challenging medical bills pilling up every other day of admission. His Mwiri Primary School old boys and girls, through their Old Boys of Mwiri Primary School class of 1985 and class 1986-1992 of Busoga College Mwiri (Wako House), via their social media group embarked on a drive to solicit for funds in a bid to help his family to clear the bills.
In the same spirit the Ob's and Og's of Macos where Shem attended his A-levels also created a funds pull that is also realizing more funds. Though his condition had been reportedly improved, we have heard that he, on Wednesday evening developed some complications that are being managed.
Financial support towards the meeting of Shem's hospital bills and health care can be sent through Mobile Money numbers 0772515397 or 0701515397 in the names of Mugisha Henry. Our prayers are for a quick recovery for Shem and strength that his family continues to support him during these trying moments.
Author Profile
Uganda's First online News Paper. "More than Just News" Investigative, Informative, without Fear or Favor