When he was appointed the Inspector General of Police in 2001, Ugandans were shocked to see an army General appointed in Police ranks. Little they knew it was a precedence President Museveni had set to remain so, `for good` already. But the reason it never raised eyebrows for long, is because of the person designed for the precedence, Gen. Katumba Wamala.
Born on 19th November 1956, Gen. Katumba, commonly known as Katumba Wamala, is one Ugandan Army General one can bet, is most generously loved by many. He is seen as a messier in whatever position he is posted. Upon his posting as IGP, Gen. Katumba embarked on the task of improving the police transport sector. He believed that Ugandans` cases were not responded to in time, generally because of lack of mobility in police. He then turned to the public for police vehicles. The response was so positive and overwhelming.
So overwhelming that Government, through the PPDA bureaucracy, successfully challenged the drive and had it stopped henceforth. In 2005, he was relieved of the IGP slot and appointed Commander Land Forces of the UPDF until 2013 when, he was appointed the Army Commander of the same national army. On 17th January 2017 to December 14th 2019, he was the state minister for Works before he was named the full Cabinet Minister of the same docket – Ministry of Works and Transport.

Throughout this journey, Katumba proved a people-man, blessed and favored, until 1st June 2021 when, unscrupulous characters waylaid him on his way to work, and showered live bullets unto his car, instantly killing his daughter Brenda Nantongo and his driver Haruna Kayondo. This is when, it dawned to members of public that actually, people are people! Someone, of all the good people available, for reasons yet to be established, wanted Katumba Wamala dead. Indeed, a notorious blogger, Fred Lumbuye, had earlier insinuated that the General was a target for assassins he never mentioned.
Coincidentally, it is the same blogger who, last week released another outburst, claiming the General was, under house arrest. However, as these outbursts took form on social media, majorly driven by the country`s top opposition group, National Unity Platform (NUP) activists, Gen. Katumba Wamala announced a Thanksgiving and fundraising drive at Kikandwa Church of Uganda, Nakifuma County in Mukono District. The function was for him to thank God for a `second chance at life`. This is for having survived the assassins last year.
As usual, people proved they are still on Gen. Katumba`s side. The church administration had budgeted the construction project at Kikandwa Church of Uganda, in memory of Katumba`s daughter Brenda and driver Kayondo, at UGX788,496,503. Surprisingly, like in the police cars` fundraising drive, the results for the Church construction fund-raise was overwhelming. At least UGX951M was realized in cash and, UGX75M in pledges. This brings the figure to a near UGX1.3Bn, far beyond the required budget, comfortably putting the drive to rest! (Also read; Gen. Katumba Thanksgiving Full List: President Museveni, Gen. Muhoozi and Speaker Anita offer UGX135M Only)
Away from the cash collected and in pledges, the General also attracted material stuff which included construction material enough to complete the entire project, and water enough to facilitate the construction. The water was donated through the already planted borehole by Nile Humanitarian, represented by a one Mr. Issa Kirarila. Also, an Indian company from Entebbe, on anonymity condition, offered to install furniture and electricity to the Church upon completion! After the successfully service, Gen. Katumba Wamala offered a brief one-on-one with the Investigator, purposely on the `house arrest` allegations. "But I am here and you can`t see any signs of a man under arrest. I don't know and can`t tell why someone would come up with such false information. Get it from me, I am not in any form of arrest or restrictions from anyone, anywhere."
Below is his full speech at the function, verbatim.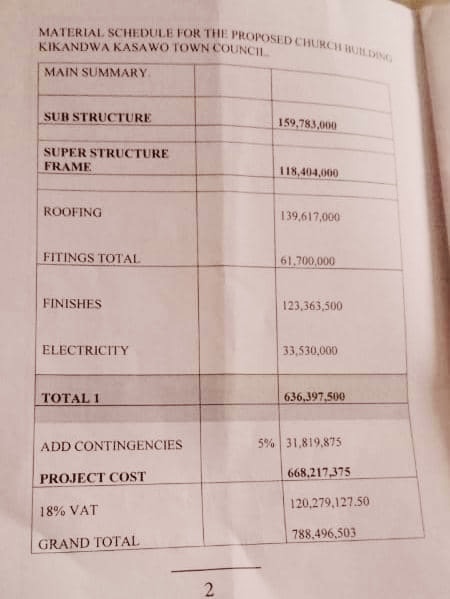 The Prime Minister, Rt Hon. Robinah Nabbanja, representing His Excellence the President of Uganda, the Deputy Speaker of Parliament, Rt Hon Thomas Tayebwa, Cabinet Members and Ministers of State, Members of Parliament, 2nd Deputy Katikiro, of Buganda Kingdom, Owekitiibwa Robert Wagwa Nssibirwa.
The Archbishop Church of Uganda, the Most Rev Dr. Stephen Sameul Kazimba Mugalu and your entourage, all Bishops and the Clergy present, Heads of Agencies, Members of the Army, Police and Prisons in your ranks and capacities, Uganda Business Community, all Guests Present, protocol observed.
I greet and welcome you all in the name of God the Almighty. I want to thank everyone who has honoured my invitation today and those who are not here. I would like to thank you for always showing up for the Wamala family and providing that we can still do good in this Country. Today is about Thanksgiving. I want to thank God for the second chance at life. As you are aware, June 1st 2021, was a dark day.
That day, we registered a total of three dead people in the Family. My mother-in-law, who died of a natural death, my daughter Brenda Nantongo Katumba, and my driver Kayondo Haruna who were victims of the assassination attempt on my life – the tragedy that befell us that day! We pray that they continue to Rest in Peace. Today, I stand before you as a testimony that God is faithful and merciful, and it is by His Grace that I am not being referred to as the late.
I want to thank H.E the President of the Republic of Uganda, Yoweri Kaguta Museveni, the Government of Uganda, and the Doctors who struggled to keep me alive. These included; Dr. Mubala at Medipal International Hospital, Doctors at Malcolm Health Center and, Dr. John Louis Ugbo in the US, who eventually fixed my arm. In a special way, I want to thank my family both here and in the diaspora, plus all people of good heart who prayed for us, visited, consoled, and generously provided us with food items and all other necessary assistance.
As I celebrate my second chance at life, I found it befitting to call upon you my friends to come together and we build the house of the Lord which will serve even when I am no more.This, I thought will be a confirmation that God lives within us. Who am I, to have faced death and survived to return to serving my country within a year? Who am I to be right here, continuously healing and getting stronger by the day? It is only the Grace of God that got me here.
In the Holy Bible, 1st Corinthians 15:10, it says, "But by the Grace of God I am what I am: and His Grace which was bestowed upon me was not in vain…" In Luganda, 1st Corinthians, 15:10, it says; "Naye Olwekisa Kya Katonda bwe ndi bwendi: nekisa kye ekyali gye ndi tekyali Kya bwerere…". More so, in the Bible, Philippians 4:13 says, " *I can do all this through him who gives me strength." Dear, friends, as we thank God, surviving the assassination attempt on my life has taken me to know that it does not take any immeasurable bravery to survive but God.
The last one year has been a cocktail of numerous things through. Some people thought and shared with me the counsel to be withdrawn from my normal social life, but I will continue to serve humanity and extend love to others. Apart from the incident surrounding my personality, the last three years have been challenging to us all as a country. Therefore, as I thank God, I believe each one of us has a reason to thank God for.
Let us build the house of God to celebrate a second chance after the world went through two years of darkness due to the successive wave of the COVID-19 pandemic. Let us show our gratitude by seeding. Let us thank God by building the house of the Lord as a reminder of his goodness and mercy that endures forever.
On behalf of the Wamala family and my own, I would like to extend profound appreciation to you all who have responded to the call to pray with Thanksgiving and support towards the construction of the house of the Lord, here at St. Mark Church of Uganda. We cannot thank you enough.May God bless you.
Additional Report by Shamiru Byakika
Via The News Bureau
Author Profile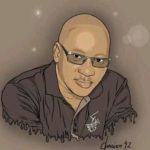 Stanley Ndawula is a two and a half decades' seasoned investigative journalist with a knack for serious crimes investigations and reporting. He's the Founding Editorial Director and CEO at The Investigator Publications (U) Limited