NAKIFUMA, Mukono: "It could have only been by the Grace of God. I am a testimony that He is a God of miracles. June 1st 2021, was a dark day. May the soul of my dear daughter Brenda Nantongo and the soul of my driver Kayondo Haruna continue to rest in peace." That was part of Gen. Katumba Wamala`s speech earlier last night in Mukono.
Serving as the Minister of Works and Transport as well, Gen. Katumba Wamala was speaking at the thanksgiving, fundraising drive and groundbreaking ceremony for the construction of a new church building at St. Mark Kikandwa COU in Nakifuma County, Mukono District, in memory of his daughter Brenda. It is one year since gunmen attacked him in his car in Kisasi, Kampala, killing his daughter Brenda Nantongo and bodyguard Haruna Kayondo.
The Prime Minister, Rt Hon Robinah Nabbanja represented President Museveni, whereas Deputy speaker of Parliament, Rt. Hon Thomas Bangirana Tayebwa represented his boss, Rt. Hon. Anita Annette Among, at the thanksgiving prayers led by Achbishop of the Church of Uganda, the Most Rev Dr. Samuel Stephen Kaziimba Mugalu. Katumba was also thanksgiving for surviving an attempted assassination on 1st June 2021.

Also at the function was the 3rd Deputy Prime Minister Rt. Hon. Rukia Isanga Nakadama, cabinet ministers who included among others; Honorables Dr. Jane Ruth Aceng, Amosi Lugolobi, Ruth Nankabirwa, Mugasa Grace, Freedom Kwincwyi, Asamo Hellen, Peter Ogwang, Godfrey Kapyanga, Fred Byamukama, Martin Bahinduka, Musa Ecweru and Hilda Olilu. Buganda Kingdom was represented by their Finance Minister and the 2nd Deputy Katikiro Owek. Robert Waggwa Nsibirwa.
Other notable attendees were Commissioner General of Prisons Dr. Johnson Byabashaija and Members of Parliament; Aidah Nantaba, Solomon Silwanyi, Milton Muwuma, Aggrey Bagiire, Simbwa Fred, Babirye Kadogo, Muyanga Johnson, Geoffrey Lutaaya, Patrick Mabirizi, and other dignitaries. The business community was represented by `Bagagga Kwagalana's group Chairman, Godfrey Kirumira.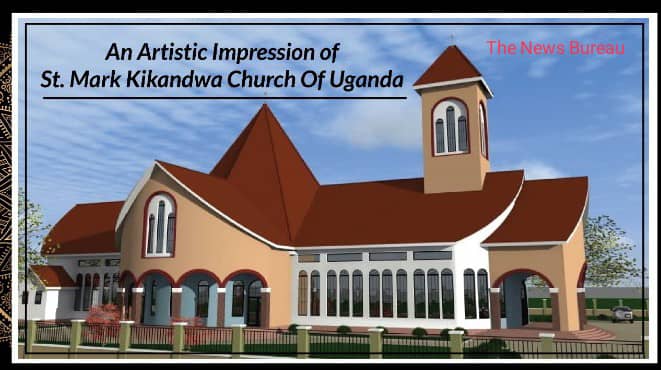 In his speech, Gen Katumba vowed not to yield to the threats of his enemies by quitting service to the country and rendering help to the people in need. He said after losing his daughter and driver in an assasination attempt that left him injured, people have been advising him to quit government and disappear from public life."I was advised to resign and go into hiding. I was also asked to stop helping people, but I will continue doing what God asked me to do."
Katumba the Man Celebrated
Giving his sermon, Archbishop Kazimba Mbowa condemned people who don't value the lives of others byeliminating them from earth, saying such acts are punishable by God. He called upon the congregation to be thankful to God whenever they go through tough times because, it is Him who protects. "Let us value life and respect each other's life [because] each one of us wants to live. Life is very important. There are certain situations which you look back at and wonder how you survived them. Sometimes God does not send us his angels to protect us, he comes himself with his excessive, extravagant power to save us. He comes down and defeats our enemies".
Kaziimba asked Christians to emulate Gen Katumba by always thinking about, and going back to their roots to support the work of God through building churches, supporting the clergy and church stuff. "What I like about Gen Katumba, he does not forget home. He always comes back. I want to ask all of you not to forget home. Check on the clergy and look at their welfare. God has called us all like Gen Katumba Wamala, to remember where we hail from. Do you remember whether your clergy back home have means of transport?"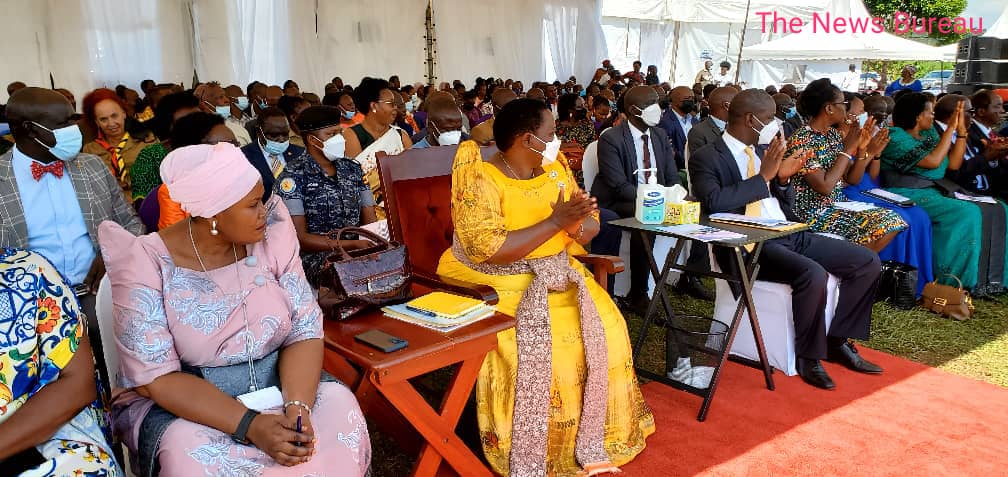 In his speech, Tayebwa joined Kazimba to condemn people who don't value others` lives. He said there is a growing trend in the country where unscrupulous characters want to bring down whoever rise in different positions and capacities. "General Katumba is one of the most loved people in the country but like the Archbishop put it, the more you are loved, the more you are hated. I have just come to discover this. It is very funny! The day you rise, there are some people looking for breaking news on how you will fall and, it is their prayer every day. It is a shame but that is how our society is."
The Contributions
Tayebwa, who said that the Parliamentary fraternity loves Gen Katumba, reminded the VIPs present to always prepare for such unfortunate situations of being targeted by people who aren't happy with their positions. He delivered the of Speaker Among`s message, thanking God for keeping Gen Katumba alive. Tayebwa handedover the Speaker's contribution of USD10,000 (UGX37m), and in his personal capacity, he contributed UGX10m. Premier Nabbanja also delivered President Museveni`s contribution of 50M and, she personally contributed UGX10m. On behalf of Kwagalana, Kirumira delivered UGX77.6M and, General Muhoozi Kainerugaba sent in UGX10m.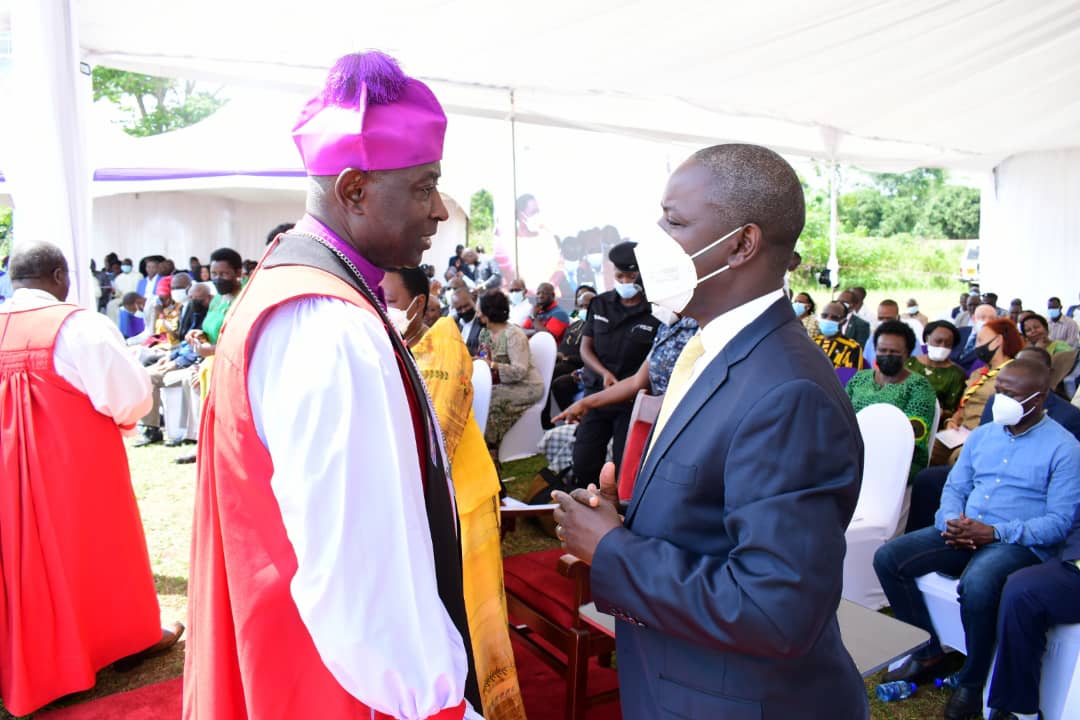 The List
President Yoweri Kaguta Museveni – UGX50M
Rt. Hon. Anita Annette Among – USD10,000
Rt. Hon. Thomas Bangirana Tayebwa – UGX10M
Rt. Hon. Robinah Nabbanja – UGX10M
Rt. Hon. Rukia Isanga Nakadama – UGX5M
Cabinet Ministers UGX32M
Hon. Sam Kuteesa UGX10M
Bemuga Group of Companies UGX10M
Kwagalana Group UGX77.6M
Owek. Robert Wagwa Nssibirwa UGX3M
Hon. Fred Simbwa UGX1M
Hon. Julius Mukasa UGX1M
Hon. Geoffrey Lutaaya UGX1M
Hon. Kamukama Benjamin UGX1M
Hon. Dr. Byakatonda Abudul. UGX500K
Hon. Museveni William UGX1M
Hon. Aggrey Bagiire UGX1M
Hon. Igeme Nabeta UGX2M
Hon. Bukenya Michael UGX1M
Hon. Ssebikali Joel UGX1M
Hon. Milton Muwuma UGX1M
Emera Water Iganga UGX1M
Hon. Solomon Silwanyi UGX5M
Hajji Yakubu Kasadha UGX1M
Hajji Katono Siraj UGX500K
Hon. Aidah Nantaba UGX5M
Hon. Dr. Kefa Kiwanika UGX1M
Hon. Hellen Nakimuli UGX1M
Hon. Habert Kinobere UGX1M
NRM Parliamentary Group UGX2M
Hon. David Kabanda UGX1M
Hon. Robert Kitoleko UGX1M
Hon. Ssejoba Isaac UGX1M
Hon. James Majegere UGX300K
Hon. Robina Rwakojo UGX1M
Hon. Apolo Ofono UGX1M
Hon. David Mutebi. *1M*
Hon. Idd Isabirye UGX500K
Balam Barugahara UGX10M
Muhoozi Birthday Gift by Balam Barugahara UGX650K
Mayor. Kyaze Yasin UGX500K
Julius Bukyana UGX500K
Hon. Stella Kiryowa USD100
Hon. Namuwanga Maria UGX500K
Hon. Nsanja Patrick UGX1M
Hon. Anthony Eseru UGX1M
Hon. Kibedi Nsegumire UGX300K
Hon. Rose Akol EAC UGX2M
Hon. Kasule Robert Ssebunya UGX500K
Hon. Mathias Mpuuga UGX5M (LOP Office)
Ministry of Works and Transport UGX33M
Hon. Mutebi Nuwa Wanzala UGX1M
Kigundu Benon Linkon for SDA UGX2M
Civil Aviation Authority UGX20M
Movit Products UGX5M
Hon. Fred Omach, Chairman Unra UGX1M
Hon. Taaka Agnes UGX1M
Uganda Police UGX23.9M
AIGP Martin Ochola UGX3M
AIGP Ochom Edward UGX700K
AIGP Abel Kandiho UGX2M
Gen Sam Kawaga UGX1M
AIGP Abas Byakagaba UGX1M
AIGP Damulira Christopher UGX1M
Mr. Aggrey Wuni UGX1M
AIGP Asan Kasingye UGX400K
CP Alerenge Geoffrey UGX5M
Report compiled by Shamiru Byakika
Via The News Bureau
Author Profile
Uganda's First online News Paper. "More than Just News" Investigative, Informative, without Fear or Favor