Sometimes the duration may vary due to complexity of a concept or the techniques I may use. Sometimes the time is split between two drawings I might be working on concurrently.
Art is embodied as the expression or application of human creative skill and imagination typically in a visual form, such as painting or sculpture. Such creativity and imagination painting produces works that are then appreciated primarily for their beauty or emotional power.
With a pool in the country's professional art, Daniel Atenyi Wandaalo, is the latest entrant into this rare profession. He recently exhibited for his maiden time his artwork at the Alliance Francaise in Kampala. This Alliance Francaise exhibition was held over the weekend that closed the month of September. This investigator website's Joan Atuhwera, sat down Daniel and his Manager Karanja Nzisa, in a sneak exclusive Q & A on their lives and art. Below are the excerpts;

Qn: Who is Wandaalo Daniel Atenyi?
Ans: Daniel Atenyi is a 25-year-old Ugandan born artist that creates surrealist portraiture using charcoal on paper.
Qn: Who are your parents and when were you born?
Ans: I was born in Jinja town (Today Jinja City), Uganda, in 1997. My mum and dad are both teachers. They've always supported my talent and from when I was young, they made sure I always had pencils, paints and drawing books. To this day, they still have a lot of faith in the art I create.
Qn: Where did you go to school?
Ans: I went to King's College Budo then Kira College Butiki for my secondary school and then Makerere University to study land surveying and geometrics.
Qn: How and when did you discover that you had a penchant for art?
Ans: When I was twelve, I discovered beautiful art that depicted the tribes from the Turkana region and instantly fell in love with them.
From then on, there was a continuous hunger to see more beautiful art and this then led me to want to create art that would make other people feel the same way I did.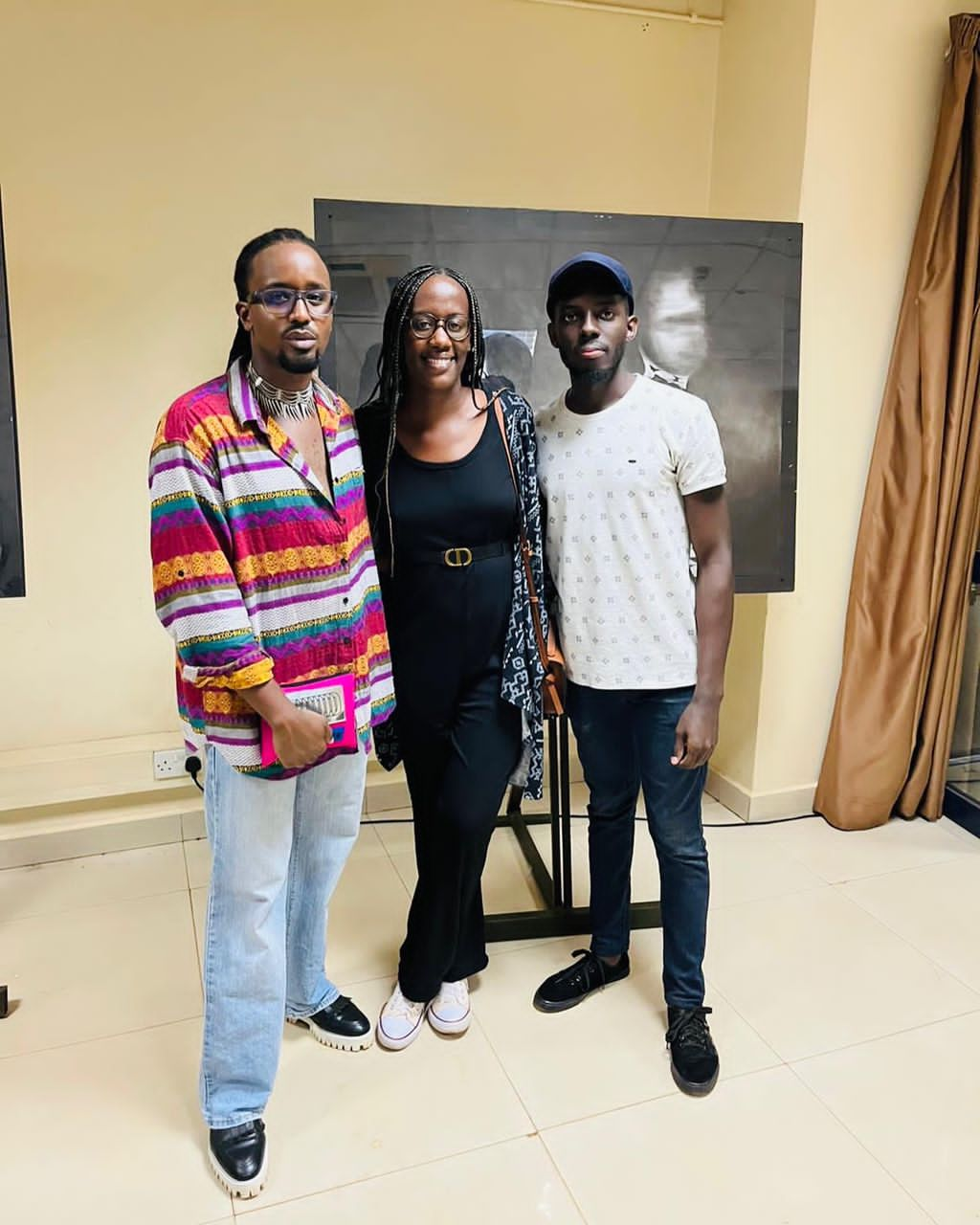 Qn: What do you use whilst doing your pieces and what inspires you before creating one?
Ans: I primarily use charcoal on paper to create my drawings and my process of application varies greatly with the complexity of a concept and material I might be experimenting with.
These pieces are inspired by a great deal of emotional energy and my perception of the world that surrounds me. While I create, I enter a trance and it feels like walking through a beautiful dark tunnel in a world of my own. I then come out of the end of this tunnel with a clearer calm mind and with new found treasure.
Qn: What is most challenging when using charcoal for instance?
Ans: Charcoal rises everywhere in the form of a fine powder that can be inhaled, so I sometimes have to be careful while working with certain techniques on a drawing.
Qn: What are the challenges that a self-taught artist like you go through?
Ans: There is sometimes limited access to certain art circles and some useful information so I usually have to do a little extra work to get some things done.
Qn: Was this your first exhibition?
Ans: Yes. This was my first solo exhibition but I have been a part of three group exhibitions over the past two years.
Qn: How long did you take to compile these pieces?
Ans: It took me a space of six months to create a total of twelve drawings, but on average it takes between seven to fourteen days to finish one drawing with entire dedicated days.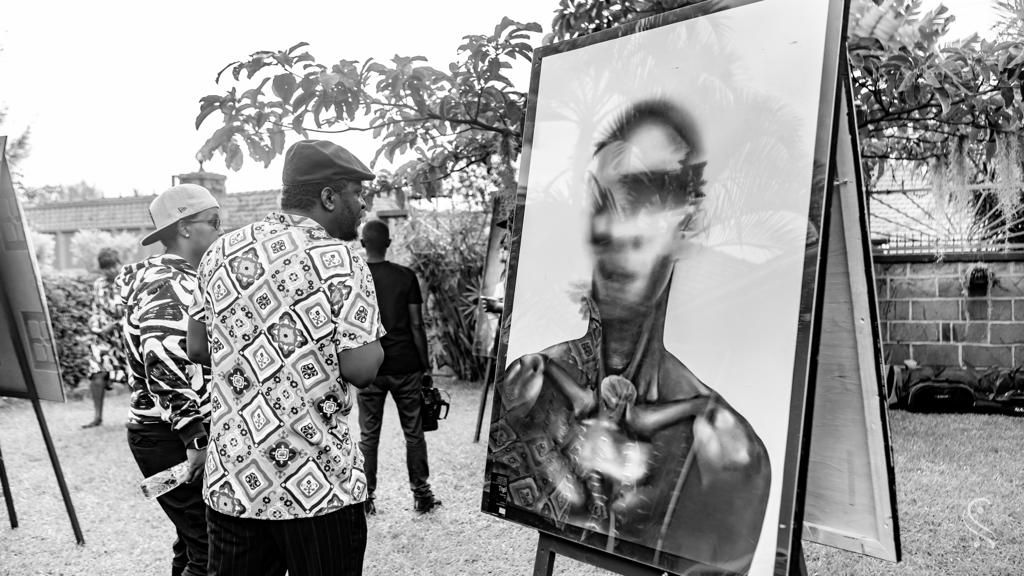 Qn: Why did you choose Alliance Francaise for this particular exhibition?
Ans: They have a good understanding of the support needed by the art community and they've continuously showed and provided support for individual artists and artist communities.
Qn: Where do you see yourself after this and are you planning to take the same overseas?
Ans: I'm working towards creating more intriguing and more powerful art that can be featured in public collections and we're also hoping to get into an international art fair in the near future.
Qn: Should we expect other exhibitions from you every other year?
Ans: I'm currently developing new lines of work and we'll hopefully get to a point where I can bring new experiences to the art scene as often as possible.
Qn: How do you plan to stretch your artistic potential beyond the boundaries of Uganda?
Ans: With partnerships and collaborative work with individuals and organizations I hope to have my art shared to wider and more appreciating audiences.
Qn: What is your final message to both art enthusiasts and artists?
Ans: Art should stop being looked at as a luxury because that is not what it is. It is a base upon which the fabric of stable society was formed. The gift of art should be experienced by all, reveled in, and shared endlessly. This is a culture that we should rekindle and pass on.
A Manager, Karanja, Takes on Managing Daniel ….
Qn: Mr. Karanja, for how long have you known Daniel Wandaalo Ateenyi?
Ans: I've known Daniel just slightly over a year now even though it feels like forever.
Qn: When did you realize that working with him especially managing his art talent as a business was viable?
Ans: The penny dropped when I realized that this young man saw in himself and me things even I wasn't capable of seeing at the moment he approached me to act as his agent.
So I trusted him, and we started working together and everything fell into place. I now have a very clear vision of what a collaboration will look like and I hope it will be a very very long one.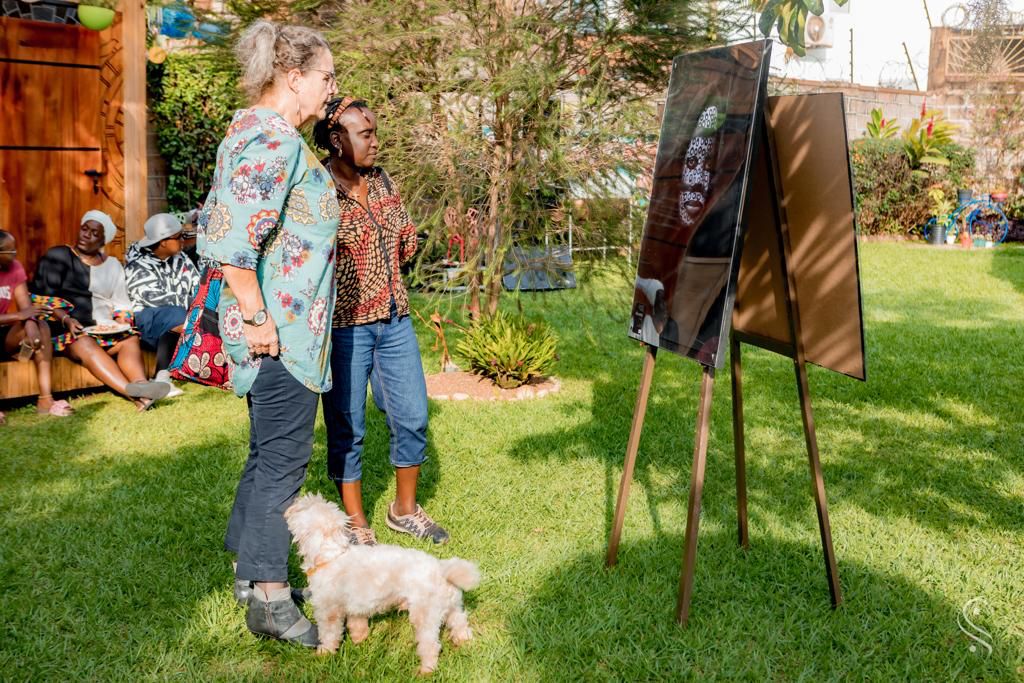 Qn: Why did you choose to have a solo exhibition?
Ans: Who wouldn't want to have a show that was all about them! For all the focus to be on their work alone, allowing the audience to take in its full range and subtle nuance without the interruption of comparison to an entirely different artist's body of work.
Qn: Have Daniel's expectations been realized since you launched this exhibition?
Ans: That's a question better suited for Daniel but contractually the partnership is meeting the expectations we laid out.
Financially too, and I suspect emotionally as well. But we won't settle for just meeting expectations, we hope to blow it completely out of the park.
Qn: Do you have plans of having these exhibitions overseas?
Ans: We have hopes and some plans yes to show these works anywhere in the world with a willing audience.
Qn: Will your calendar have an exhibition every other year?
Ans: We hope to have Daniel's collections shown wherever and whenever there's a stage that favors us. The frequency will depend on a variety of factors including working capital, the time we have to create and promote, the public's demand and more.
Qn: Where do you Pitt Atenyi in the art industry in the next five years?
Ans: Having shown at the world's largest Biennales (Venice being the Holy Grail) and living very comfortably off his art
Qn: Is there are future you envisage when an artiste will solely depend on art for income in Uganda?
Ans: That future is already here. And we can make it more so by talking about art, reading about art, telling friends about good art, buying the art you love, not wearing down artists to the bone for a discount, demanding that galleries create better terms for artists, and themselves.
Joan: Thank you, Daniel and Manager Karanja.
Author Profile
Uganda's First online News Paper. "More than Just News" Investigative, Informative, without Fear or Favor