Who is Arnold Muwanguzi?
Occasionally funny, lighthearted 25-year old, born and raised in Kampala. An artist by heart, ardent tech and mental wellness tinkerer.
Who are the parents, when and where the POB (Place of Birth) is?

My birth mother is Elizabeth Luwalira. She's the toughest and most consistent person I know of. She worked and studied with two young boys to raise on her own for the most part. I met my brand new dad, Derrick Luwalira at about 11. He had a really cool bike and haircut at the time so I liked him instantly. They're both Ugandans based in Kira Division. I was born in 1997 somewhere in Kampala.
Do you have any siblings?
I have one older sister, one older brother and two younger brothers who are my favorite people on the planet.
A brief profile on school life?
I started my formal education journey with my grandma walking me to nursery school daily. I was a straight A student throughout primary school. I went Downhill from S.1 when I found out I'd still be taking notes for the next 6 years and not doing much outside the classroom for grades. I used art as my hideout, I practiced a lot of drawing to cope with school stress as I increasingly became more reserved with age. I took every opportunity to skip class to work on art projects, with my daily bowl of noodles and an existential conversation with a friend. My highlight was when I worked on the school magazine with my biggest crush and for a moment while it lasted, I felt like I knew what I was doing with my life. I gave the magazine my all and it showed. I finished high school in 2015 with average grades, untouched assignments, low self-esteem and really big ambiguous dreams.
Where you always embedded in art–related fields whilst at school ?
Yes, whereas I didn't study art formally after S2, I continued using the big cool art text books in the library to practice. I also hang out in the art room all the time collaborating on art projects with art students. Towards the final exams, I volunteered to be the model for the 'human figure' art exam for my classmates just so I could be in the art room one last time with them.
When did you start pursuing art as a career?
In 2016, shortly after I quit university two weeks into the I.T course.
We understand that you also did a couple of courses. Tell us about them!
Discovering online school was the most liberating part of my learning journey. Everything was faster, cheaper and way clearer than what I'd experienced in the classroom. I went wild with it and pursued mobile app design, photography, entrepreneurship, psychology and film. I learned so much in a really short time. My family was really unamused by my choices so I did physical robotics classes at Fundibots to have something for them to hold on to. Consequently, all this exposure to knowledge started to pay off in conversations with older people in these spaces so I got working opportunities. Eventually I got more serious about certification so I pursued Outcome Based Education, which helped me understand why I was initially bored with conventional school. This made me a really good educator.
When did you nature the Figurines Brand?
Figurines was born way later than its conception. The brand as is today, was born in 2019 but conceived on the night of New Year's Eve in 2016.
What does Figurines stand for?
Figurines the name in itself means little figures of real life things. I first saw the word on a photographer friend's Instagram (LNF) and fell in love. I was already making figurines to help first time painters to ease into the process and bypass their anxiety and creative block.
Just as the logo depicts a color mixing pallet in the form of a semicolon, we value wellbeing. We're creating all the art experiences we can to guide people into self-expansion rather than escapism through the art making experience.
What are the modalities of online art supplies shopping online?
Gradually online shopping for art supplies is becoming mainstream. This is partly because the market for basic art supplies has grown tremendously from the time we started introducing creativity to everyday people in 2017. Prior to that art supplies online were inexistent. You could only access them from a few physical shops literally along one street in Kampala. It is still fairly difficult to access affordable good quality art supplies online as most providers add big margins knowing that buyers have little choice. These days, you have a better chance accessing good quality supplies affordably and easily because our team has put in the effort and time to create alternatives in cases where access and pricing is difficult.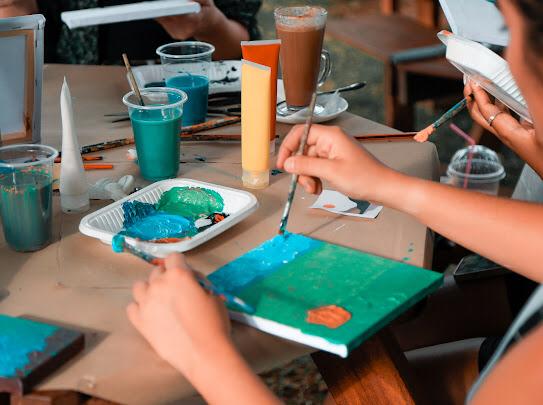 Are there any risks as regards this online business especially clones and counterfeits?
There's risk in any business venture honestly more so online. But I believe that the bigger the risk, the bigger the reward. Some of the most glaring in this field are unfair pricing and misleading advertisements. Lots of sellers online take advantage of the ignorance and misconceptions about art supplies to rip off people. The concept of online sales is not new and has been cloned over and over in different fields. The bigger risk remains in the ethical bits of operation, which makes or taints the image of the whole industry.
Have you held any exhibitions in Uganda. If yes, where and how many?
Yes, in 2019 we worked with Qraft Mind Uganda to shine a light on visual artists that no one was paying much attention to. Some of the artists that exhibited include Emmie Nume, who demonstrated for the first time ever and is now part of Afriart gallery (the best on the continent) He has since exhibited and is yet to exhibit across the globe. Some of the others were Mwojo, Daniel Lubwama, Wesley etc.
What are the challenges you face on this business?
The biggest challenge currently is in pioneering. We constantly have to innovate and experiment new experiences, products and concepts. This means we need to actively renovate the systems that protect and increase our cash flow. Basically speaking, the money has to be woven from thin air and that's no mean feat.
Where do you see yourself in the next five years?
We're working towards a light manufacturing space to create even better and more affordable art supplies and consequently experiences, also serving our friends in Rwanda, Kenya and Tanzania.
Is there a future for online art business in Uganda?
Online is the most sustainable future for art business. With the emergence of NFTs and several AI platforms, it's only a matter of time before art businesses can only thrive online. The market is wider and with our rich stories and recent deep histories, African contemporary art is already taking the world by storm thanks to the internet's exposure. The only way to fully protect our art and benefit from it is to learn how to use online tools to create, sell and safeguard our creations.
What advice would you give to an artist interested in pursuing art as an entrepreneurial business model?
As an entrepreneur in the art space 3 things are key to me; Financial Records, Documentation and Systems. The earlier one gets comfortable with numbers, the smoother the journey will be. When you document beautifully it's easier to build a visual brand and get paying clients. Now more than ever, people prefer to spend extra on aesthetics. Systems protect you. Create ways to get work done without you physically having to be a million things. Use online tools like sheets, or excel, design pricelists and discount options prior to conversations with clients.
One off the cuff. Are you married?
Nope, not married no kids.
Author Profile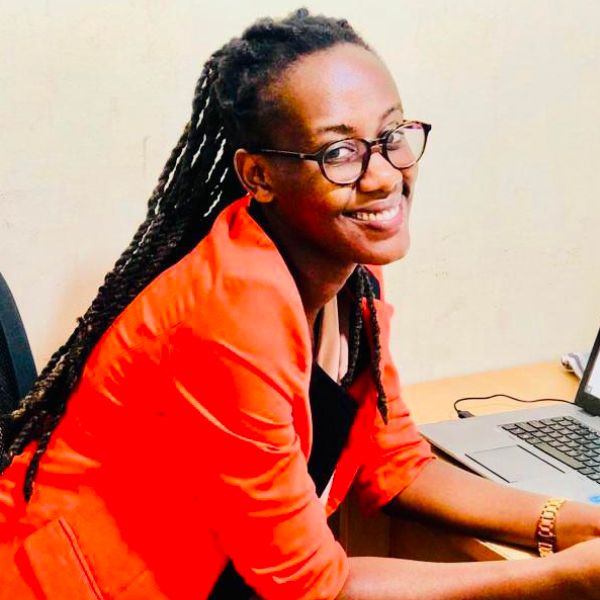 Joan Atuhwera is a Business Administration Graduate, a Human Rights activist and writer with over five years' experience in pursuing justice for others via her keyboard. She can also be reached via email: [email protected] or WhatsApp +256774334595