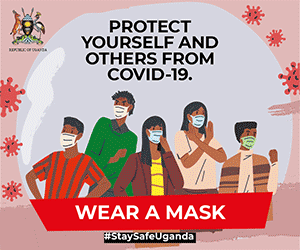 Crane Bank Fraud Series Part I: "Bank Baron Rasik Kantaria, the Kenyan tycoon who is Crane Bank's second largest shareholder, secretly resigned from the bank's board…," a news website, The Local, reported on November 8th 2016 under the headline; "Owner of Crane Bank's 47.33 per cent shares unmasked, resigns secretly."
Three days ago when we revealed how the hitherto well-protected forensic report about the stinking fraud that saw Crane Bank dive into her grave, a handful of Ugandans claimed it was old news! Well, neither they nor any news outlet has ever labored to report about the same. And yet, all the billions stolen or mismanaged belong to none but Ugandans through taxes.
However, better late than never; says the old adage. In these pages on 23rd August 2021, we ran a story of how the Central Bank tricked Dr. Sudhir Ruparelia into accepting a thorough audit of Crane Bank in return of the same being listed for Stock Exchange. (Read: The Untold CBL Records: Details why Sudhir Ruparelia and his next generation can't own a Banking Institution ever again).
What followed was the said Forensic Report after which, Crane Bank was declared insolvent upon Sudhir's demand for his Stock Exchange certificate. This report code-named 'Project Nyonyi' reveals how the trickster tycoon used a number of businessmen that conspired, aided and or facilitated him to commit the alleged fraud. One of such businessmen is Rasiklal Kantaria, a Regional celebrated Bank Mogul.
Kantaria the man and his role in CBL
Rasiklal Kantaria, also known as Rasik, is a Kenyan tycoon and founder of Prime Bank, which has branches in Kenya and around African continent. PricewaterhouseCoopers Uganda Limited (PwC), the authors of Project Nyonyi report were attracted to Kantaria via his actions, behaviors and or inactions towards the regular happenings at the Crane Bank.
The Investigators gathered that Kantaria owned 47% of Crane Bank Limited through a company called White Sapphire Limited. This stance would make him the biggest single shareholder in CBL. However, the Central Bank (CB) was concerned that his actions or inactions were not matching the person with such a large shareholding. Henceforth, the auditors settled on a fact-finding mission of whether indeed, Kantaria was the actual owner of the shares, or just a proxy. The findings are quite interesting!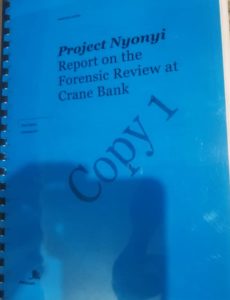 The investigative audit unearthed that actually, Kantaria was a front for Sudhir's personal interests in Crane Bank. Their findings were backed by the fact that Kantaria reportedly procured the shares in two folds. He got shares worth UGX2.5Bn in 2006 from a Company called Anglo Universal Holdings Ltd and, other shares worth UGX9.0Bn from a one Jagdish Nagrecha, Sudhir himself and the wife Jyostna, in 2010.
Interestingly, the investigators dug into the source of the money Kantaria used to buy shares from Jagdish, Sudhir and Jyostna. And guess what! The dimes were confirmed to have been scooped from a company called Premier Commodities, belonging to Sudhir through his buddy Godfrey Kirumira and an employee named Mohammed Ali. But hold it there… the two (Kirumira and Ali) had again borrowed the same from Crane Bank!
In simple terms, the above scenario suggests that Kirumira and Ali picked the UGX9.0Bn from Crane Bank in form of a loan, passed it to the proxy in tycoon Kantaria who, also tossed it to Sudhir, Jyostna and Jagdish as cash for buying shares from the same Crane Bank, then the three returned it to Premier Commodities from where Ali and Kirumira picked it and returned to Crane Bank as a recovered loan!
Furthermore in a different scenario, the forensic audit investigators gathered how, 78% of the UGX36Bn, meant to be Kantaria's and or his company, White Sapphire's dimes in dividends for all but one of those years, was actually found to have been drawn from Ruparelia Group of Companies, his other companies, his associates and or Crane Bank itself. Do you find this interesting? Hold your breath and…Read on…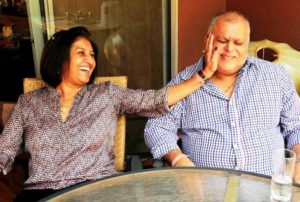 Sorry, have we consistently addressed White Sapphire Company as Mr. Kantaria's? Well, we beg for your pardon. We can now, authoritatively withdraw the same… Whereas White Sapphire, a company incorporated in 2012 and domiciled in Mauritius, is reported to be 100% owned by Tycoon Rasiklal Kantaria, all the investigators' findings point to the contrary.
A deeper zoom into White Sapphire's draft accounts unearthed how her management and audit fees were, since 2013, settled by either A.R Kalan (the former, 'missing' Crane Bank MD), Dr. Sudhir Ruparelia himself or his wife Jyostna Ruparelia. Furthermore, investigations unveiled that all audit queries from White Sapphire's auditor were addressed to Crane Bank officers and the same would, in turn be forwarded to either Kalan or Sudhir, as opposed to the 'owner', Kantaria!
"Being a seasonal Banker, we would have expected to see Mr. Kantaria's involvement in the leadership and management of the Bank but this was absent. For instance he could and should have been involved in; nominating Directors to the Board to give him a say which is commensurate with his majority shareholding, seconding senior management staff from other banks in the region where he has significant interests (Kenya, Malawi and Botswana), or as a minimum, being represented in recruitments of senior officers, representation in crucial Board Committees, and robust contribution in Board Meetings among others," but, reads the report, he features nowhere.
Additionally, in March 2015, reveals the report, Crane Bank Board resolved that all non-executive Directors who were not shareholders were to retire at the end of each year prior to the General Meeting of shareholders. And guess what? Kantaria was the first to retire, a stance that clearly suggested that the Board did not consider him as a shareholder and neither did he consider himself as one!
Lastly for now, the Investigator gathered that when contacted via email, Kantaria confided that he actually wasn't an active Director but a mere silent investor who, had nothing whatsoever, like any interest in the running of Crane Bank, its decision making and or operations, save for his occasional attendance of Board meetings. He further confessed that essentially, Sudhir is the sole beneficial owner of White Sapphire shares!
Going forward, given the fact that Sudhir, according to documents in our possession, confirmed the findings in the Project Nyonyi report and, went further to pen an agreement to return the swindled funds (story for another day), we can authoritatively, comfortably and with utmost ease, refer to him as Uganda's Top trickster of our time. Watch this space…