Sudhir's Darkest Side: That businessman Sudhir Ruparelia throws around money to silence being investigated or prosecuted for crime, is a story known by people who care to know. But bribery being a matter between the giver and the recipient, such criminal incidents involving him have remained top secrets.
By God's Grace, the burly businessman, also the Federal Democratic Republic of Nepal to Uganda today, Dr. Sudhir Ruparelia one time in the past gave out a really fat bribe but the carrot ended up boomeranging on him.
Under fire for charges related to money laundering, Sudhir offered the bribe to the current security minister, Maj. Gen. Jim Katugugu Muhwezi who at the time, was a Brigadier and head of the yesteryears no-nonsense Internal Security Organization (ISO).

The year was 1991, Muhwezi had arrested Sudhir for trying to smuggle the foreign currencies out of the country. The businessman was chilling in police cells awaiting arraignment after which he was actually remanded in Luzira prison for four months before court released him on bail.
Fearing for the worst, Sudhir decided to wire a bribe amounting to ten million shillings to the Brig. Jim Muhwezi's wife Account at the then Nile Bank along Jinja Road. He wired the money in equal instalments of UGX5M. He sent the first instalment on November 1st 1991 and on November 2nd 1991.
The money was intended to be an inducement for Muhwezi and the Criminal Investigations Department (CID) personnel, to block investigations and proceedings of a case in which Ruparelia was accused of attempting to smuggle checks and drafts amounting to UGX194M through Entebbe International Airport.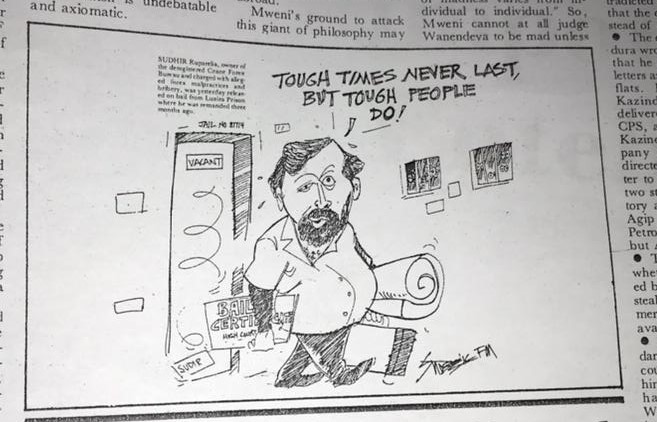 Aged 35 at the time, Sudhir lost it when Muhwezi rejected the bribe and instead informed the police who charged the giver with corruption, thereby complicating matters for the struggling businessman who was facing charges of the smuggled foreign currencies already.
He was arraigned before then City Chief Magistrate Edward Bamwite. Upon the charges being read to him, Sudhir asked for bail through his lawyer, Henry Kayondo. But the prosecution opposed him, contending that since the suspect had audaciously tried to bribe the DG ISO, he had proven himself capable of interfering with investigations.
The prosecution further submitted how Sudhir on securing bail would be tempted to flee from trial, being a foreigner. Lastly, Sudhir had dodged a number of questions during interrogation by the police, prosecution continued, which meant he was hiding something. Court ultimately remanded Sudhir in order to go and make a ruling on the bail application.
The Sudhir Project
Sudhir Project has been lately running in these pages. This is after he branded the Investigator CEO, Stanley Ndawula, as a total 'extortionist' and 'blackmailer'. He piled this heave on Ndawula after we published a story of how the honorary Doctor had reportedly bought Simbamannyo House from Equity Bank via 'proven' fraud.
The story titled 'An Auction that never was (…) got Sudhir so incensed to the point of hiring hackers who, entered into Ndawula's social media networks. His agents used the Accounts to post disgusting stuff including nude pics of a one 21yr old Aisha Mutesi, a girl Ndawula had never known before. On top of that, his media team released story after story against Ndawula.
Not done, the hackers went for all the Investigator Staff members' accounts and started producing stuff suggesting that all is not well between Ndawula and his colleagues namely, Mr. Muwambi Stephen and Mr. Jacko David Waluluka. The same Accounts are still in the hands of Sudhir's hackers and are still being used against Ndawula and the Investigator… (Story for another day).
"He started it all. My intention is to inform the public how Dr. Sudhir has no moral authority to label anyone an 'extortionist and blackmailer,' he himself qualifies for the same. By the time we are done with him, the public will be contented how the man has ably lived a different life far away from his real one," Ndawula said last night.