Distressed BBC and Ugandan TV personality Anita Kyalimpa aka Fabiola, is cursing the heavens after a couple of companies that had sought her services through endorsement suspended their business with her brand.
This follows the negative publicity and reaction she is currently receiving on her social media handles after the infamous audio that cast a doubt on her morality when she abused and branded her father Mathias Mugisha, a human excrement (pupu) figure, following a domestic squabble recently.
One of the companies that is staying its association with Fabiola is Beauty Cave Uganda, located at Kooki Towers which deals in cosmetic sundries. On December 16th, Fabiola had put up a post in support of Beauty Cave but the same backfired in her face, with most comments shunning the product.

Below are some of the comments that led to the suspension
Erisa Kibuuka Neymar Jr.
Oyo cosmetics alabika mizi what if you deliver emizi🙄 (That cosmetics looks pupu. What if you deliver pupu)
Artica Jojo
🤣🤣😂😂😂mbu muwala wa mizi (Says Pupu`s daughter)
Shafique Hoodah
Kaale muwala wa muwumbo, we will check it out. (Ok Pupu`s daughter, we shall check it out)
Namatovu Matovu
Obuwoowo buwe taata wo Kuba Kati awunya nga B. (Give those cosmetcs to your Dad because he must be smelling pupu)
Ssali Turf Ten
Naye muwala wa Mazi wewujja luno… (But Pupu`s daughter, you`re allover)
Fabiola's own new business venture; Fabiola Beauty SP' lip Gloss, has also been affected by her current debacle that has slowed down sales of her high-end makeup brand that would have made enormous sales during this holiday period.
Before she put her brand at stake, Fabiola had had a very fruitful year and indeed swanked about the same on her social media handles as shown below;
Anita Fabiola
2021 has truly been one of the most rewarding years of my life. From being a magazine cover girl, starring in the biggest TV series in the country(premieres 2022), getting proposed to by the love of my life and launching my dream makeup line, I'm so grateful to you all for supporting and loving me the way you do. All my fabulous & successful friends & family, the media, the fans & everyday people that continue to support me, I thank you. I pray that 2022 will be the year that your wildest dreams & aspirations come to fruition. My biggest goal next year is to watch FABIOLA BEAUTY continue to cross borders (I'm putting it out into the universe *manifestation*).
What's your biggest goal for 2022 ? (Put it out into the universe and you'll manifest it)
We have since also learned that a top television station based in the leafy hills of Naguru, that was due to unveil Fabiola as a new anchor of its new beauty show, has reconsidered its launch that was slated for 14th February 2022.
Author Profile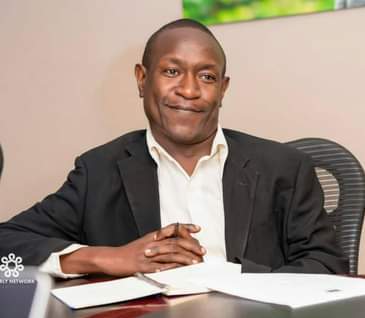 Mr. Jacko David Waluluka is another unique entertainment and general investigative news writer, a field he has diligently covered for over fifteen years. He's also the Chief Administrator at The Investigator. He can easily be reached via [email protected]