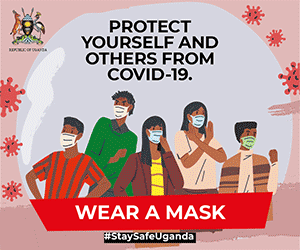 Celebrated BBC and Ugandan Tv `Star` Anita Kyalimpa aka Anita Fabiola is said to be in total distress after her siblings Grace Ainomugisha and Ronald Rukaama on Thursday evening attended a reconciliatory meeting with their father at his residence in Kasangati, The Investigator exclusively reports.
The meeting was convened by concerned family members, including a prominent business woman (name Withheld), after it had emerged that their father had resolved to take matters into his own hands to sort out issues bent on shredding his family apart.
Fabiola, her hubby Mark Ronald Mubiru and mother who are alleged to be the root cause of the family wrangles, did not show up at the meeting.
One of Country Uganda`s renowned veteran Photo Journalists and tour guru, Mathias Mugisha confirmed that during the meeting, Ronald, Grace and himself apologized for any wrong doing that might have occurred between them and agreed to move forward as a family.
However, we are informed that the meeting was clouded with phone calls from the Anita team that did not show up, warning Grace and Ronald of severe repercussions that they will face, for back stabbing` them.
Seeing her siblings had jumped out of `the struggle`, including Ronald on whose `ICU Plight` she was driving to justify her abusive stand against her father, now leaving only her, mother and hubby in the middle of nowhere, Fabiola pulled another string.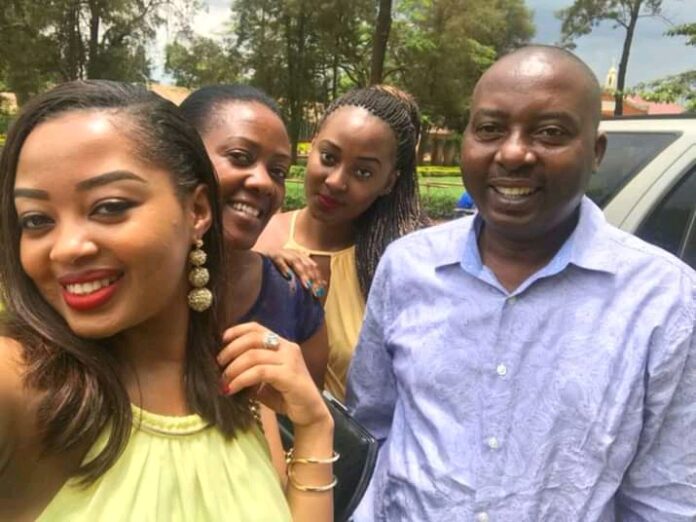 She doctored a statement and put her father at a `finger point, ` telling him to either post the missive on his social media pages and correct her morally dented persona, or risk being alienated by all other family members.
In an exclusive interview with this reporter, a distressed Mugisha, who seems to be physiologically taunted, revealed that Anita, the now chief financier of her mother and siblings and in whom their livelihood thrives, demanded that he either honors her demands and accept her fiancé Mark Ronald Mubiru, or risk being permanently erased from their lives.
"My daughter is trying to compromise me for a man I do not know or what his real objection is, they want me to leave my house for their mother to take over, this is too much. Please take me seriously. Come ask the neighbors, please." We understand that had Mugisha embraced Fabiola`s hubby in the first place, what we see wouldn`t have been. Mugisha shared the missive his daughter demands he MUST post or face the worst.
Fabiola's PR Statement.
"Message from Mathias Mugisha and family
Matthias Mugisha and family over the last few days have been faced with a situation of deep emotional challenges. However, as a family we thank all our friends and relatives who came to our support in various forms and ways. We are currently being attended to by requisite spiritual and emotional professionals and seeking more professional assistance in various ways to resolve our family issues.
As the head of the family, I wish to thank everyone who has reached out to us as well as held us in your prayers. Your enormous support and love is even bigger testimony that we should do everything to resolve our current situation.
Personally, am committed to creating a harmonious environment with my immediate family as well as the not so immediate family such as my in-laws who I recognize as stakeholders in my family now.
Let us all desist from the falsehoods being peddled on social media. Best wishes for the season and happy 2022.
Mathias Mugisha
Anita Fabiola"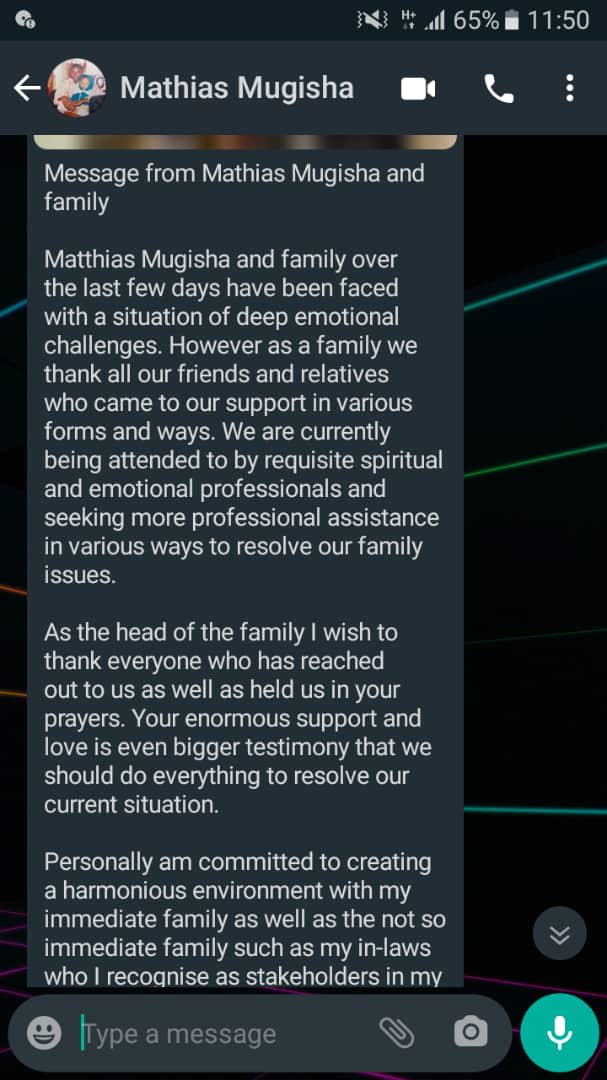 Reading in-between the missive lines, Fabiola seeks her father to forcefully accept her hubby as his own family: "…with my immediate family as well as the not so immediate family such as my in-laws who I recognize as stakeholders in my family now." The draft also reveals that her business contracts might be at cross-roads.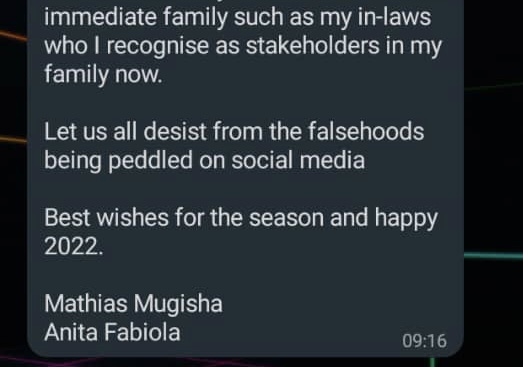 The Chronology of family feud
For the past decade there has been a storm brewing in a tea cup at the Mugisha residence in Kasangati off Gayaza road, with a sustained silent but deep-seated war going on between the father and mother as they both tried to take control of the children's mentoring.
With Mugisha assuming his role of providing for the family's daily welfare and educational overheads, the mother assumed the role of giving them career guidance and has always been the steward of almost 80% of their decisions.
A story is told of how Mugisha, who despite being in the photography business, was shocked to the marrow on discovering that the girl on the catwalk vying for the Miss Uganda accolade under the name Anita Fabiola, was actually his daughter Anita Kyalimpa.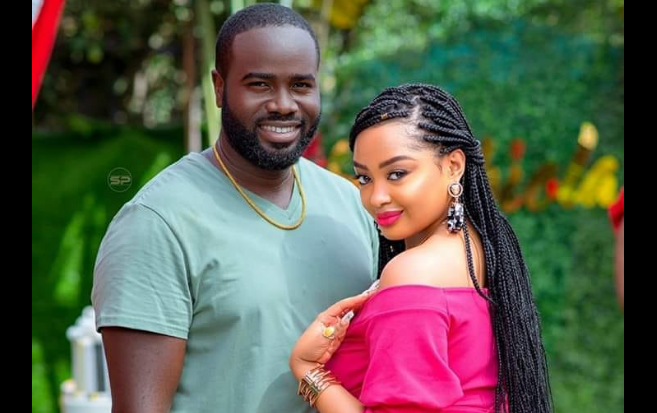 When he confronted the mother over this development, he unknowingly opened up a whirl of resistance from his wife, who accused him of trying to frustrate the promising future of their daughter as a beauty queen. Since then, theirs has been an animosity kind of relationship that later culminated into the bad blood that the world is witnessing now.
Mugisha, was in for a rude awakening when his daughter's TV career and event hosting took off. With some steady cash flowing in, she found freedom from her father and has since been putting up appearances to avoid the media prying into the ugly family issues that her family is facing.
Hell Breaks Loose
At about this time with the drunkenness of her daughter's success and financial independence, the mother was cheered on by a group of women who included a one Carol and Mama Isa, who made it a ritual to storm her house while the husband was around and throw tantrums at the hapless fellow.
The same group of women with the assistance of Anita and a Muscled Mark Mubiru, once in June 2021, raided the Mugisha residence and 'rescued' their mother whom they have since relocated to her brother Justus' home in Manyangwa off Gayaza road, though she is also known to take sojourns at Anita's Buziga home.
This development has since enraged Mugisha, who still insists that Mark Mubiru is a stranger who has never been introduced to him by any of his daughters though his estranged wife thinks otherwise.
Mugisha Finally Fights Back
In or about June 2021, Mugisha, as a true African father, physically disciplined his disrrespective son Ronald, who would later with the coercion from the mother and Anita, allege 'aggravated battery` though no proof of a police reference or hospital admission history confirms the same.
When asked on Wednesday whether he really beat his son to pulp, Mugisha laughed off the accusation saying thus; "how can my son who is in coma be at our home in a meeting with me! Please let's be realistic, this is not an ICU Unit."
Mugisha, has now resolved to give the other two parties time as he hopes that they will also come to the table and close this sad chapter. But he insists that Mark Mubiru is a stranger with whom he will not be dealing in the near future whatsoever. We pray for the best.
To contribute to this story, call or send a WhatsApp DM to the writer via +256788501147