-Celebrated Fashion and cosmetics guru hooks Adam Akirabi
-Nyakaana Leaves Bugolobi home for Luzira abode
Ex Ugandan prized pugilist and 1990 common wealth gold medalist Godfrey Nyaakana and his wife, Sarah Kizito, have split over irreconcilable differences stemming from monies that arose from a sale of a plot of land along the Wankoko stretch in Bugolobi recently, the Investigator reports.

It is alleged that Nyakaana sold a plot of land premised in Wankoko Kampala, at a whooping seven hundred and fifty thousand US dollars, which he didn't declare to Sarah, a development that didn't augur well with the wife and has since strained their once 'solid' business and love relationship.
Though at one time during an interview with a local television, Sarah stated that the pair had separated their business entities, it was after the loss of their prestigious centenary park venture whose compensation process is still due and might never mature, that the two started sharing their financial obligations as a family.
Nyakaana and Sarah are the proprietor (s) of Nalongo Estates that was selected by the then KCC to manage and beautify centenary park but allegedly breached the agreement it signed in 2006.
It should be noted that at the park, Nyakaana runs a gym and section that housed several business entities whose rent and ground rent obligations were paid to him, while Sarah took charge of the remaining part that included her swanky lady Charlotte Saloon, boutique and spa thus making both of them financially secure and independent of the other.
With financial constraints emanating and piling up minus the once assured monthly income, word reached Sarah that indeed her hubby had bagged that colossal amount of money. She threw out of the window, her earlier 'agreement' to separate business from their love life.
Sarah, who is a dedicate Ahmadiyya Muslim and boasts of being a … a prayer warrior whose motto is to Love for all and have hatred for none and prides in not harboring had feelings for any human being had been rubbed by her hubby into receding her earlier doctrine.
The mother of three, who always claimed that 'my husband is my priority and spends most time tiding him', had been scorned into fury. The once fabulous four-bed- roomed home owned by Nyakaana on Luthuli Avenue in Bugolobi, their home, turned into a theatre of arguments and center of romantic squabbles.
With Nyakaana adamantly refusing to 'deliver' the money, Sarah is said to have tactfully moved out of the home, under pretext of going for a breather at her plush personal home in Buziga, Munyonyo, where she has since been living since late 2020.
The once suave couple that was the envy of many a lover in Kampala, with its public display of affection at hot spots like Guvnor, had officially become estranged and the lockdown came in as a blessing in disguise, for many a nosy scribe couldn't easily notice that they had separated.
Many a marriage counselor will swear that a childless couple will have nothing to hold onto or try to patch up a relationship once a strain emerges as in the Nyakaana's case.
Sarah Meets Kampala Heartthrob Moses Adam Akirabi
While the couple is yet to officially announce their separation, Sarah, who is a regular at the Magic Parking, a Kampala open hangout, has of recent been spotted with a city heartthrob and marketer, one Moses Adam Akirabi, who is affiliated to Inter Brand Concepts Uganda.
Adam, who is a patron of the same spot, is from northern Ugandan but surprisingly, he officially has a home in Masaka and a residence in Kampala.
Friends at the spot are always taken aback when Sarah refers passionately to Adam as her 'Floyd Mayweather' when they meet up perhaps giving that seamless meaning that Adam is a 'Floyd Mayweather' who has floored the former pugilist Nyakaana in a romantic bout to her Heart.
A magic parking well known 'secret' rumor has it that when Nyakaana found out that the pair had flown out to Dubai for a much-needed Christmas holiday, he booked the next flight to the same destination, only for them to be told of his plan, that forced them to return while he was in transit to nab them.
With memories of the woman, he loved haunting him and the house being a constant reminder of their sweet romantic episodes, Nyakaana recently resorted to spending a lot of time at his Luzira abode.
To live without being affected by this truth of life, comes easily to us, at least in the early years and such ignorance is blissful, as otherwise we will lead a life full of stress and ambiguity, with no eagerness, interest, hope or meaning.
Author Profile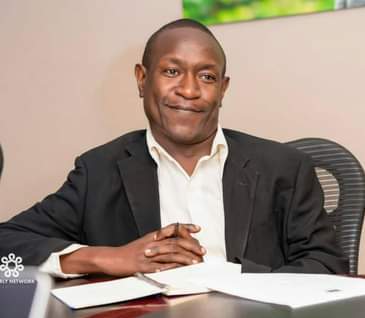 Mr. Jacko David Waluluka is another unique entertainment and general investigative news writer, a field he has diligently covered for over fifteen years. He's also the Chief Administrator at The Investigator. He can easily be reached via [email protected]