Before even celebrating their first birthday in Uganda, the already beleaguered Cameroonian Afriland First Bank Uganda is not only facing insolvency related problems… They have actually resolved to throwing in the towel and close door in Uganda after failing to shoot the sky, the Investigator can authoritatively, reveal.
The capital woes look to be of grave nature since the owners, we are reliably informed, have formerly communicated to the Central Bank, their willingness to voluntarily wind-up business. They have for some time now, been caught between exiting the country and, or mobilizing the cash to recapitalize their financial institution.
But they seem to have taken the closure as their resolve. This stance, at least going by our inner sources who offered that they have already started on the journey of exiting the country. This, by writing to the regulatory body, Bank of Uganda, expressing their intention to wind up business voluntarily. Indeed, Bank of Uganda acknowledged receipt of their application but not without a pinch of salt.

Highly placed sources within the central bank have acknowledged being privy to Afriland owners' intent to close business. "Yes, we were informed by the relevant bank authorities about their intention to exit the market. They have, even written formally to express that interest. However, they want to wind up business and we are saying no. They should instead apply for liquidation," an authoritative BOU source offered.
For starters, winding up business in Uganda, by any company and or financial institution is voluntary. However, for them to close, yet with outstanding financial issues with third parties, such an entity must be subjected to liquidation of its properties in order to clear the said parties and, this is Afriland`s case. Especially for being a foreign entity which, after going out of jurisdiction, it would be very impossible for creditors to recover their money, BOU stepped in, fearing a backlash of lawsuits from the Creditors, including shareholders.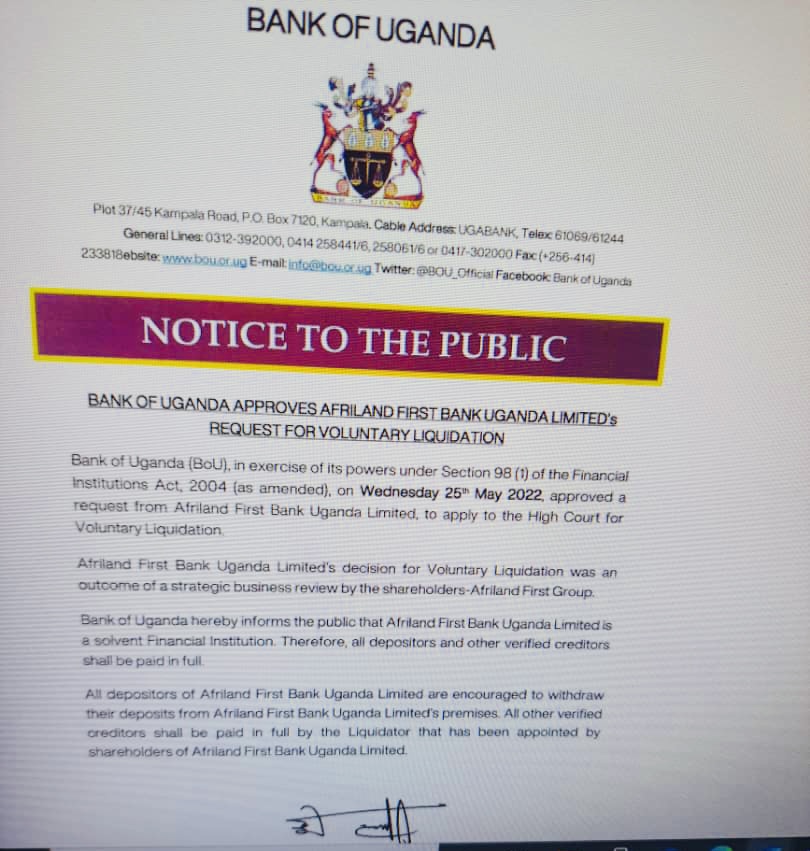 "Bank of Uganda hereby informs the public that Afriland First Bank Uganda Limited in a solvent financial institution. Therefore, all depositors and other verified creditors shall be paid in full. All depositors of Afriland First Bank Uganda Limited are encouraged to withdraw their deposits…" Michael Atingi – Ego, the Bank of Uganda Deputy Governor announced in a public release yesterday.
However, the top managers at Afriland had devised means of secretly going about the closure. This, by creating a believably sweeter story to this development. According to Stefano, one of the top managers, they are lately holding lengthy meetings to deliberate on how to find the capital in order to stay afloat amid a challenging business environment. "Yes, we are doing everything possible to find the money needed for recapitalizing our bank," he told us last Thursday.
Stefano devotedly refuted claims that the bank has indeed gone ahead and asked the regulator to allow them wind up voluntarily. "What is true is that we are seriously looking at recapitalization of the bank. The other bit of winding up is simply not true," he asserted. Nevertheless, Bank of Uganda yesterday publicly confirmed our two-week old story. They issued a no-objection to Afriland's liquidation.
The liquidition woes arrive amid a spat over the bank's shareholding. A Ugandan associate of Dr Paul Kamangne Fokam, one Cliff Masagazi accuses the tycoon of denying him the shareholding he claims he is entitled to. Fokam is the owner of Afriland. In these pages lies a story on November 10thlast year, with an exclusive article exposing the shareholding scandal. Details indicate how Cliff claimed, he had helped Fokam to set foot in Uganda and that he pledged to pay him back in form of shares. Please refer to the said story titled;`SR Student? Afriland First Bank Boss Copies and Pastes Dr. Sudhir`s illegal habits of owning Shares via Proxies. `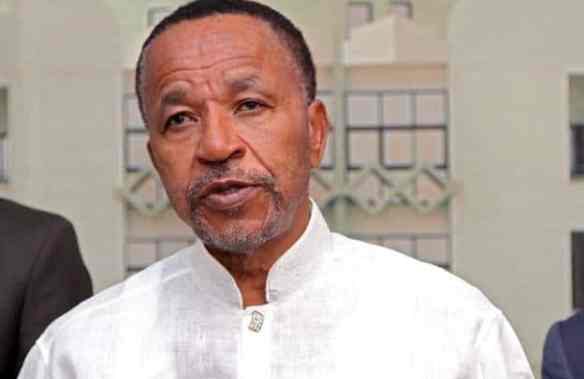 Principally, Cliff says it was because of his role as the local content, that the Central Bank granted Fokam an operating license since he is a foreigner yet the regulator wanted a local shareholder before granting the license. Fokam had presented a city businessman, Hajj Muyanja Mbabaali. But the central bank rejected him because his credibility credentials were found to be heavily wanting.
But Fokam has since gone back on his word because he used Cliff to give an impression to the central bank that there is a local shareholder in the bank as the law requires. The issue has since escalated into a high court battle. Cliff retained the famous firm of Muwema and Company Advocates to prosecute Fokam and the bank.
The gist
Cliff avers that Fokam wants to run away in order to frustrate his case. This, in reference to reports that Fokam is working on winding up business in Uganda after seeking permission from the central bank. It could be against this background that Bank of Uganda acted swiftly to block Afriland from winding and instead allowed them for liquidation. Away from this stance, what Cliff says would quickly trigger the memory of the Crane bank shareholding scandal.
Whilst Crane Bank owner Sudhir Ruparelia told the central bank that the bank had numerous shareholders apart from him, what was true is that he was using proxies to hold the biggest stake in the defunct bank. Such proxies included a renowned banker, Karia, based in Nairobi. Karia has since owned up. Another proxy was a fake company known as Sapphire. Sudhir lied to the central bank about how this one was domiciled in Malaysia.
But the ruse would come to light after Crane Bank experienced financial problems caused by Sudhir himself who, robbed the bank blind. With the auditors about to expose the bogus company. Sudhir moved fast and took the file of Sapphire from the registrar of companies' office. As, they say, the rest is history.
Author Profile
Uganda's First online News Paper. "More than Just News" Investigative, Informative, without Fear or Favor