Television and Radio personality Karitas Karisimbi has, through her 'Karitas Kares Foundation' taken an uphill task of organizing a fundraiser that is bidding to save a 10-year-old Amutuhairwe Becky`s life. Becky is an HIV positive-born girl who is also fighting a cocktail of other ailments.
The fundraising dinner dubbed; "let's give Becky a fighting chance by helping her get a lung transplant," is earmarked to be the climax of events that will precede Amutuhairwe's return to relatively live a normal life. Becky's life story is one dogged with a lot of misfortunes. She was born to a young mother in Kamuli District in Eastern Uganda, but ended up at the extreme opposite point of Tooro, in Fort portal. Her mother, whose details are hard to piece up, could not ascertain the paternity of her daughter, thanks to her hitherto reported sexual exploits.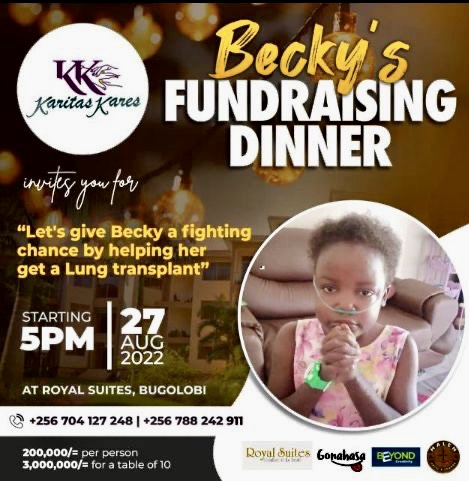 Daunted by the challenge that lay ahead, courtesy of her daughter's unpredictable health, nothing had prepared the young mother, nor her daughter. She reportedly to no avail, visited multiple witch doctors, thinking her child had been bewitched. She was going through these circles when, a well-wisher referred her to a health center. Here, little Becky was diagnosed with HIV. One would believe the mother was struck hard and hence, the quest to discard taking on the reality. According to Becky, she was hoarded onto a bus to Fort Portal by the mother, under the pretext of going to look for 'white' caretakers to fend for her. "She gave me a soda and directed the bus people to take me where some whites were waiting for me in Fort Portal," Becky, who is reported to love school so much, narrated.

However, reality would dawn onto the young, sickly and fragile girl, then about 7 years, when the Bus overseers also retired their responsibility at the Bus Park. A one Topi Kabakali, against hope, took on the young girl. But as luck would have it, a young businessman, Allan Luyirika, also took interest in this case. Luyirika took on the mantle during the first Covid Lock Down. He took care of Becky's medical adventure that has seen her traverse several facilities. Most prominently among them, Buhinga Hospital in Fort Portal where, her HIV status was confirmed. Then further diagnosis revealed Tuberculosis (TB) as well, which warranted her to be placed on oxygen.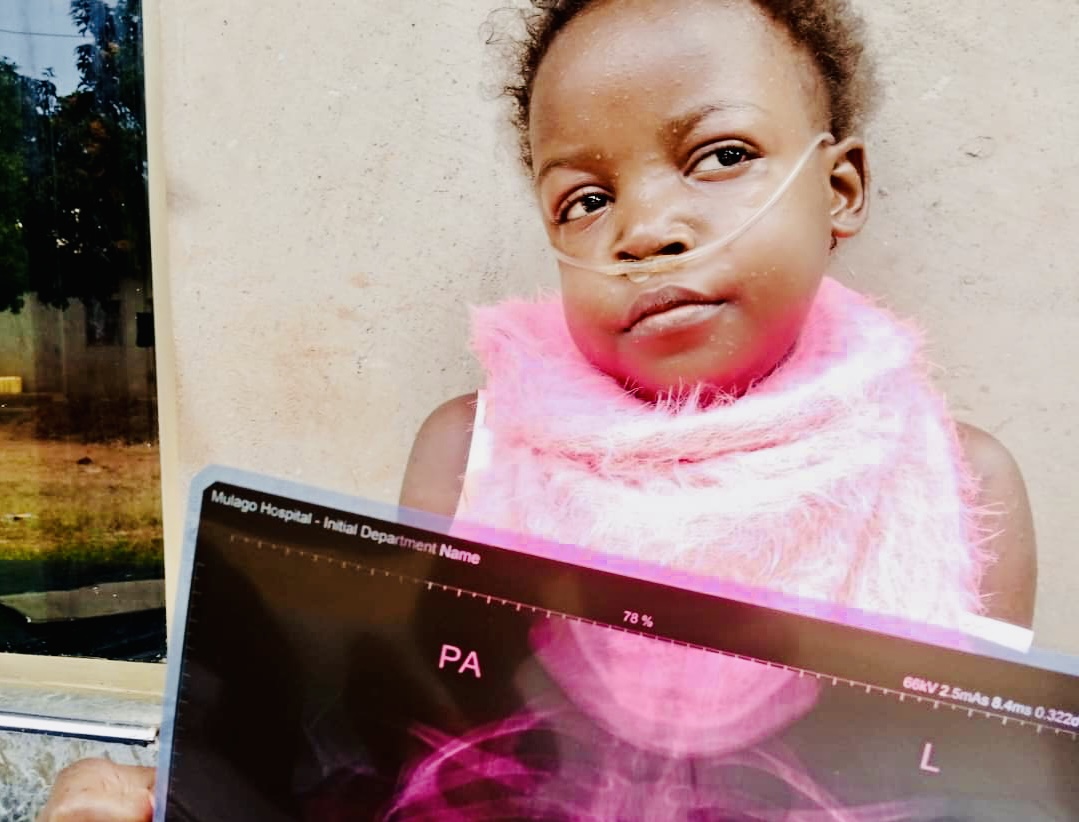 When her condition became more unmanageable with little or no funds, Luyirika tried to consult several child-based organizations that sadly informed him, they were not in a position to take on such "a hopeless case." However, hope would later surface when Karitas Karisimbi, through her TV show known as Chatroom on NBS, got contacted by a well-wisher about Becky`s situation. She travelled to Fort Portal to interview and get first-hand information on this incredible story of Becky.
Karitasi's motherly instincts, with a conviction that every life counts, kicked in and instantly through her 'Karitas Kares Foundation,' she joined Luyirika and started soliciting for funds to better Becky's life. Becky's health deteriorated; this time being made more complicated with acute breathing difficulties. This situation needed to urgently be investigated. She was subsequently transferred from Buhinga to the Mulago-based National referral Hospital under the auspices of well-wishers. "A Lady Doctor from Uganda Emergence Response Unit emerged with the Ambulance," Luyirika says. Becky was now evacuated to Mulago hospital's Heart Institute where, she was further diagnosed, this time with an inflamed heart, punctured lungs and compromised liver.
Since then, Becky is always in need of oxygen. She has, and still is living with Luyirika's family in Entebbe as she undergoes medical rehabilitation. It is however amazing that though Becky's fate was against all odds at grade 4 HIV, she has managed to relatively live the life of a 10-year-old child. It is through this background of finding at least a lasting solution to Becky's breathing predicament that her caretaker, sought out MGM Health care, Chennai. The Doctor at this facility, Dr. K.R Balakrishnan, affirmed that a transplant would be done in India, at a flat cost of US$80,000 (Approx. UGX300M).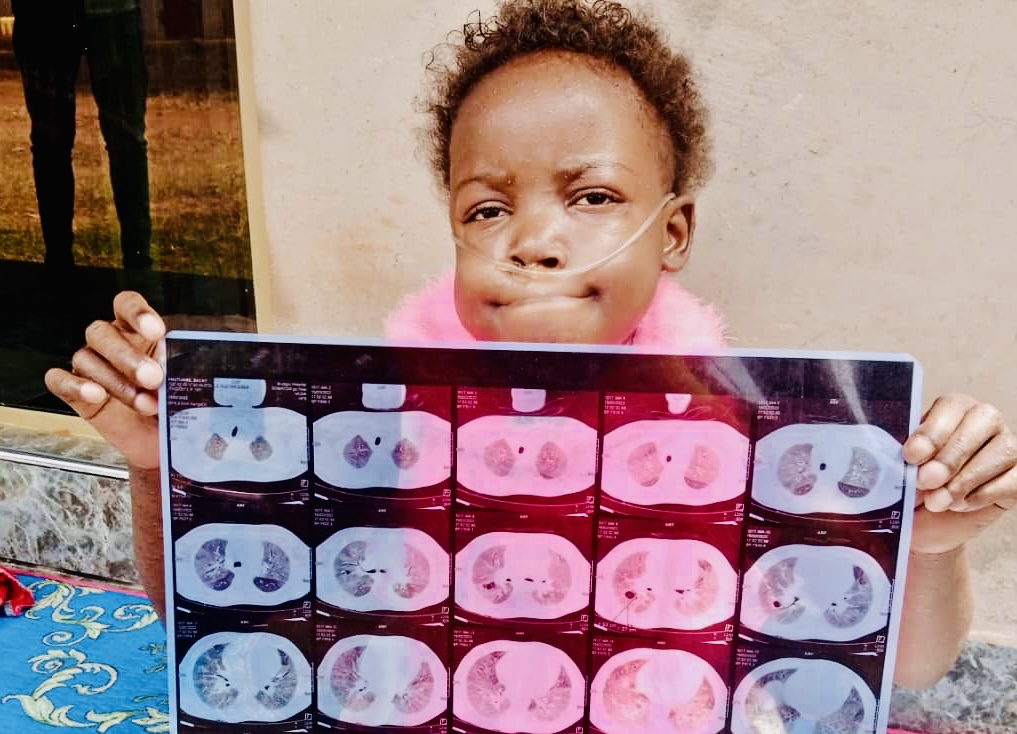 This figure, minus flight costs and upkeep for both Becky and her minder. It is upon this development that Karitas, who had since joined in mobilizing for Becky`s upkeep and medical attention through friends and fans, turned numb! Again, she is turning to the same audience. But this time, with casting the net a little wider. She has thus organized a dinner slated for Saturday 27th August 2022 at Royal Suites in Bugolobi. At this dinner, each funder will be required to part with only200k, while a table of 10 persons will go for 3m. Luckily, she has other partners. This event has so far attracted Royal suites, Gonahasa Chef, BEYOND Creativity, MALEN and Uganda's first fully fledged online news network, The Investigator Publications. This is not to mention Kyebambe Girls Union led by a one Naomi Kabasiita who, have been with the caretakers all the way through from Fort Portal. To those who might not be able to make it for the event but willing to contribute anything, a mobile money option is in place. For MTN subscribers; the number +256788242911 and for Airtel; its +256704806030, both in Allan Luyirika names. We call upon our financially-abled readers to kindly join in and give Becky what she needs most now – life.
Author Profile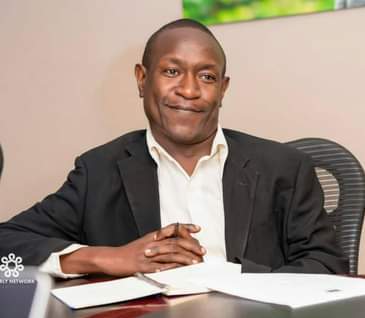 Mr. Jacko David Waluluka is another unique entertainment and general investigative news writer, a field he has diligently covered for over fifteen years. He's also the Chief Administrator at The Investigator. He can easily be reached via [email protected]