By the time Uganda went to sleep on 6thSeptember, the country's most wanted man Sande Charles Olimi aka Sipapa, was safely in the custody of the Uganda Police. After days of being on the run, the self-acclaimed local robin hood, following his food and money donation drives, had gone under the radar following a tip that he was wanted by police over a case of aggravated robbery of US$429 000, belonging to Jacob Arok, a Sudanese National and Military officer, residing in Kawuku, Bunga. However, one would be inclined to ask themselves who Sipapa is and how a simple Cunning Riff Raff and Kisekka Stolen Car Parts dealer, that fooled the President and security Supremes, shot to fame! Jako David Waluluka, reports.
So, who is Charles Sande Olimi?
The now lanky fellow was born about 41 years ago to a one John Owino, who originates from Tororo, a Jopadhola tribe settlement District in Eastern Uganda. Sipapa, in the early to mid 2000, lived with his father in a rented house in the Kampala City suburban of Mutungo slum, adjacent the Twins Center. One would be tempted to believe that Sipapa and his family were an average household since the young lad did not attend school at the time. As he grew up, the now teenage Sipapa, found a job as a tool boy for a local 'Kamyufu' or call it unqualified electrician (names withheld), during which time he gained knowledge on how to rectify simple faults and thus, later went solo.

With this independence, he moved out of his father's house and rented his own dingy house in the Mutungo-Kasokoso slum area. He amassed some money and bought music equipment with which he set up a mobile disco. The innovative Sipapa, then moved from the Dingy house to a more spacious room in Mutungo, which doubled as his now named Europe Sounds disco offices and home. The Disco office was a gem in offing as local teenagers quickly turned it into a pawnshop for stolen items like Laptops, phones, Plasma Screens etc. During this time, Sipapa, convinced the then owners of the most powerful disco and bar Venues known as PTA, to stage dance shows. Here, he made some good money. Through these gigs, Sipapa, graduated into a self-taught ace in the music industry and quickly made friendship with local musicians.
He started investing in music and Bars. He was later to set up a music recording studio in Mutungo, thus ushering himself into an entertainment guru of the area and beyond. He at the same time set up a miniature discotheque named Sweet Nite, in the same vicinity, which made him a darling of local music wannabes who flocked his studio for possible free recording sessions. His entertainment 'lounge' fast became a meeting area for all sorts of people who included dreaded burglars, who spent their 'hard' earned money at the rendezvous while planning for their next mission.
It is during this period that Sipapa was initiated into the burglary world. This is after hearing of how quick one would make money by scaling posh homes of daft expatriates who are said to have kept lots of wads of dollars, valuables like diamond, Gold and phones among other items, in high end areas like Kololo and Bugolobi among others. The fast-learner in Sipapa, with his expertise in electrics used this leverage to compromise security systems to disable power at will, thus astutely executing several criminal missions. Sipapa, who was minting millions of dollars from this new venture, decided to go full throttle with his first love Music.
He then rebranded from European Sounds to the now fully fledged Sipapa Entertainment, with a niche to promote local upcoming artistes. Among those that he recruited included then little-known Melody, Serena Bata, Brown Sugar and others. He cunningly zeroed to creating a buzz for his Sipapa Entertainment outfit by seeking the services of established singers like Joseph Mayanja aka Jose Chameleon. This project was a success, with hits like 'Nkoleki' by Chameleon and Melody, 'Omumbejja' by Chameleon and Serena Bata among others. However, old habits die hard, or so they say. Sipapa was at one time arrested by police and spent a sojourn in Luzira prisons, before coming back and reclaiming his place in the Mutungo area music business.
The most famous burglary saga was the one that took place on Prince Charles Drive in Kololo, at the homes of Jalal Elachkar and Bob Kabonero which Chameleon personally leaked on his social media pages after a squabble. Sipapa, then went into near oblivion and concentrated on his music business, buying cars and yes, marrying off any beauty that he would fancy. With each one of them leaving off her own bar business as the man of the 'house' went on with his other exploits. This would turn into a disaster of sorts as Sipapa stubbornly refused to pay rent for the premises in Mutungo.
When pressed to the wall and with some money at his disposal, he joined the gold dealing business venture, in which he managed to access his later victims' homes especially Sudanese who have a penchant for the precious mineral.
It is at this same time, through these gold dealings that Sipapa managed to find his way into State House and also, have a picture moment with President Museveni. Those who know how Museveni works attest that the meeting wouldn't have lasted even ten minutes save for the photo opportunity, which Sipapa, has since used to his mischievous advantage. It is alleged that the Gold 'Investor' was then accorded a security detail, not necessarily for his protection but to monitor his movements and activities.
The same security detail that he thought he had abused, was the same one that was behind his current woes. The man who many a times beat traffic with his signature gong aka Siren, failed to realize that he was under radar even after he was ordered to stop horning his way out of jam. His last Kicks were when his security detail was also recalled to barracks, thus leaving room for the regular police to arrest and bring him to justice. One shouldn't be fooled that this is the end of Sipapa, for he has been in these similar circumstances and has come out unscathed. We will be proved otherwise if he actually is put away for his latest aggravated burglary adventure.
Author Profile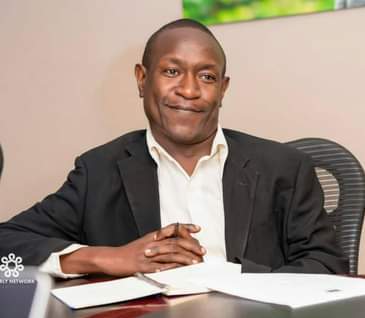 Mr. Jacko David Waluluka is another unique entertainment and general investigative news writer, a field he has diligently covered for over fifteen years. He's also the Chief Administrator at The Investigator. He can easily be reached via [email protected]