What happens when the NRM government runs into an economic crisis of some sorts? The answer could have been generated some five years ago. It could have been a predictable-impromptu phone call to Prof Emmanuel Mutebile that would lead to an engagement for a few hours and a watertight solution is got that resolves the crisis. Alternatively, he can engage former Permanent Secretary to the National Treasury Keith Muhakanizi and see what comes out of the engagement.
What happens today?
Well, unfortunately today the answer cannot be the same because Prof Mutebile is now dead and has not been replaced at his docket as the governor of Bank of Uganda. And Keith Muhakanizi who had a stellar performance at the helm of economic policy at first was later found out as the key man in the bloated public expenditure and numerous supplementary budgets that we are complaining about today.

Keith also was involved in so many other scandals including the famous one with trade and investment minister Evelyn Annite, at Uganda Telecommunications Limited (Utl). So, he comes in as a great economist with so many bones and skeletons in the cupboard. Therefore today, the President would perhaps need to engage the new Secretary to the Treasury, Mr. Ramathan Ggoobi because he seems to be the `only` Ugandan with the brains that understand the local economy.
But Ggoobi, who is a brother in the profession (he is an author and policy critic like me), is faced with dilemmas of his own because of the way he has performed so far. So much so, that the President doesn't know whether to fully trust him or to give him time to do his work, mostly because he is still in a-work-in-progress scenario. Actually, last year when Russia attacked Ukraine and sparked a rise in fuel prices, President Museveni was interviewed by the BBC radio presenter, Allan Kasujja who asked him why the economy was doing badly and why Ugandans were economically lamenting.
And the President affirmatively answered that, "that boy," in reference to Ramathan Ggoobi, had refused to release the money into circulation. By making such a revelation, the President was being a good man, by showing that he could appoint someone and trust him fully with the job at hand, even if there are obvious hiccups along the way. We are not being critical of Ggoobi but evidence shows that during his reign, public servants have not been paid as promptly as it was before he came in. And the debt burden as risen to a statistic beyond GDP, and inflation continues to wreak havoc.
Today there are claims that some civil servants were paid at different times. For instance, some MPs were paid while others were not paid for the same period sparking queries whether government was paying acordi8ng to alphabetical order of names or simply making selective payments. Given such a scenario, a steadier brain would question whether someone at the high end is making such mistakes to make Ramathan Ggoobi look bad in the eyes of the President or it's a malicious venture that is benefiting someone powerful.
Am tempted to think that the mafia could be behind these selective salary payments and delays in releasing government money. But is the President now aware of some of these developments? Yes, he needs to consult his economic advisors about some of these things. But the last time I checked, I found that Mr. Museveni had very many presidential advisors on politics, the military, all regions in the country and media and very few on matters of policy and economic issues.
For instance, when it comes to matters of security or military, he can call on his gurus like Gen Salim Saleh (this one is more into production than issues of political or military) , Gen Muhoozi Kainerugaba (he enjoys twitting), Gen David Muhoozi (doesn't enjoy the limelight), Gen David Sejusa (but this one is too controversial to be consulted for advise) and many more.
The President also has very many advisors on the media starting from the cerebral-serial columnist John Nagenda (who has written many articles professing his negative attitude towards Sevo's longevity project ), the chaotic intellectual and former PPS Tamale Mirundi (who meanders from praising Bobi Wine to attacking NRM ministers), Sarah Kagingo (the beautiful girl who fears to annoy Sevo and embarrasses herself as a sycophant who is willing to get crucified with the system) and many other advisors who are confused about their job description.
I have dwelt on the character and personality of some presidential advisors to demonstrate how far detached they are from their job descriptions and the appointing authority. Of course, one can easily argue that the president is constitutionally given vast powers in the Constitution to appoint people with whom to run the government. But we need to interrogate whether the people he appoints add value to the country or not. If the country is going in the wrong direction like it is today, especially in regard to social policy and economy, we need to interrogate the people around him. What are they doing?
Don't we need a shift in policy?
Interestingly, reforms, shift in policy, self-re-evaluation is needed in most sectors of the Ugandan government to make it more efficient. But unfortunately, the Ugandan President simply bumps into these issues accidentally and issues directives, the President Amin style. For instance, last week, he issued a directive against travelling abroad for government officials, Members of Parliament and Civil Servants. This was at the commissioning of the Uganda Petroleum Institute Kigumba (UPIK) on Saturday.
Yet this is something we have tried to bring to his attention but he had never paid attention to them until last Saturday! Interestingly or paradoxically, immediately after preaching the useless trips, he embarked on a trip to Dubai for a three-day visit for himself! The trips abroad, the horrendous public expenditure, the bloated cabinet, the big number of RDCs and their deputies are obviously milking the cow Uganda, beyond reasonable doubt. While we are good at pushing up the expenditure, we are not looking at the revenue side and the policies that can make us the money we spend.
If the President is committed to reducing wastage of government resources, he needs to first of all look into the issue of the salaries that is paid to all public servants and interrogate whether they are justified or not. At one time, the former Executive Director of KCCA, madam Jennifer Musisi was earning a horrendous UGX432M (USD178,509.08) annually as a salary excluding other financial privileges! How can one person earn all this money?
THE WAY FORWARD? The merging of public parastatals, halting foreign trips for MPS and other government officials was good, but not sufficient to stop the hemorrhage in government budget. The President should institute a salaries and wages commission to look into the justification of what every public servant earns. Without that move, he will be simply dillydallying with the problem of public expenditure.
Author Profile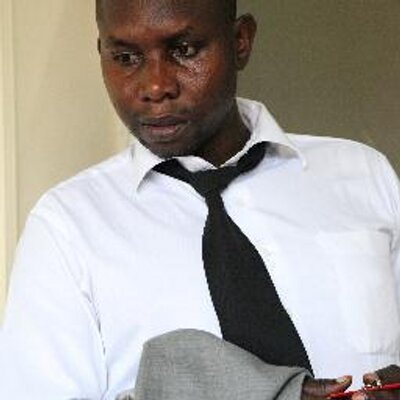 Fred Daka Kamwada is a seasoned journalist, blogger and political analyst for over a decade in Uganda