Being a lawyer himself, and a senior one at that, maybe Lord Mayor Elias Lukwago found a `good` case against the New Vision. This, in regard to a notebook-page chit which Kampala Affairs Minister Kabuye Kyofatogabye, confirmed, was authored by his tight buddy, Gen (Rtd) Caleb Akandwanaho aka Salim Sale, dated December 31st 2022.
Reading the New Vision story, over which Lukwago threatens to sue, even a primary seven pupil back home in Kooki will confirm, it was a flawless, well-balanced article! "I will take you to court. I have ever sued New Vision," is what the Lord Mayor offered as his comment when the journalist called him for his take. Looking elsewhere, Lukwago`s agents claim that whoever released that note is an agent of blackmail.
Actually, to qualify these `blackmail` allegations, the mayor himself hastily authored a dossier to the Leader of Opposition at Parliament yesterday (Wednesday 4th 2023). Titled; "The Rot in Kampala City," the obviously diversional dossier laments about shoddy works and corruption veiling the city roads` construction. On the seventh paragraph under the sub-title "Kisenyi Land Bonanza" of the four-page dossier is where, Lukwago sneaks in the `blackmail` insinuation. The dossier is a story by itself, but for another day.

Truth is, the mayor wasn't only incensed and sent into the panic mode by the New Vision story alone, and or, the many other nagging comments from prominent and lay Ugandans home and away. Deep inside him, he must have also, felt betrayed by Gen. Saleh. This stance, not knowing that the reverse is also true on the General`s side. Why?
That Lukwago was bulging among the opposition political leaders who wanted to demonstratively march through the city on New Year`s eve from Nsambya, was in itself a sword in Gen. Saleh`s back! That again, he elected to offer interviews to journalists where, he took a lamentation tour of how the good General harbors untold powers which he abuses with impunity, to the extent of making everyone, including the Vice President and Prime Minister kneel before him, was a well-marked battleline between the hitherto inexplicably friendly duo. "Is he the one really?" Gen Saleh must have wondered.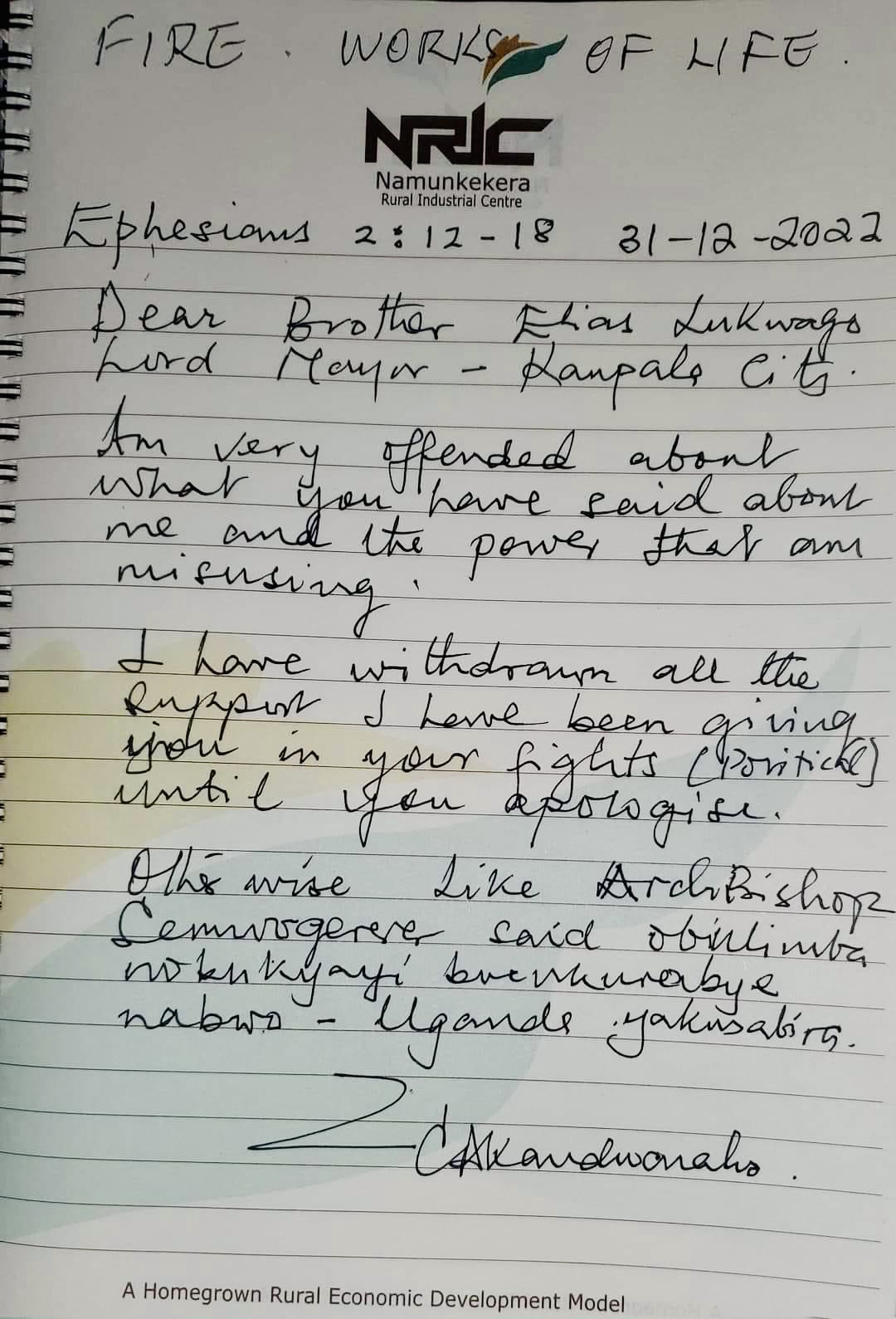 We assume that after watching Lukwago `yapping` all this `trash` about him in full view of all national televisions` audience, Gen. Saleh did what he`s never done. He pulled out his notebook, jotted down a few lines directly to Lukwago`s inner person, and summoned his confidant, Hon. Kabuye Kyofatogabye to deliver the same. Or so, we highly suspect. "I can confirm that Gen. Saleh wrote that letter, and I got to know about it when I visited him at his home," Kyofatogabye told the Vision journalists.
The Story
Indeed, Lukwago`s people we talked to, insist its Kyofatogabye who released the deeply revealing chit onto social media and supposedly, with the General`s bouncing nod. Surprisingly, both Saleh and Lukwago don't want to talk about the note. The former simply relaunches his demand for an apology from the latter, whilst the latter simply threatens a court suit, all in place of avoiding to comment on the skimpy chit!
Well, Yours Truly won't delve into Chairman Mao`s and Hon. Nabilah Naggayi`s valid excitement over the matter. But the Government Spokesman, Ofwono Opondo`s comment was as revealing as the Gen. Saleh note itself. Ofwono`s "I saw you in Mutundwe," statement is what actually, prompted your Investigator, to grab the magnifier, binoculars, other gadgets and old notebooks to zoom into what exactly sparked the now famous Saleh-chit.
The Mutundwe Meet
It wasn't an uphill self-assignment to get the knowledge of when and how Lord Mayor Lukwago met Gen. Salim Saleh. It was during those days when, the General had pitched camp at Mutundwe-premised Serene Suits. It is public knowledge, that whenever and wherever Gen. Saleh camps, it automatically becomes the Defacto center of power.
With google being a great friend of all our potential readers, we shall again, not delve into the details of how, Mayor Lukwago`s 2011-2016 term was a nightmare to him. It was marred with battles between him and the then KCCA iron Lady Jenifer Musisi, Kampala Affairs Minister of the time Frank Tumwebaze and at the helm, the main man himself, President Yoweri Kaguta Museveni.
These resulted in court battles coming on the heels of an impeachment of the Lord Mayor. Do we need to explain how desperate Lukwago had become? Actually, at one of those Musisi-led city parties, President Museveni bragged of how he had successfully deflated Lukwago. At this particular celebration to mark three years of KCCA, Museveni scorned Lukwago`s office saying it was made a mere "ceremonial robe" as all the power had been "diluted" and the authority vested in the executive director.
These statements by the First Citizen irked Lukwago to the marrow. Deep inside, he knew he was finished. This stance, irrespective of court battles to recover his office and mayoral position from the impeachment grip. Well, time wouldn't stand still. Days followed nights and the latter followed the former and, his term of office finally came to an end, with all the incumbrances there in. Of course, he was ready to contest again in 2016. But how would he dare! Even if he contested and won, Museveni was still at the country`s helm, still swearing upon the living God never to allow Lukwago prevail over Kampala!
Something had to be done and quickly. This is when Lukwago`s ego paved way to voices of `making peace` with Museveni. But how? Well, Salim Saleh knew well, whatever went through Lukwago`s mind, minute by minute, second by second. He sought his big brother`s consent to let him restore peace in Kampala, but with Lukwago in the driver`s seat. The son of Late Kaguta never wanted to hear Lukwago and Kampala in the same statement. But again, he is not known to have a `No` to any of his young brother, Gen. Saleh`s proposals.
One evening, Saleh abruptly down-sized the numbers to meet. He expected a special visitor. His name was, and still is, Elias Lukwago. Allegedly driven by one of Gen. Saleh`s blue-eyed boys called Zaakaliya Munnakayiba, Lukwago was chauffeured into Serene Suits compound at about 8Pm. At the back of his mind was one plea… to be allowed back in Kampala as Lord Mayor and, with the constitutional powers that come with the position. Upon laying the same on table, the meeting started… Tolerantly watch this space for the journey to Lukwago-Saleh bitter Fallout series…
Author Profile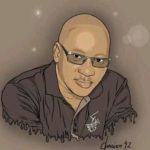 Stanley Ndawula is a two and a half decades' seasoned investigative journalist with a knack for serious crimes investigations and reporting. He's the Founding Editorial Director and CEO at The Investigator Publications (U) Limited