#UgandaDecides2021: After picking nomination forms from the NRM Secretariat on the 26th of July 2020, budding political aspirant Venansio Natuhwera Bagateireyo exclaimed that he had rose up to take over from the old generation and push a constructive agenda for Rujumbura, Rukungiri in particular, and Uganda in general.
Natuhwera, who is an acclaimed marketer revealed that he believes he can put up a much more better performance than all the previous members of parliament from his mother constituency. When Asked about his lack of political experience, Natuhwera confidently intimated that experience is not a prerequisite for someone to contest for any political office.
''In any case, I think experience is an exaggerated concept because nobody was born with it, it is gained on the job'' he reasons. Below are the excerpts of the interview he held with the Investigator's Fred Daka Kamwada at the NRM Secretariat along Kyadondo Road.

Q; Ugandans would be interested in knowing Venansio Natuhwera really is?
A, I am called Venansio Natuhwera Batagiteireyo, born and raised in Rujumbura, Rukungiri District. I am a marketer by profession, I think that also makes me a salesman of some sort.
Q; why are you contesting?
A, I am contesting for the Rujumbura seat because I know I have a lot to offer my constituents. I have a lot of programs which will benefit my people directly. Our people badly need someone who can articulate and lobby for Govt programs. Besides I have an obligation to fill the generation gap which exists at the moment.
Qn; are you suggesting that the current and previous members of Parliament did not have the vision for Rujumbura?
A; it's not necessarily that. They did not have programs but I strongly believe that I have something unique to offer. The previous MPs made their contributions but I think it was not good enough.
Q; Rujumbura constituency is synonymous with the name and personality of Maj. Gen (Rtd) Jim Muhwezi. Are you insinuating he also was not good enough for Rujumbura?
A; He delivered what he could but was not good enough to last. In fact if he was good enough, he would never have lost to an FDC candidate who currently occupies the seat. I can tell you now that I have come to liberate Rujumbura from the ambits of FDC. There is a danger that if Jim Muhwezi returns on the ballot paper, the opposition will take Rujumbura from NRM again. So my candidature is good not only for the people of Rujumbura but for the NRM party and president Museveni as well.
Q; What fundamental mistakes were committed by Hon Muhwezi?
A; He made so many mistakes during his long reign both as Member of Parliament and as a Cabinet Minister. The whole country knows the scandals that he was involved in which even made him get to the extent of getting censured by Parliament at some time. I strongly believe that he no longer wields the power and integrity required for him to represent Rujumbura constituency again. He is one man who is totally detached from the reality on the ground.
Q; what makes you think that you are a better candidate? Do you, for instance boast of any practical experience that makes you a person to be believed?
A; I have a lot of things I have done for my people that make me a better candidate. Besides, experience itself is an exaggerated concept because, believe me or not, nobody was borne with experience. In fact some wise man once said that since most people learn from mistakes, then experience itself is a case of accumulated mistakes. Therefore I don't need to boast of any experience especially in the field of politics. But I have managed to do so many things which make me feel confident enough to work and deliver for my people.
Q; which programs can you give the readers to believe that Venansio is indeed an ideal candidate who can deliver them to the Promised Land?
A; I have done a lot for them before. For instance I am the Principal Chairman of Ruhinda Savings Society which is worthy UGX300m. I have been organizing the youths for a long time to know what they need and the challenges they face. Before that I was the chairman of Ruhinda Students Association at Makerere University. I have therefore tested leadership of the youths and I know what it takes to lead them.
Q; You seem to talk a lot about the youths , yet you are contesting for a general election that also has all age groups ranging from the youths to the elderly.
A; I recognize that fact very well. Am only stressing the youths because they constitute the majority in the constituency, but I will work for everybody.
Q; What do you mean "you will work"? Are you going to build roads, schools or hospitals?
A; No, I know the legal obligations of a Member of Parliament which include legislation, oversight and lobbying for services for my people. That is an area where I know I cannot fail to deliver. I don't have to build schools or stuff like that. I will make myself as relevant as necessary.
Q; Do you have any political mentors?
A; (Silence and long pause)… Well, I cannot say that I have a mentor at the moment. Besides, I don't think I need to have a mentor to move things. The important thing is that I have a mission for Rujumbura which I wish to deliver when given chance.
Q; Are you a supporter of President Museveni or the NRM?
A; I am a strong supporter of the NRM and its leader President Yoweri Kaguta Museveni. I see so many programs which the Party has delivered to Uganda and feel that they are worth supporting. That is the main reason why I am contesting on the NRM ticket. I would never have contested on the NRM ticket if I knew that they were failures. They have done well with programs like NAADS, UPE, USE, general infrastructure as well as dispersal of electricity and so much more.
Q' Which last word would you like to give to your constituents and Ugandans at large?
A; I request Ugandans to welcome the candidature of Honorable to be Venansio Natuhwera Batagiteireyo as the next probable Member of Parliament for Rujumbura Constituency. I expect to give Hon Jim Muhwezi and other candidates a bloody nose in this election and, thanks for giving me this precious time on the mighty Investigator.
Author Profile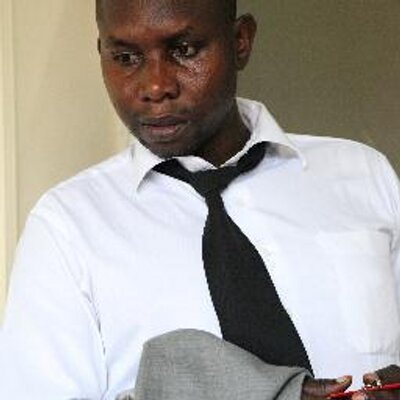 Fred Daka Kamwada is a seasoned journalist, blogger and political analyst for over a decade in Uganda