Sasakawa Africa Association celebrated its Silver jubilee at Zirobwe, Uganda with the launch of a new logo and reaffirmation of their commitment to local farmers with a revitalized 'Walking with the Farmer' theme.
At the celebrations held on Friday, December 10th at the home of Zirobwe Agaliawamu Agri-business Training Association (ZAABTA), the Minister of State for Agriculture, Fred Bwino Kyakulaga, who represented by Dr. Patience Rwamigisa, the Commissioner for Agriculture extension services and skills management from the Ministry of Agriculture, commended the private sector for their idea of supplementing government's efforts in transforming the sector.
The minister thanked the Nippon Foundation of Japan and the Sasakawa family for the continued financial support rendered to the Sasakawa Africa Association activities that has been promoting agricultural development among rural small holder farmers in Africa for the last 35 years, and Uganda, for 25 years.

He lauded the initiative of the pioneers of Sasakawa Africa Association notably Nobel Laureate, Dr. Norman Borlaug, Japanese Philanthropist Ryoichi Sasakawa and former USA President HE. Jimmy Carter which has enabled SAA to operate in 75 Districts, build capacity of 4180 Agriculture Extension Agents and reach 1,500,000 smallholder farming households in Uganda.
He also appreciated the great leadership and management of Sasakawa Africa Association that is currently under the auspices of Prof. Ruth Onyango and Dr. Makoto Kitanaka, the President and his team in Tokyo.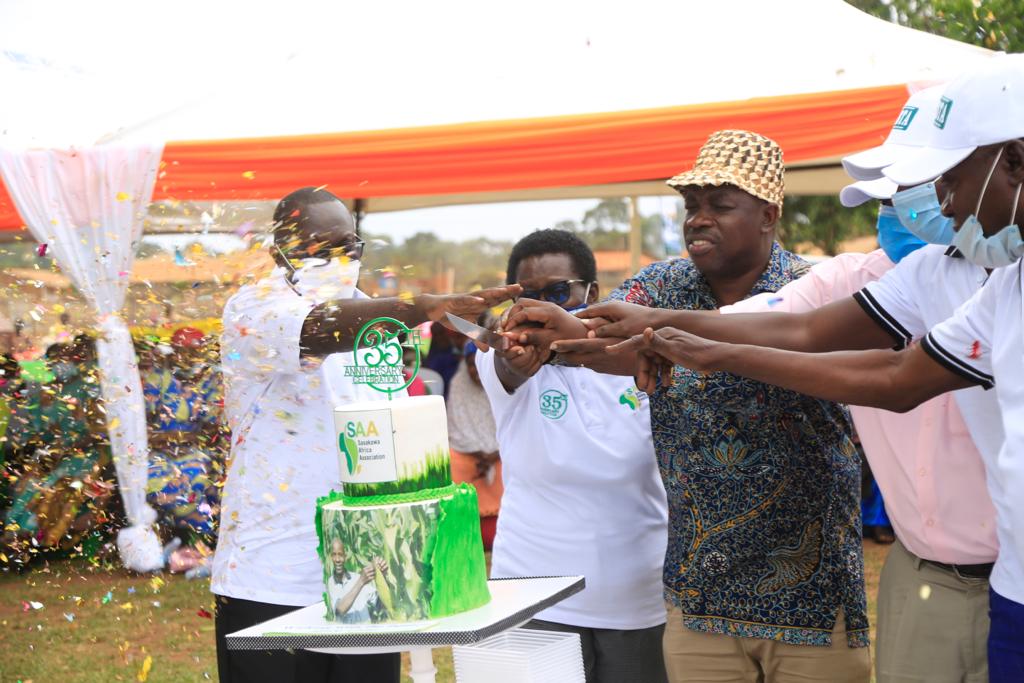 The minister further credited development partners such as aBi Trust, K+S Kali GmbH- Germany, CIMMYT, WFP, European Union (EU) National Agricultural Research Organization (NARO) and National Agricultural Advisory Services (NAADS), International Fund for Agricultural Development (IFAD), Harvest Plus, International Food Policy Research Institute (IFPRI), JICA, Japanese Government, input and output markets service providers and Farmers that have enabled SAA to do their work seamlessly.
He noted that it's the reason why the organization has been recognized by the Government of the Republic of Uganda and received several awards as the Best Visionary Agricultural supporting NGO for the outstanding contribution towards Uganda Middle Income.
The Minister called for more PPPs in Uganda for closer working relations with the private sector as government focuses on Agricultural Industrialization.
He observed that Public Private Partnerships have agricultural bolstered the sector by increasing incomes and employment for farmers through enhanced access to technology in the form of improved inputs, strengthening relations between traders and farmers, and access to agricultural credit.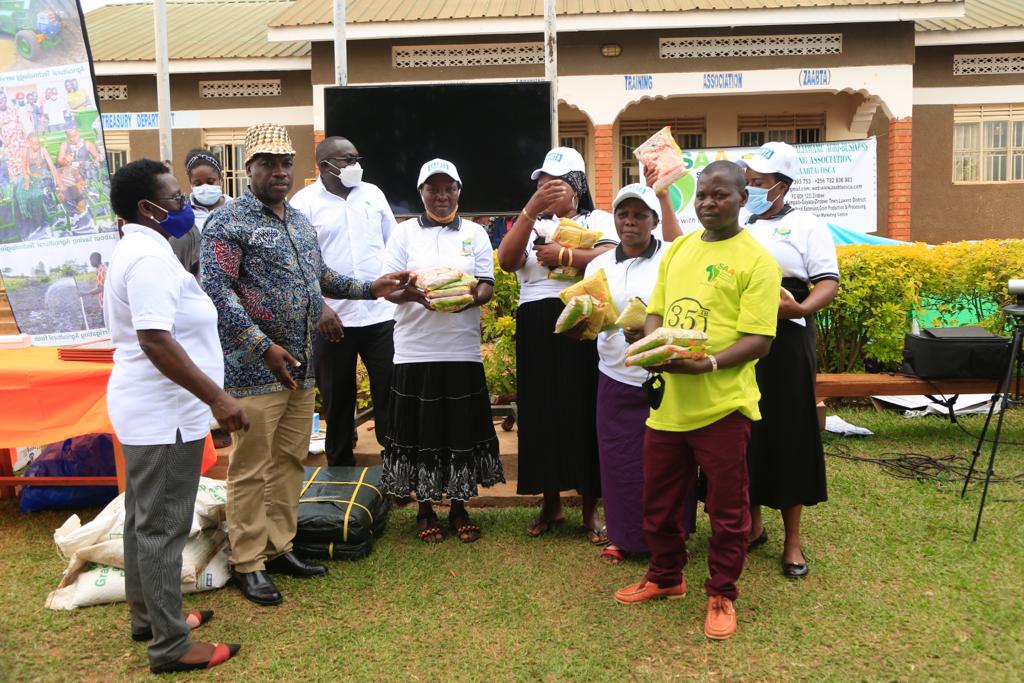 "Market access is, of course, essential for the PPP to be effective and strengthens commercially-oriented farmer associations/remote rural farmers to engage profitably in commercial markets. The One stop Centre Association Model embraces all this which is also in line with Agro-industrialisation, a key focus under the National Development plan 3".
Speaking at the same function, Dr. Roseline Kabasiita Nyamutale, the Sasakawa Africa Association Uganda Country Director said the Association has over the past 25 years, supported Uganda's smallholder farmers through transferring improved agricultural technologies.
This, she said, has enhanced food security and household incomes of smallholder farmers. With funding from the Nippon Foundation of Japan since inception, Sasakawa today operates in 75 districts and has reached out to over 1.5 million smallholder households and 400 Sub counties, trained over 4,180 extension agents.
She said this has been done in collaboration with various partners and stakeholders that support agriculture at various levels of the value chain.
Sasakawa programs operate within the government extension structures and has further strengthened this by establishing Community Based Facilitators (CBFs), who are selected from farming communities and trained to complement delivery of extension and advisory services to smallholder farmers.
Author Profile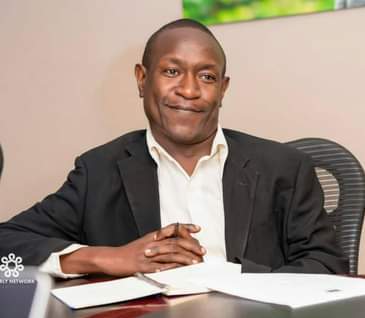 Mr. Jacko David Waluluka is another unique entertainment and general investigative news writer, a field he has diligently covered for over fifteen years. He's also the Chief Administrator at The Investigator. He can easily be reached via [email protected]