Rather than Lament, Its Incumbent Upon the Ugandan President to Explain How Africa's Center of Gravity can be Reconstructed
President Yoweri Museveni has always argued that Africa needs a center of gravity on which it can gravitate whenever it's faced with challenges of a military nature. During the passing out of some UPDF recruits this week, the President re-echoed the same sentiments and argued that Africa is in a vulnerable position. This, because it has no campus of reference whenever it's faced with challenges.
He made reference to Israel whose center of gravity revolves around the United States of America whenever it is threatened militarily. Western Europe has NATO as a base of reference whenever it's faced with military challenges and so on. But the President needs to know that there are some pertinent reasons which explain why Africa remains an isolated continent without a center of gravity.
The Historic Inroads

During the post-independence days, the new African leaders made mistakes which were ideological in nature. And, they eventually undermined Africa's chances of creating a solid center of gravity. At that time, the cold war was boiling hot between the Capitalist-West and the communist East. Most of the African leaders had to make the decision of choice between gravitating towards the communist bloc or the capitalist bloc.
According to the historic records, most African leader chose to ally with the communist bloc. Leaders like Egyptian President Abdul Nasser, President Sekou Toure of Guinea Conakry, Tanzanian President Julius Nyerere, Ugandan President Milton Obote, Congolese Prime Minister Patrice Lumumba, Zambian President Kenneth Kaunda and many others, all camped in the communist bloc. These African leaders made attempts to liberate most of the African countries which were still under colonial control. The likes of Angola and Mozambique which were still under the York of the Portuguese, South Africa which was deeply controlled by the white-minority-racist apartheid regime and many others.
They were trying to construct their own center of gravity towards Russia upon which they would coalesce. When the Americans invaded Vietnam, these African leaders collectively condemned the invasion and projected their allegiance to the Vietnamese. They formed regional units like the East African Community and also formed the umbrella known as the Frontline States to fight against the apartheid regime in South Africa. In 1971, Ugandan President Milton Obote traveled to attend the CHOGM summit in Singapore where he tabled the motion on behalf of the Frontline States in regard to imposing an arms embargo on the apartheid regime of South Africa.
Soon after, the then British Prime Minister Edward Heath assured these African leaders that some of them were not going to return to their respective countries as leaders. And indeed, President Obote was overthrown by Gen Idi Amin in a coup that was rumored to have been orchestrated by the British and Israelis. Patrice Lumumba, who had branded himself as a radical communist and had made Marxist statements, expelling the Belgians from the Congo, was assassinated and his body not seen till last month when his teeth were brought back from Belgium and buried in Congo.
The point to note here is that Africa has been trying to gravitate towards the communist bloc but with minimal success. They tried to co-opt Russia as their own center of gravity but they were badly annihilated by the Western powers. When the West managed to conquer most Russian-communist-leaning African leaders, they installed their puppet leaders like Marshal Joseph Mobutu of Congo.
Others like Jomo Kenyatta, Kenneth Kaunda, and Kamuzu Banda of Malawi switched quietly towards the capitalist West. Therefore, Africa's center of gravity switched to America in particular, and the West in general. African countries like Uganda also switched off their Marxist tendencies and started benefiting from Breton woods institutions like The World Bank, and the International Monetary Fund, for development funding.
The Non-Aligned Movement
It's imperative to note that despite the fact that the capitalist west had defeated their allegiance to the communist East, some African leaders continued to make mistakes by continuing to oppose the West. This is when they created inconsequential bodies like the Non-Aligned-Movement. By claiming to belong to the Non-Aligned Movement, they were trying to deny allegiance to the East where they had been beaten badly and also denied belonging to the West, which had taken control of their destiny.
Since Russia had not come out to support these African leaders in their opposition to America, they ran to Fidel Castro's Cuba, which was known to be very hostile to America. Cuba was at the center of creating the Non-Aligned Movement with the motive of indirectly undermining America without including Russia as their direct patron. Ugandan President Idi Amin was one of the African leaders who embraced the Non-Aligned Movement whose motto was to declare that they were neither pro-East nor pro-West. Later on, the current Ugandan President Yoweri Museveni also embraced the Nonaligned Movement.
In fact, just like President Idi Amin used to brag, President Museveni took pride in declaring himself as neither pro-West nor pro-East. By stating that he was neither in bed with the West or the East, President Museveni and these confused African leaders were contributing to the complete isolation of Africa. Why? Because by claiming to be neither so, it means that you want to maintain self-reliance without a center of gravity. It means that your desire is not to be controlled by anybody. For instance, Israeli cannot claim to be none aligned because it's strictly under the patronage of the Americans. There is no way it can claim self-sufficiency or none aligned.
When these Africans failed to gravitate towards Russia, they halfheartedly went to the camp of the West. Although they never wanted to declare that they had joined the capitalist camp, all their actions were capitalist indeed. This explains why when it came to the war in Ukraine, the Ugandan government was in solidarity with Russia. It's obvious that African leaders still nurse the idea of creating a strong alliance with Russia. But the problem with Russia is that they don't commit themselves to support their weak allies. Once you gravitate towards them, they add no value to your aspirations in contrast to the west which can give you grants or development assistance.
Enter China
Of recent, most of Africa has gravitated towards China because the latter have made inroads into socio-economic development of their allies. China has managed to contribute to the infrastructural development of most of the African countries. This, by building long lasting structures like stadiums, roads, ports, airports, bridges, hi-tech buildings etc. But China cannot match the west because they have no control of powerful international bodies like THE WORLD BANK, IMF, UNICEF etc. These can deliver development assistance. China also has the disadvantage of not venturing into the military.
While the West can contribute military assistance, the Chinese may not be of any use. There is no record anywhere to show that China has ever put its boots on the ground to protect its allies. Leaders like President Salva Kiir of South Sudan have very close working relationship with China but he wasn`t protected when he was faced with a military confrontation from his Vice President Riek Machar. Therefore, it's very risky to gravitate towards China. This leaves Africa in complete isolation.
Ghaddafi`s African Unity Dream
The late Libyan leader Colonel Muamar Ghaddafi actually tried to unite Africa but was bitterly opposed by Ugandan President, Yoweri Kaguta Museveni. Mr. Museveni argued that Africa should first unite peace-meal-by-piecemeal, process-by-process with the construction of regional bodies like the East African community before it embarks on the continental unity. But it's sad that even constructing President Museveni's idea of regional bodies has failed to take off.
The East African Federation is one of the most divided bodies with member countries hostile to each other. For instance, Uganda is not sure if it's on good terms with Rwanda or not. It's also not sure about the attitude of the Kenyan government when it comes to cross border trade. By agitating for the formation of regional bodies and failing miserably at it, President Museveni's idea of creating the center of gravity for Africa is unrealizable. As stated earlier, the Ugandan leader tried (just like Milton Obote did) to ally with communist Russia but found no benefit. Then he ran to the nonaligned movement claiming that he was neither pro-East nor pro-West and found no value in the whole thing.
When Ghaddafi came up with the idea of African unity, he opposed him to the extent that by the time the Libyan leader was killed by NATO, they were not on talking terms with Museveni. The same man is questioning why Africa lacks a center of gravity when he is the same man who has got no clear vision of where Africa should gravitate. Having exposed how Africa's center of gravity has been undermined by the various African leaders, its incumbent upon President Museveni to showcase how it can be rebuilt. He should be the one to show us where we should gravitate towards.
Author Profile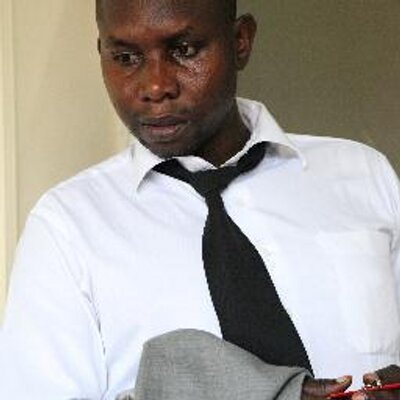 Fred Daka Kamwada is a seasoned journalist, blogger and political analyst for over a decade in Uganda