The social media has lately been awash with viral posts praising Kenyan democracy vis-à-vis Uganda's autocratic political atmosphere. It so happens all those are mere social media exaggerations. When you look deep, you will find out by all yourself that Kenya actually has one of the most shambolic democracies in the region. It's a fact that Kenya boasts of the biggest economy in the region. But it's not correct to extol their democracy, which is more of a work-in-progress than a finished article.
Kenya has a very long way to go in matters of democracy. In the previous blog, we narrated the fundamental differences between Uganda and Kenya when we stated that "Kenyans love their country but they hate each other while Ugandans hate their country but they relatively love each other." This social disparity makes every Kenyan election a matter of life and death – a fact that is confirmed by the violence that takes place at the end of almost every election. In Uganda, we don't experience violence after elections because we seem to have some semblance of political tolerance for each other.
Of course, one can point out that the 1980 elections which resulted into the presidency of Dr. Apollo Milton Obote, led to a five-year civil bush war led by the likes of Yoweri Museveni, costing us millions of lives. But it's fair to say that we have never had post-election violence of Kenya's magnitude for the previous five times we have held elections in Uganda i.e.; 1996, 2001,2006,2011,2016 and 2021. That is not to affirm or even suggest that we have had free and fair elections in Uganda.

The point to note here is that we seem to relatively have more free and fair elections than Kenya. You will be surprised to learn that there is a lot of evidence to attest that Kenya has never held a free and fair election in its history! You will also be shocked to realize that they have endured post-election violence starting at almost every election culminating into the indictment of some senior Kenyan political actors to the ICC at The Hague.
In fact, there has been a lot of rigging to the extent that the 2017 election was nullified by the Kenyan Chief Justice David Maraga. This particular one, court heard, President Uhuru Kenyatta had rigged. At that time, Baba Raila Odinga seemed to have won but the results were overturned in favor of Raisi Uhuru, prompting the enraged Kenyan population to resort to violence. It's believed that over 3.000 Kenyans perished, leading to the indictment of most political actors led by President Uhuru himself and his Deputy, William Samoei Ruto, by the International Criminal Court (ICC). The election was eventually nullified but Raila disappointed his supporters when he refused to participate in the re-election.
It is rumored that President Uhuru pleaded with Raila, not to participate in the re-election. This was supposedly in a deal that would allow him get endorsed for the 2022 election which has just been concluded. As it stands, it seems that Raila got a raw deal. It so happens that President Uhuru made the mistake of not including his Deputy in the deal. In the end, there erupted the unintended consequence of having Ruto insist on standing in Raila's way, hence blocking his safe passage to State House for the record fifth time!
It does seem that either President Uhuru under-estimated William Ruto's political ability or overestimated Raila's support base. In fact, most political observers thought that Ruto was simply wasting time by defying his boss. The political combination of Raila and Martha Karua as his running-mate backed by President Uhuru looked like a very heavy weight winning team against Ruto. William Ruto never seemed to have a chance at all in this election as he appeared like an underdog for long spells of the campaign.
In fact, during his victory speech, he (Ruto) reiterated the same sentiment by attributing his victory to God. He mentioned the word God almost thirty times in his speech. He further, repeatedly, via his social media platforms, insisted that it wasn`t his but God`s victory. He did not feel secure enough to believe in his political strategy that delivered the triumph upon him. But it would be unfair to simply dismiss 'Hustler' Ruto as a political novice without chance against Odinga. There is something we can learn from Ruto's political journey.
Actually, one of Ruto's master strokes in this election was his slogan which he managed to script by stating that he was a hustler contesting against the political dynasty of the Odinga and Kenyatta family. Kenya's post-independence leaders of Jomo Kenyatta and Jaramogi Oginga Odinga were very tight friends. When Kenyatta was imprisoned, the Britons suggested to Jaramogi to take over the Kenyan Presidency. But Jaramogi rejected the offer by reasoning that he couldn't undertake any deal unless Kenyatta was released and involved in the political process of Kenya. Indeed, Kenyatta was released and later became President.
When Kenya got independence in 1963, Kenyatta appointed Jaramogi as his deputy. But with time, both men developed very sharp political disagreements that pitied against each other. Odinga family went into opposition by forming a political party in the process while the Kenyatta's continued to run the affairs of the state. When Jomo Kenyatta died in late 1977 and Jaramogi died in the early 80s, President Arap Moi took over while a younger Raila Odinga took-over the mantle of opposition.
As a result of this, it's on record that the Odinga's have really suffered imprisonment, political harassment, deception, and betrayal. All this in the process of opposing the status quo. One of the most upsetting episodes is where Raila campaigned for Mwai Kibaki in 2002, in the power sharing arrangement that saw Raila take the post of Prime Minister. You will be shocked to learn that Raila had entered into a political deal with Mwai Kibaki where it was agreed that Kibaki was to run for that one term and step down in 2007. But Kibaki violated the deal and contested again!
When President Uhuru emerged in 2012, Raila contested but was rigged in 2017 culminating into his indictment with his deputy William Ruto by the ICC. There was a lot of evidence to suggest that Raila had won, to the extent that he even organized his own swearing in ceremony at Kasarani Stadium. When CJ Maraga nullified that particular election, Uhuru entered into a cryptic political deal in which he promised Odinga a back for the latter`s presidency come 2022.
Although Uhuru fulfilled his part of the deal and indeed campaigned for him, Raila still lost to Ruto! On whether Uhuru wholeheartedly did good his promise to Odinga, is another story. Some schools of thought believe he interiorly didn't. Now, Raila is back to square one. He claims that he has been rigged again! With factors considered, it's clearly obvious that Kenya has been dogged by political deception, dishonesty, betrayal and vote rigging of the highest order. And it's really unfortunate that Raila has been so unlucky to the extent of always being at the receiving end of the deception, mockery, lies and vote rigging!
Author Profile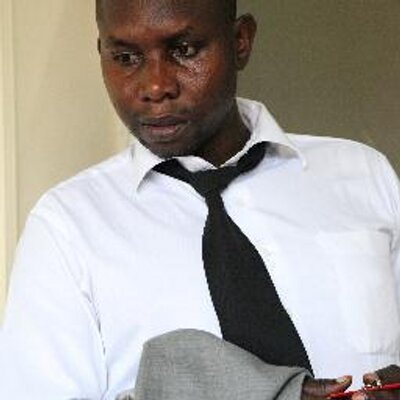 Fred Daka Kamwada is a seasoned journalist, blogger and political analyst for over a decade in Uganda