Most African Governments Are One Stupid Mistake Away from A Military Coup
Political scholars are still grappling with the fact that military coups are still fashionable on a continent where stringent measures have been undertaken by both the continental bodies like the African Union and the International community to make it impossible for violent change of government.
Last week, shocking news filtered through that a coup d'état took place in Burkina Faso, removing Interim President Paul-Henri Damiba over his inability to deal with an Islamist insurgency. Damiba himself had come to power in a coup d'état just eight months earlier. As you read this, a little-known Captain Ibrahim Traore has already taken over as interim leader. Burkina Faso is a country with interesting fortunes dictated by the dynamics within the military-political circles. The world came to know about this country when a young-looking 33 years old military officer by the names of Capt. Thomas Sankara staged a military takeover in 1983. He managed to undertake very many revolutionary initiatives including the decisive one where he changed the colonial name of that country from Upper Volta and renamed it as Burkina Faso, which literary means the land of upright men and many other useful initiatives.
He was however assassinated in 1987 by forces believed to be aligned to Capt. Blaise Campaore who is known to have been his very close colleague and he (Campaore) managed to sustain a long spell of stability from 1987 up to 2016 when he was pushed out of power by demonstrators who were fed up of enduring rigged elections. Since that time, Burkina Faso has been limping through a civil war with the Islamic militants and power thirsty military officers taking turns to rule the country.

As we speak now, the country is facing a very uncertain political future. The soldiers who staged the coup on Saturday claim that the army had failed to defeat the Islamic fundamentalist militant group and also failed to hand over power to civilian rule-which is an obvious lie used as a pretext to sample power. The military coup in Burkina Faso reminds us of the spectacular 1980 coup which was staged by Sgt Samuel Kenyon Doe who overthrew and eventually managed to execute President Tolbert together with all his cabinet ministers due to corruption.
But his government turned out the most corrupt than the previous one. Prior to that, great post-independence leaders who had resorted to single party democracy like Kwame Nkrumah, Patrice Lumumba, Milton Obote, Cabral were all overthrown by the military. Soon after the cold war in 1990, military coups became archaic, unacceptable and replaced by progressive democracy. The international community, the African Union and regional bodies like ECOWAS became very effective in thwarting military coups and defending democratically elected governments.
It became extremely difficult to stage a coup and survive the backlash and wrath of those bodies in form of punitive sanctions. The rule was that leaders had to emerge through elections. One of the spectacular episodes of this phenomenon was where self-styled despot Yaya Jameh was forced to hand over power to President Barrow. President Jameh was a very interesting comical character in the league of clowns that can only be compared to Ugandan dictator President Idi Amin.
In Gabon, some disorganized military offices rushed to radio and announced that they had overthrown the government of President Ali Bongo, son to long serving late President Omar Bongo, but were easily neutralized. In Burundi, the late President Pierre Nkurunziza was almost overthrown by a clique of Burundian soldiers who failed to sustain the takeover.
Then there was the slow-time consuming takeover in Zimbabwe where, the late Robert Mugabe was pushed out of power by his colleagues. President Mugabe had made the mistake of entrusting most powers with his wife Grace Mugabe, which annoyed his ZANU-PF colleagues led by now President Munangagwa who managed to connive and push him out. In Africa, we have seen civil wars like that of Gen Museveni in 1986, invasions like the Tanzanian that pushed Gen Idi Amin out of power in 1979, military takeovers like that of Gen Sani Abacha in Nigeria, the one of Capt. Jerry Rawlings in Ghana or even the useless one of Gen Tito Okello that saw the overthrow of President Obote in 1985 and many others.
Incidentally, President Jerry Rawlings also did exactly what Sgt Samuel Doe did by executing former ministers whom he accused of being corrupt but his government turned out to be more corrupt than the one he overthrew! Unfortunately, when the continent adjusted to elections, most leaders learnt the art of rigging elections. Many of them have since managed to stage sham elections by suppressing the opposition and controlling the electoral process. This is the method that has been used by leaders like President Paul Biya who has ruled Cameroon since 1983, President Theodore Nguema who has been in charge of Equatorial Guinea since 1979 to the extent of appointing his son as the Vice President and minister of defense!
And it's depressing to note that throughout that time, the African Union has somehow managed to keep the army and their military coups out of the political processes with some respectable success. But in the process of doing so, the African Union has been faced with the realities of defending illegitimate governments that have lost elections. This is the dilemma that is now making military coups inevitable because it has come to be known that elections are no longer viable options for effecting regime change in Africa.
This has led the people to devise their own methods of bringing down dictatorships through mass protests. For instance, the advent of Arab spring that saw people demonstrate and eventually defeat powerful dictatorships like that of Col Muamar Ghadafi from Libya, Hosni Mubaraka in Egypt, and Ben Ali from Tunisia etc. There is the recent one which was occasioned by rising prices of bread that prompted protestors to get rid of President Omar Bashir from Sudan. Sudan is now under a military that is in a tricky alliance with some civilian leadership.
One thing that must be stressed here is that Africans now know that elections can push out dictators from power but they (elections) are not necessarily a reliable option they can trust to effect regime change. Since elections are losing the necessary legitimacy, this has opened an avenue for the army to come back to influence political events on the continent. You find that the situation is so fragile that most African governments are just one stupid mistake away from enduring a military coup. This is because most of them are staging fake elections which they are rigging without shame and using them as an excuse to perpetuate themselves in power.
They rig because they know that the African Union and the international community can only recognize an elected government irrespective of the circumstances under which it was elected – or rigged its way to power. But it's important to note that once a military coup is supported by the people, it becomes inevitably successful regardless of the interventions by the regional bodies like ECOWAS, the helter-skelter moves by the African Union or even the well-intentioned international community. Therefore, African governments need to avoid making those silly mistakes that can expose them to military coups. Why? Because although these military coups are the most effective/quickest way to effect regime change, they always tend to send the country in a terrible backward spiral.
Author Profile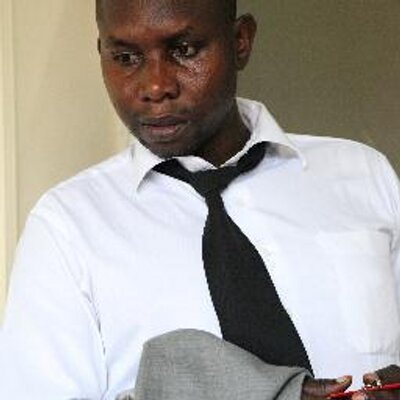 Fred Daka Kamwada is a seasoned journalist, blogger and political analyst for over a decade in Uganda