The other week, President Yoweri Museveni exercised his powers as the Commander in Chief (CiC) of the armed forces to promote Lt. Gen. Muhoozi Kainerugaba to the rank of full four star general. But at the same time, he replaced him as the Commander of the Land Forces, with Lt. Gen Kayanja Muhanga stirring all sorts of theories among the general public.
While this switch in command positions was viewed as a demotion by many, the promotion to full four-star General sent the message that although he had been removed from an official command position, he was still highly regarded by the appointing authority. There are obvious signs that the President was forced to sack MK from the Land Forces docket because of the controversial tweets he had made, suggesting that he can overrun Nairobi within less than two weeks of military action,sparking a keyboard confrontation between the two regional governments` dwellers.
The President was therefore forced to yield to diplomatic pressure from Nairobi to do something (of disciplinary nature), about the errant officer. Gen Museveni was even forced to apologize to Nairobi. But when you observe critically about what the fuss was about, you will find that most of MK's tweets can be regarded as friendly fire. But tweets aside, there is nothing particularly wrong with MK's personality or character that can cause a stampede. He is not anywhere near President Idi Amin's son (names withheld because he is still active government service) who, was known to be very berserk to the extent that he would attack Makerere university to poach the female students by force.

He is not anywhere near the snobbish Jose Kongolo, the exuberant son of former late President Joseph Mobutu who moved around with chains of bullets and machine guns around his chest. Neither is he anywhere near Equatorial Guinean President Theodore Obiang Nguema's son who spends taxpayers money to buy yachts, mansions, and speed boats in Paris. By the way, if MK wanted to do what Obiang does in Equatorial Guinea, nobody can stop him. We are even lucky that he has already demonstrated that he can actually adapt into a very useful protagonist in a number of ways.
For instance, People forget that great personalities like President Laurenco of Angola, tried and failed to cause the opening of the Rwanda-Uganda border which had stalled for almost two years but he used the same controversial tweets to initiate and eventually succeeded in opening the Rwanda-Uganda border. This shows that if we paid time to the positives, it could give you a very different outcome.The reality also shows that Gen Muhoozi has actually made himself very relevant in the dynamics of the country to an extent that he has reached where you cannot ignore him, even if you wanted to do so. Today, his portrait is visible on the motor cycles and vehicles driven on the streets of Kampala and beyond.
Those tweets have made him a brand that must be followed on social media platforms. In fact, it's fair to say that it's much better for him to tweet those controversial tweets than keeping quiet. This, if them tweets can cause a necessary storm in big circles. When put to serious scrutiny, you will find these accusations to be trivial. If MK had authored such a tweet about a country that is hostile to Uganda's interests, then it should have raised necessary concerns. But Kenya is a friendly country and it's hard for any Kenya to feel threatened by a mere tweet.
One of the fundamental mistakes we make is to connect everything he does to his Presidential ambitions. Yet the truth is that the lad is simply enjoying the trappings of power as much as he can. We are even lucky that he has not become berserk like some of us would, if we got into such powerful positions. Moving forward, it's obvious that MK needs serious advisors and handlers around him who can run his errands. Leaders around the world surround themselves with brilliant brains that can come-up with ideas on a daily basis.
This is not because those leaders are lacking in intellect but because they are overloaded with official responsibilities that can overcrowd their immediate judgment about various issues. That explains why a president of demagogue proportions like Barrack Obama had speech writers and advisors specialized in different categories like the economy, foreign policy, the military, security, local politics etc.Secondly, it's fair to suggest that Mk needs to realize that he can still wield power of unfetteredproportions even when he is not in a command position within the army.
For instance the late Col Muamar Ghadafi's son Saif Al Islam managed to accomplish so much for his father's regime even when he was not holding any official position in government. It's Al Islam who managed to rehabilitate the dented reputation of the Libyan government by embarking on diplomatic engagements with the western powers when his father was under terrible sanctions, following the Lockerbie plane bombing that was blamed on the Libyan leader. Al Islam managed to convince the world leaders to welcome back Libya to the international community to the extent that by the time of the Arab springs , Col Ghadafi was highly regarded as a very nice man around the globe, particularly in Africa where we came to regard him as our dear brother!
There is another example of Gen Salim Saleh who retired from the army but still pulls all the strings in the country without any official command position in the army. Given his age, Gen Muhoozi can do a lot for the country if he adopts the Saif al Islam and Gen Salim Saleh approach. There is a likelihood that the army is restricting his potential to contribute to society because of its sensitivity in state affairs. Yet the reality is that Gen Muhoozi has arrived to a point where he cannot be ignored, even if you badly wanted to do so. What we need is to put him to good use because the country is already dancing to the Gen Muhoozi vibes.
Author Profile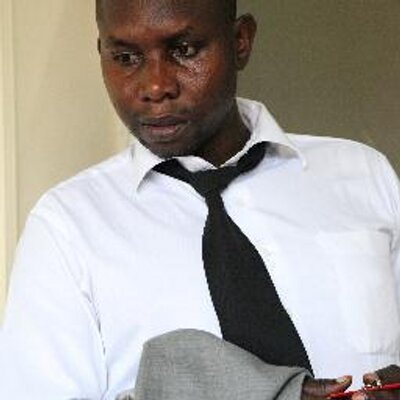 Fred Daka Kamwada is a seasoned journalist, blogger and political analyst for over a decade in Uganda