President Yoweri Kaguta Museveni has been lined up to meet American President, Joe Biden at the US-Africa leaders' summit slated for next month, December 2022, amidst protestations from many quarters. This meeting comes after several letters from the Chairperson of the US Senate Committee on Foreign Relations, Robert Menendez petitioning Biden to withdraw Museveni's invite.
Menendez's letter was informed by another petition from Uganda`s opposition leader, Hon Robert Ssentamu Kyagulanyi, accusing Museveni of gross violation of human rights. Menendez argued that Museveni has twice changed the constitution to suit his needs, impeded democratic processes, turned a blind eye to rampant corruption, and subjected civil society, and political leaders to illegal detentions, violence and torture with impunity.
He, therefore, asked that Museveni be regarded as an outcast with the USA and that several dealings with him should be ceased, starting with his invite to the December summit. Following Menendez's letters against Museveni, United States Representative to the United Nations (UN), Linda Thomas-Greenfield paid a courtesy visit to Uganda and held discussions with the President, reassuring him of their continued need for coordination.

Greenfield insisted that the USA still has a "strong partnership" with President Museveni and also confirmed that they had received several requests against inviting President Museveni but she insisted; "inviting President Museveni was a good opportunity to engage".
She was obviously trying to seek out the Ugandan President on the regional issues, especially the volatile Congo where the activities of the M23 rebels have created a storm in the region, confirming the widely held view that the most prominent issue that keeps Museveni in the good books of the international community, is derived from the military investments he has made in Somalia, Congo, Central African Republic and Southern Sudan.
These security engagements make President Museveni an important player in the geopolitics of the great lakes' region – which explain why Greenfield was insisting on engagement with Museveni especially with the current volatility in the Congo. Without these UPDF engagements in the region, Museveni would be an irrelevant item to the international community and would easily be isolated and face probable indictment.
This is because there seem to be no African country with the military capacity to make those military investments on the continent. Contrary to what most people think, elections are no longer the avenue for Museveni's continued consolidation of power. If Democracy in general and elections in particular had been the main conduit to legitimize his grip on power, he would have lost the same a long time ago. Why?
Sham Elections:
Because it has come to be known worldwide. While Uganda holds regular elections, their credibility has deteriorated over time, and the country has been ruled by the same President since 1986. The ruling party, the National Resistance Movement (NRM), retains power through the manipulation of state resources, intimidation by security forces, and politicized prosecutions of opposition leaders.
Uganda's civil society and independent media sectors suffer from legal and extralegal harassment and state violence. All this is contrary to what Museveni promised when he came to power 36 years ago. The then rebel leader, Yoweri Museveni asserted that his group was more politically refined than the past leaders and would lead Uganda through a sustained Democratic path.
As a matter of fact, the NRM had a draft document known as the ten-point program in which, point number one stated the restoration of democracy through conduction of regular, free and fair elections. The then rebel chief-turned President was very clear that dictatorships were a thing of the past leaders like Apollo Milton Obote and Gen Idi Amin who consolidated all state power in their respective hands. But with the passing of time, things have turned contrary to the powerful rosy messages of 1986.
The Power:
Today, the whole situation has turned full circle as power is concentrated in the hands of President Museveni, who retains office through deeply flawed electoral processes. Although there is Parliament operating under the rule of law, the Ugandan Lawmakers have little practical ability to influence legislation in which the government has a particular interest, though there is more consultation on ordinary policy matters. The executive has secured passage of key legislation through inducement, harassment and intimidation of the legislative branch.
Civil Liberties
Although the President was very unequivocal on matters of civil liberty and freedom in the first years of his coming to power 35 years ago, today things have changed for the worst. The Ugandan media features many independent outlets, but their journalists face arrest, harassment, intimidation, and assault in reprisal for their work. Authorities routinely raid and shut down radio stations and other outlets, and will take away accreditation from journalists in retribution for their reporting.
The Committee to Protect Journalists, a press freedom watchdog, reported that over the years, several journalists have been harassed and attacked by police and members of the public while covering presidential elections. Having reneged on the issue of Democracy, and civil liberties, the Ugandan regime is facing a very tight situation with the international community.
When U.S. Secretary of State Antony Blinken paid a visit to Africa, he went to Rwanda, Kenya, Nigeria and South Africa and deliberately left out Uganda. Leaving out Uganda from his schedule seemed to confirm the growing perception of a diminished geo-political stature for President Yoweri Museveni. Last year, the US Department of State announced a blanket travel ban on Ugandan government officials who they say were involved in gross human rights violations and undermining democracy during and after the January 14thgeneral election.
The US Department of State also said the presidential polls in which incumbent President Museveni was declared winner with 58 per cent while former National Unity Platform (NUP) party flag bearer Robert Kyagulanyi, alias Bobi Wine, polled 35 per cent of the votes, were "neither free nor fair." Blinken was focused with African countries that had fulfilled the promise of democracy and he referenced Afro-barometer surveys that show Africans are largely against authoritarianism.
Blinken acknowledged that delivering on the Democratic dividends and the peaceful transition of power were fundamental requirements for any country to register the necessary legitimacy. These issues are set to be the subjects of the US-African leader's summit which is slated to take place in December 2022. Having failed on almost all the aforementioned areas, Museveni will be faced with a hostile contingent from the US at the summit.
In December 2020, the former Chair of the US House of Representatives Committee on Foreign Affairs, Elliot Engel, recommended several Ugandan military officials for sanctions, including the commander of Land Forces at the time, Lt Gen Peter Elwelu; Maj Gen James Birungi, the then Commander of the Special Forces Command (SFC); Maj Gen Don William Nabasa, a former Commander of SFC and now commander of Ugandan troops in Somali; and Maj Gen Abel Kandiho, Chief of Military Intelligence. Others were former Deputy Inspector of General of Police Maj Gen Sabiiti Muzeyi, Commissioner of Police Frank Mwesigwa, and the Director of Crime Intelligence, Col Chris Sserunjogi Ddamulira.
In conclusion, all indications are that Museveni is just one stupid mistake away from getting completely isolated by the western powers. Having failed on delivering Democracy and civil liberties, Museveni's remaining source of legitimacy now revolves around the UPDF military investments he has made in Somalia, Congo and southern Sudan. Without them he is practically as finished Saddam Hussein.
Author Profile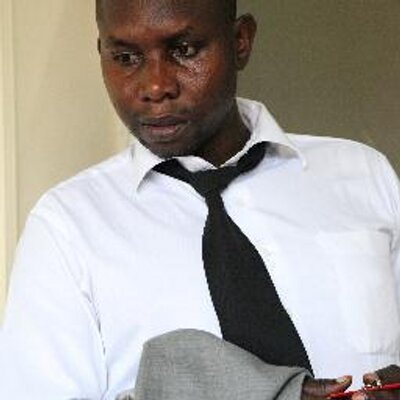 Fred Daka Kamwada is a seasoned journalist, blogger and political analyst for over a decade in Uganda