Singer Joseph Mayanja aka Jose Chameleon is indeed Ugandan entertainment self-marketing ace! He tactfully coerced President Yoweri Kaguta Museveni into meeting his demand for a photo opportunity and a feature private meeting with the fountain of honor.
This was during the Kampala Region Symposium on Patriotism and Investment held at Kololo ceremonial grounds last week. Having previously tried to meet President Museveni without success, the grand marketing ace, knowing that the suave and security-conscious inner circle of the Special Forces Unit would not allow him to get close to the Old Man of the hat in a flash, he devised a ploy to grab the attention of the President.
During his performance in front of the President, Chameleon kicked off with a spirited self-introduction of his person. He then wowed the audience with his smash hit 'forever', sending Kololo into a Chameleon frenzy. By this time, Mr. Museveni, had already been encompassed in the 'Chameleonic' of the day and eating from the singer's melodic palms.

The singer cut short his performance and resorted to addressing the President directly by reminding him that he had been part of his struggle since 2011. He then went on to add that he was missing the President and that the only picture he had taken with him had since become outdated and requested for a new one to be taken. The always available and accommodating Museveni instantly granted the singer's wish.
Though the SFC was taken by surprise, it went into tactical body search of Chameleon as he headed to approach Uganda's Principal CEO. Struck by Museveni's Charm and most probably his security detail, Chameleon, now in the company of Edwin Katamba aka MC Kats, approached the President and the duo seemed to be lost for words.
It is at this time that 'Jajja' decided to take matters into his own hands. He diverted his podium 'visitors' and pointing to his convenience security car, where he beckoned his aides to come forward for instructions. The tete-a-tete that took around three minutes, according to a Leone Island insider, resulted into Museveni instructing his people to set an appointment with Chameleon. The two 'visitors' also received a further presidential appreciation package.
It is at this time that Chameleon remembered what his initial goal was. It was to take the vintage photograph. He seized the moment but like all people of good will, he also beckoned MC. Kats to share the moment. In his address, President Museveni indeed made reference to Jose Chameleon's work as he lectured to the attentive youths, issues concerning jobs and wealth creation for Ugandans as always, the top agenda of the founding father of NRM.
The son of Late Kaguta added that the NRM was an all-building and inclusive Party bent on its four core principles of Nationalism, Pan-Africanism, Democracy and Socio- economic transformation. Chameleon, who is a personal friend of Michael Nuwagira, the President's younger brother and Chairman of the MK Project, has historically been an unsettled political journey man who has been linked to the Democratic Party (DP), National Unity Platform (NUP) and he stood on an independent ticket for his failed bid for Kampala Mayor.
Author Profile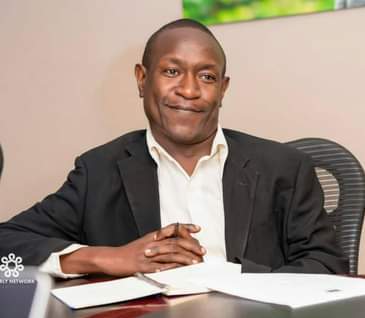 Mr. Jacko David Waluluka is another unique entertainment and general investigative news writer, a field he has diligently covered for over fifteen years. He's also the Chief Administrator at The Investigator. He can easily be reached via [email protected]