Investigative Security Analysis: On Wednesday this week, President Museveni interfaced with the Police Council including Directors, Heads of Departments and several key Officers of the Uganda Police Force at the Institution's headquarters in Naguru, to particularly discuss the security situation in the country.
At the Investigator, we were shocked by the Inspector General of Police (IGP), Mr. Okoth Martins Ocholla aka OMO's outrageous suggestions and hence this article. In particular, we were shocked to hear Counsel Ocholla telling the President that the Force needs extra 32,000 Police Officers to beef up security in the country which already has close to 50,000 officers.
This request for an additional force comes at a time when the country has already experienced a recruitment drive of over 6,000 troops that were passed out early this year, making the all-round figure of policemen rising to almost 60,000.

Mr. Ocholla's request for an additional 32,000 will make the police-to-civilian ratio stand at one police man for every ten residents. You don't need to be a rocket scientist to deduce that accordingly, the gun-to-civilian ratio would also rise to one gun to ten Ugandans! On average it will certainly make Uganda one of the most policed countries in the world.
Conventional wisdom questions the budgetary viability of having such a huge force overseeing a mere law and order challenge. Ordinarily such massive troop recruitment is done in the military, probably in preparations for a looming serious war.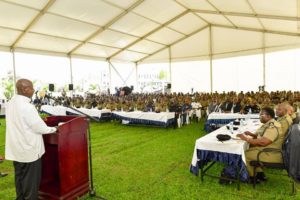 The trends in organized societies
In more organized societies, law and order challenges are handled hand in hand with, and or between the police and the civilian population. We carried out research and found out that the world over, there has been standards set for police to population ratio. For instance in 2016, Police Departments serving cities with populations exceeding 25,000 employed an average of 16.8 officers and 21.4 total personnel for every 10,000 residents.
On average, all localities with populations of at least 50,000 employed 16.6 officers and 21.4 total personnel for every 10,000 residents in 2015, at least according to the FBI data. In a study conducted by some fellow called Nerd Wallet's, it was revealed that Washington D.C. has more than 68 Police Staff for every 10,000 residents, giving it the highest police-to-population ratio of any city in the states. This means that 100,000 residents require just 680 Police Officers.
In essence, it means that if you use the American yardstick of police-to-resident ratio, Uganda's close to fifty million population only require 24,000 policemen. Currently, there are 47,400 Police Officers and 396 civilian staff in the Uganda Police Force, making a random total of about 50,000. If you add the 6,000 which were recruited recently, the figure jumps to almost 56,000.
Obviously Ugandans are already an over policed society. Now you wonder why our leadership doesn't have a clue on police deployment trends around the world. You obviously don't need such massive numbers of policemen in the country like Uganda. And indeed President Museveni seemed to acknowledge the un-viability of IGP Ocholla's request when he said that during the colonial days, the Britons used very few policemen to man the whole country.
"Growing up, I noticed the British had a simple policing plan. They would police through the chiefs, muluka, Gombolola and a few askaris (Parish, Sub County and a few Security men). We were in Ntungamo but the main police station was [several miles away] in Mbarara. You would only seea black police van which we named 'Tenda' in Ntungamo when there had been a serious crime like murder. This concept worked then," he retorted.
But unfortunately, giving an excuse of the now grown population, the President went on to contradict himself by casually unveiling a security plan, suggesting that every Sub County should have a Police Station, 20 police officers, two motor cycles and so on and so forth. Given the fact that Uganda has over 2057 Sub Counties, 20 police officers for each one of them would translate into an additional 41140 police officers!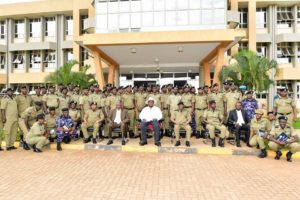 If you add it to the 56,000 Policemen already entrenched, it would add up to 97,140! While IGP Ocholla's suggestion to recruit more 32,000 was ridiculous, as mentioned earlier, Gen. Museveni's suggestion is laughably untenable madness.
And if his suggestion to have two motor cycles for each Sub County was to be effected, you will have 4,114 police motor cycles in the country! Phew! Does President Museveni consult his advisors before he comes up with such suggestions? Does the insecurity in the country require such man power? Even if there was insecurity of a huge magnitude, would it require such a big deployment drive?
One needs not to be a security expert to see the shallowness in the suggestions of the two security gurus. It is interesting to note that in an era of drones, both ageing top security personas of President Museveni and his IGP Ocholla don't seem to have appreciated the technological advancement in the security sector. Countries with wise men don't use manpower to oversee the security of their respective countries but technology.
The way forward
Perhaps if the President had reiterated his earlier idea of cameras in all Sub Counties, it would have made a lot of sense. Alternatively, we thought that the idea of local vigilance secured the country in the earlier days when the armed forces were still small in numbers.
By local vigilance accessions, it means that government would empower the village leadership to oversee security in their respective backyards in tandem with the available police. And that style of village leadership component was the key secret behind the security of this country during the colonial days which the President Museveni referred to in the first place.
Actually, President Museveni forgets that although he believes so much in military might, it was the village leaderships (Resistance Councils) that managed to stabilize most of the towns in the aftermath of his person's-led bush war of 1981-86.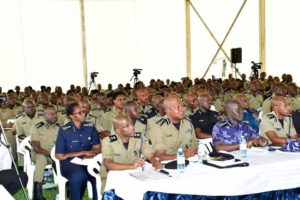 Uganda has 68,649 villages. Any security plan that doesn't take the village leadership into account is a waste of everybody's time. The good news is that with the village plan, you don't need guns or motor cycles. All you need is simply a mobilization plan, then the rest can work by all itself.
One of the key tools of empowerment would simply to give radio calls to each village leadership to use in liaising with the police at any given time of commission of a crime. That alone is far better than the suggested utopian and generally unrealistic security plans of Mr. Okoth Ocholla and his Master. We rest our case…
Author Profile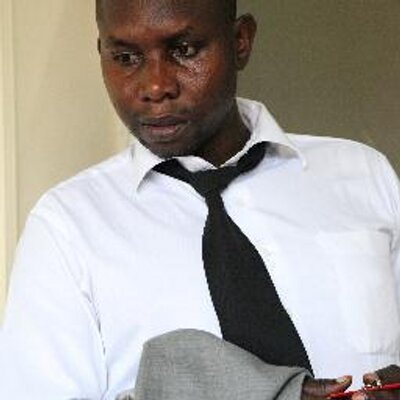 Fred Daka Kamwada is a seasoned journalist, blogger and political analyst for over a decade in Uganda