"The chances of Bobiwine becoming Ugandan president are equal to the chances of Hon Betty Nambooze becoming Miss Uganda'' said the ever jocular President of the Democratic Party, Chairman Norbert Mao.
While we can regard that statement as humorous, it also qualifies as one of the most abusive statements made by one of Ugandan top politicians. It also signifies the low opinion that the DP leader has for both Kyaddondo East MP Hon Robert Kyagulanyi Ssentamu and Mukono Municipality MP Hon Betty Nambooze.
To make matters even worse, Hon Kyagulanyi is not only a Member of Parliament but also, currently the leader of one of the upcoming strongest political parties, from the opposition, arguably with the biggest youths' following for now.

While President Museveni's NRM enjoys the largest majority of the members of Parliament, it's largely explained by the fact that the ruling party enjoys the luxury of state resources, while Hon Robert Kyagulanyi's National Unity Party has got MPs who joined the party by absolute conviction.
Norbert Mao can claim to be leading the Democratic Party but he only controls four members of parliament that didn't defect to NUP. And even then the loyalty of the remaining four is not confirmed to be in his folder. Therefore, he was expected to exercise some restraint and respect for the NUP leadership.
The Komanyoko Politiks
Faced with a very uncertain political future, Mao has resorted to insults not necessarily for his enemies but for those members of his party with whom he disagrees on strategic political matters.
Last month he made another interesting idiom, when he stated that ''People Power was like a school without a center number, when exam time arrives, they run to schools with center numbers''.
Mao was, in effect, suggesting that as a pressure group, People Power had to find a registered political party through which to contest for the 2021 election.
And true to his word People Power found the already registered National Unity Party as the 'center number'. The process of acquiring this party has since degenerated into a controversial undertaking with some officials within NUP contesting the process through which Hon Robert Kyagulanyi took over as the party president.
Nevertheless, NUP is growing from strength to strength while DP is hanging in balance. But this doesn't justify the Mao's vitriolic language. Mao makes statements which border from humor to absolute abuse. I don't think that he acknowledges the derisive nature of his statements.
Humor is an important part of the oratory for big politicians. Politics without humor is like a football game without dribblers. The fans never fully enjoy the game. But humor that contextually undermines the personality of another is not good for politics. It's a direct abuse of another, which then qualify as a foul or bad tackle on an opponent.
As we all know, bad tackles are punishable by the referee with use of a yellow or red card. In this regard, Mao should have been sent off (red carded) a longtime ago. Calling duly elected members of the Democratic Party to the country's Parliament morons was a very stupid idea. Mao should have restrained himself and found a way of working with those members.
Mao's problem is that he only applies the humor when he is insulting or deriding his opponents. Better orators use the humor to send a powerful message. It's not fair to categorize Mao as humorous because his is not humor, its veiled abuse. While humor is categorized as being funny, comical or witty, the synonyms for abuse include violence, mistreatment and cruelty. Mao is therefore not humorous, he is abusive.
He is in the same league of abusive leaders like president Museveni who referred to past leaders as swine's. Hon Kahinda Otafiire can be bluntly abusive and funny at the same time. He is vividly remembered for referring to his opponents as mavi yakuku ngine (chicken pupu)
Real Comedy
But when it comes to humor, former Ugandan president Idi Amin can easily be regarded as the most comical of all. Although President Amin was very funny in every aspect of the word by virtue of his larger than life appearance, the way he spoke the queen's language made him a buffoon in his own league.
Amin was so comical that Ugandans started coining their own comedy and attributed it to him. One was when some creative fellows said that Amin once said that ''when I was coming from the stone (the town of Jinja) the football of the motorcar did pwaaa''.
Although Amin is NOT known to have made that statement, it confirms how comical Ugandans regarded him to be. In regard to freedom of speech Amin once said that he ''can guarantee freedom of speech before speech, but cannot guarantee freedom of speech after speech''
He was in effect saying that those who speak freely about his regime were free to do so, but were bound to face the consequences after making those statements. And that denoted the horrendous rate of human rights violations that characterized his regime.
The likes of Amin and Museveni can afford to be humorous and abusive because they did it while in power. But Mao being a man who is pursuing power should never have used abusive language because he makes it difficult for himself to acquire his goal.
Mao doesn't seem to understand that using humor to denigrate others undermines his ability to lead others. When you are a leader of men, you have to be very careful with the way you address those who disagree with you. Any statement which goes out of line with people's expectations can cost you very dearly.
Only leaders in power can afford to abuse their opponents and get away with it. As for those who seek power, like Mao, they should exercise restraint and never yield to the temptation of getting native. Why? Because those you abuse will react by being more native. Mao, more than anybody else, now knows how far foul language has put him in political isolation. If he was looking for an award he has won the award of being the most abusive Ugandan politician of the year.
Author Profile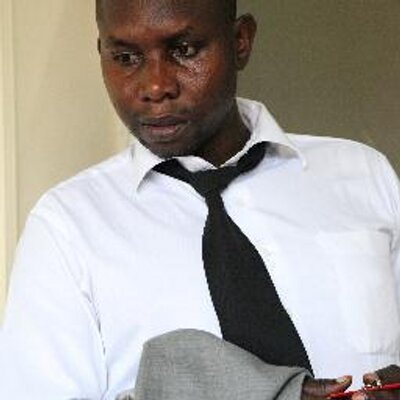 Fred Daka Kamwada is a seasoned journalist, blogger and political analyst for over a decade in Uganda