Ugandan President, Gen. Yoweri Kaguta Museveni is anytime set to address the country about the covid-19 trends. The persistent rumors already circulating suggest that he will re-impose the much dreaded lockdown especially in regard to the locking down some or most of Kampala metropolitan areas.
If this turns out to be true, it will be a continuing trend of how state secrets have from time to time leaked during Museveni's 35yr era. In the recent past the supposed rumors were embarrassingly accurate that they even tap on specific interventions which the president intends to make, long before his address!
In the last six months when he imposed the lockdown, each of the president's speech has been spectacularly preempted in precise detail. The last speech he made, all Ugandans knew he was going to relax some restrictions; the boda-bodas and taxi touts knew he was set to free their trades. A question arises as to who leaks or preempts the First Citizen's speeches?

In organized States, the general public is NOT supposed to know what is on the mind of their leader. Once the thoughts of a leader are preempted and become general knowledge, his authority is grossly undermined. The inscrutable aspect of the leader is diluted and the stability of the nation is put at risk.
Previously and so, president Museveni's government has been so careless with State Secrets that even his private views about regional States have become public knowledge. For instance, the major reason why Ugandan and Rwandan governments have had a long feud is heavily attributed to the leakages from the private views at Nakasero State House.
There was a time when the WikiLeaks published that president Museveni once told British foreign minister Linda Chalker that 'he feels that the Rwandan leadership is bankrupt and lacking in ideological direction'.
These views had the unintended consequence of straining the relations between the two erstwhile friendly neighbors because the Kigali establishment felt maligned. The friction was compounded by the spontaneous leakage of more not-so friendly views both leaders had for each other.
The implications
Early last year Rwandan president Paul Kagame had to remind president Museveni about which people he had privately met and what they had discussed in full detail to the embarrassment of the Ugandan leader. Museveni himself conceded that he had indeed met the people in question, to the surprise and shock of everyone.
The carless leakage of the private views of the president indicates that he is surrounded with people who don't respect his privacy. In fact there was a time when the late Libyan leader Col Muamar Gadhafi fell out with our own basing on rumors picked from the corridors of a regional summit in Addis Ababa.
Although the rumors appeared to be farfetched and unbelievable on account of the strong cordial relationship between the two leaders, it later transpired to be very accurate that the relationship between the two leaders had deteriorated to an extent that they were not Seeing Eye to eye. Indeed much later on, the Ugandan leader confessed that he had indeed disagreed with the late Col Muamar Gadhafi but on matters to do with the political unity of Africa.
The trends
If the private views of the president on national matters become public knowledge, then what is the use of swearing the oath of secrecy by public servants? In more organized countries secrets are revealed after fifteen years of total concealment. In commonwealth countries to which Uganda belongs, state secrets are supposed to be released after 20 years of concealment.
What is interesting is that in Uganda, the State Secrets leak even before the President unleashes them! On most occasions, Ugandans have known cabinet reshuffle and other appointments' details long before the president airs out the same.
There was an interesting scenario when president Museveni had intentions of making a reshuffle in which Maj. Gen (Rtd.) Kahinda Otafiire was to be dropped. Rumors circulated fast enough, prompting Otafiire to release a presser, promising to cause trouble if he indeed was dropped as Minister. When Museveni heard about the Ota-fire's fire breathe, he rescinded and instead re-allocated him another Ministry.
Then there was the interesting rumor that caused ripples within the NRM Party which circulated that then Secretary General Amama Mbabazi was planning to stage a coup against his master. The rumors, as embarrassing as they were, played out in public domain when Museveni jammed to shake hands with Amama in full glare of national media. What should have been a secret between the two leaders became public knowledge and culminated into the sacking of Amama Mbabazi both as Secretary General and Prime Minister.
Interestingly, all the plans that Museveni intended to carry out before sacking Amama, including making the Secretary General an appointed position rather than elective were lightly leaked and came to pass in affirmative. The relationship between the two erstwhile friends cum foes has since blossomed. It seems the Museveni finally realized he was fed on 'fake news' in regard to Amama building an alternative power center.
There is a lot of evidence to confirm the Court of Last Opinion was fed on wrong intelligence because when Amama left to form his own political movement, he had no powerful followers to justify that he was indeed building a powerbase. How could a whole Secretary General defect from the ruling part without a single minister or Member of Parliament? How could someone who was for decades building a powerbase fail to attract a following from even one part of the country?
President Museveni's inability to sieve intelligence information was openly exposed by the Mbabazi saga. He had become a consumer of fake intelligence and information. Today the reality is being vindicated by more rumors that he is trying to lure Mbabazi back to his government.
They started as rumors, before they became a reality when Museveni attended the wedding of Mbabazi's daughter to the son of the South African President Cyril Ramaphosa. The two recently posed for photos at Museveni's farm. Once again Museveni secret dealings with Mbabazi had been blown. However Amama still declines to be lured back into government, for now.
Why the Presidential speeches' leak?
There is a more scientific reason why Museveni's speeches and plans leak to the general public. Lt. General (Rtd) Henry Tumukunde recently revealed that Museveni doesn't read intelligence reports. This clearly means that if the president doesn't read these vital reports, his actions on matters of national importance are from informal sources rather than State institutions.
This obviously means that the Commander in Chief relies on 'rumors' from his handlers to make decisions than from the institutions designed to do so. Once his handlers give him the information, they can easily predict his course of action because they are sure about how he will react to their information. It's these handlers who leak the presidential speeches several days before he even outs them. This is simply because these handlers influence the way he thinks through the verbal information they feed him on. This largely explains why many Ugandan analysts claim to get nothing new from his speeches because it has already been leaked to the public. This time we await his national address. Will he contradict the lock-down rumors? Most probably no.
DISCLAIMER: Any and all views expressed in the article are not those of The Investigator News. They are an expression of the author's personal opinion. Usage, of any kind, of the information herein is at the user's own risk. The Investigator News shall not be liable for any consequences arising from such usage.
Author Profile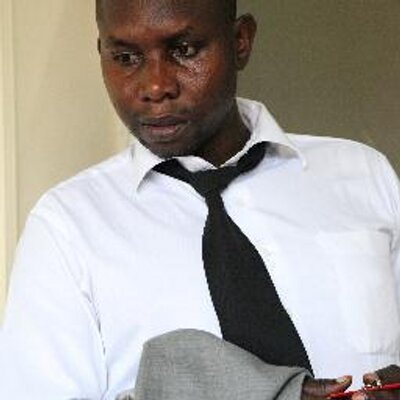 Fred Daka Kamwada is a seasoned journalist, blogger and political analyst for over a decade in Uganda