Some two years ago, the Ugandan Parliament passed a law that saw the creation of five new cities which included Gulu, Fort portal, Jinja, Masaka and Mbale. This idea was borne out of the nation-wide out-cries for the creation of a new city to replace Kampala which has seen better days. The immediate expectation was that Kampala city had to be replaced as an administrative capital with a new city that would house a new Parliament, High Court and other Administrative structures.
Some of us had zeroed on Nakasongola as the best venue for a new city. Why? Because Nakasongola is centrally positioned and has an added advantage because it boasts of an airfield which can be upgraded into an international airport. So we thought a more visionary government was simply going to start phase one of shifting the administrative structures and move them over to Nakasongola. You know what they did instead?
They promised to create five new cities which they have reportedly failed to finance. They then embarked on skirting around Kampala, renting premises for ministries and other government organs. Why should government rent office premises? For instance, the Ugandan Parliament was built with a sitting capacity of less than 280 members. But right now it sits almost 560 MPs without any parking space for them. Instead of constructing a new Parliament, they have started digging the old one for a go-down parking yard and started expanding it to fit with the growing number of legislators.

Why not build a new one in a new location? We thought building the new Parliament in a place like Nakasongola should have been a better idea to avoid squeezing big numbers of people in a small, over congested Kampala. The truth is that Kampala city has grown too old and small for the Ugandan population that is trekking towards 50 million people.
THE GLOBAL TRENDS: In any case, the worldwide trends have proved that every fifty years, a progressing country needs a new Capital City. We have seen Tanzania graduate from Dar eSalaam to Dodoma, Nigeria from Lagos to Abuja and many others. Actually, when the British colonialists managed to court Uganda as its protectorate, they adopted Entebbe as the new Administrative Capital from 1888 to 1962. When they left on 9th October 1962,Uganda adopted Kampala as the new administrative capital. The transition from Entebbe to Kampala was one of the best ideas because the population had grown too big for Entebbe, necessitating a new location of the capital city. When Kampala was adopted as the new capital city, it started well but was soon challenged by incessant periods of political instability and therefore, never got the opportunity to grow in appropriate terms as a shining city.
For instance when President Idi Amin dismissed Indians from Uganda in 1972, primitive Ugandans took over the houses and broke down everything including the drainage system. The former Vice President of Uganda, Dr Specioza Wandera Kazibwe once confessed that Ugandans who took over the houses of the departed Asians couldn't flash their pupu down the bowel because of the hard food they ate!
The end result was that sewerage contaminated with human waste, started to flood Kampala streets from Nakasero downwards towards Nakivubo stadium. When the civil war broke out in the early 80s, war survivors from the Luwero triangle set camp in parts of Kampala and built slums in Katanga, Bwaise, Nattette, Ndeeba, Kisenyi, Katwe, Kamwokya, Namuwongo etc. The net effect was that the Kampala City Authority couldn't enforce the city plans of constructing buildings with the necessary plan.
That's how we had a city without a drainage system which resulted into the flow of sewerage into many parts of the city. Grass-thatched and mud and wattle houses were erected in less than one kilometer from the city center in parts of Kisenyi, Namuwongo, Mulago, Ndeeba, Katanga etc. Now, the whole city is surrounded by very large slums that are irredeemable.
Consequently, the city dwellers from those particular slums started making a living by vending oranges, mangoes and tomatoes on the streets of Kampala road! All the items that you could find in the shop or market was easily found on Kampala streets! Obviously, something had to be done about the situation. When KCCA adopted the idea of the Smart City Initiative, they, in essence, wanted to clamp down in this slum set up that surrounds the city.
They have since cleared sharks and kiosks built on the roadsides. They since have managed to remove all the road vendors who sell the oranges and tomatoes from the streets, which is a commendable job. But the city authorities seem to have gone beyond their mandate. Asthey clear everything they find on the roadside, they include even very well constructed premises. The bitter aspect of it is that they do it in the most brutal way. They pounce on people by surprise in the night.
There are cases where they have cleared workshops constructed with glass! Now, the city dwellers are being told that the authorities are only interested in houses that are recommended by the council. This has prompted the landholding tenants to sell their land in panic. The interesting aspect of the whole saga is that some fellows are moving with bags of money seducing land owners to sell.
There are clear indications that KCCA seems to have been infiltrated by land grabbing goons who are taking it as an opportunity to buy city land on a cheap. The idea of seducing someone to sell is a noble one. But the problem here is that they use the KCCA smart city initiative as a scarecrow to force one to sell to them cheaply. The goons are sending their agents to scare landlords with poor quality buildings to force them into selling. Many of them have sold, not to the highest bidder perse but to the goons who have set the trap called smart city.
Therefore what started as a noble idea of enforcing principals of a smart city has degenerated into land bonanza. There are suggestions that the smart city initiative was infiltrated by anti-government elements who want to incite Ugandans to rise up against President Museveni's government. It could have been a good idea if the local administrative units were involved to give people breathing space to vacate or develop their land spaces. The use of an ambush by the KCCA authorities smirks of a rotten conspiracy, either to incite people against the Museveni government or to grab land from the poor or both.
Author Profile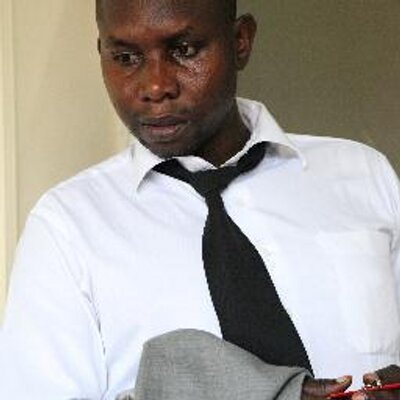 Fred Daka Kamwada is a seasoned journalist, blogger and political analyst for over a decade in Uganda