Tomorrow (Tuesday 9th August), Kenyans will cast their vote that will decide the political fate of their country for the next five years. This election represents another milestone in the history of the East African country that is known to experience post-election violence at the end of each election cycle. The most critical part of this election is derived from the fact that it will mark a transition from President Uluru Kenyatta, whose mandate expired after serving the two constitutional terms, to another leader who is likely to come from a very different political dispensation. The most prospective leader who is likely to emerge this time round, is likely to be Rt. Hon. Raila Amoro Oginga Odinga, a man who has the political presence that stretches to over 40 years having contested and lost four times!
He therefore comes with the experience of knowing what it feels to lose or win fairly or unfairly – which is enough experience to enable him win this one. Why Raila? First of all, Raila enjoys the support of the outgoing incumbent Uhuru Kenyatta, which is enough to put him at a bigger advantage. Secondly, he has chosen a very well-grounded running-mate in Madam Martha Karua, a woman with big experience and political gravitas to appeal to the Kenyan electorate.
If nothing unusual happens and with all factors held constant, we can presumptively speculate that Raila Odinga will emerge the winner of the Kenya 2022 presidential elections and therefore, become the next President of Kenya. Locally speaking, from the Ugandan point of view, Raila comes with a different political perspective that will have regional repercussions that will have an immediate impact on the relationship between Kampala and Nairobi.

It's more than obvious that things will never be the same between Kenya and Uganda. President Museveni particularly needs to be very afraid of the Raila presidency. Why? President Yoweri Museveni's leadership has had a tepid relationship with most of the Kenyan administrations since the time of the late President Daniel Toroitich Arap Moi in the 1980s. At one time, Kenya's Daniel Arap Moi even closed borders with Uganda. This was in 1988. On another occasion, both countries almost went to war over the dispute concerning the Migingo islands. Although the matter was resolved amicably, the two countries have remained quietly suspicious of each other.
Trade Wars:
In the recent years, both countries have had very serious trade wars that have an impact on the flow of trade between the two countries. At one time, Kenya rejected Ugandan beans. Then on another occasion, the Kenyans had issues with Ugandan eggs. Then of recent, the Kenyans rejected Ugandan maize, on the pretext that it was of poor quality. Then, at one time, Raila Odinga complained about the rationale of having Ugandan sugar on the Kenyan market, reasoning that Kenya had its own sugar from Mumia's.
Matters were only resolved after President Uhuru Kenyatta insisted that Uganda is Kenya's biggest trade partner. He therefore had no reason to boycott Ugandan products. On top of the fact Kenya is East Africa's biggest economy, it also enjoys access to the sea, an advantage in international trade. Uganda is a landlocked country that badly needs Kenya as an escape route to the sea.
This landlocked status explains why Uganda has managed to stomach all the bad trade practices of the Kenyans. Why should countries that are integral members of the East African Community have trade wars? Why should Kenya reject Ugandan products, in the first place? Although President Museveni is not considered as a direct enemy to the Kenyans in general, he suffers from the historical fact of having not been considered a friend of most of the Kenyan leaderships that have emerged over the last thirty-six years.
And specifically speaking, recent events have proved that President Museveni has never been an eager friend to Mzee Raila Oginga Odinga. During most of the previous Kenyan elections, the Ugandan leader has taken sides that are not in Odinga's favor. For instance, when Mwai Kibaki controversially overturned a gentleman's agreement with Odinga to run for one term and eventually contested and controversially rigged Raila of victory in 2007, the Kampala establishment worked and took sides in Kibaki's favor.
Gen Museveni actually sent troops to Kenya to dissolve the pro-Raila protestors. Secondly, the recent political encounters between President Museveni and Kenyan Deputy President, William Ruto who happens to be Raila's main political rival, are very fresh to be forgotten in an instant. Last year, Ruto actually managed to visit President Museveni twice in less than two years, at a time when the campaigns were getting in form. By hobnobbing with William Ruto, who was embroiled in a political campaign, President Museveni set a collision course with Raila Odinga.
Now, you don't need to be a rocket scientist to deduce how Raila Odinga will relate with Kampala. With trade wars still in motion between the two countries, the relationship between Kampala and Nairobi might even get worse after the 2022 election. The frosty relationship might be compounded by the mere fact that both men have always been in opposing political sides.
During the agitation for independence in the 60s, Raila Odinga`s father, Mzee Jaramogi Oginga Odinga was in very good relationship with Dr Apollo Milton Obote. In fact, Raila has been very good at maintaining the relationship with the Obote family who were practical political enemies of President Museveni. Once Raila settles in power, you cannot rule out that he will retrace his relationship with the Obote's. Although the Obotes have been integrated into President Museveni's NRM, it's hard to expect that Raila will also get absorbed in the same arrangement.
In any case, although UPC reportedly sold out its political rights to NRM, its leader Jimmy Akena did not allow to get directly absorbed. Instead, he sent his wife who now enjoys ministerial positions on behalf of UPC. This means that Jimmy Akena still has room to reposition his UPC, by running to the family friend in the names of Raila Oginga Odinga to forge a new political force.
Conclusion. With the Kenyan elections now hours away, Kampala will observe them with keen interest. Lines will be clearly drawn in favor of candidates who will work in Uganda's favor, and who obviously happens to be William Ruto. If it doesn't come off Kampala's way, then you should expect more trade wars between Uganda and Kenya. Should Raila emerge the winner, then expect a cold war relationship between Kenya and Uganda.
Author Profile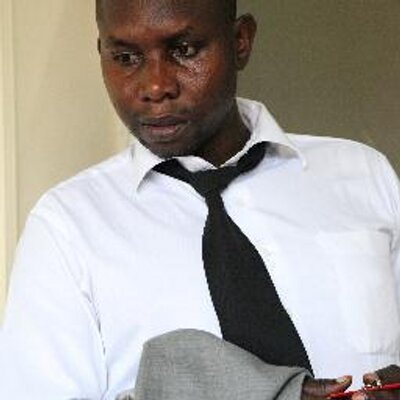 Fred Daka Kamwada is a seasoned journalist, blogger and political analyst for over a decade in Uganda