• A close Study Reveals That Dictatorships Tend to Elevate Women to Bigger Positions to Block men of high caliber from challenging them
As recent as one hundred years ago, women were widely regarded as one of the inferior races of humanity followed closely by the black race which was regarded as primitive, uncouth and only fit for slavery. Napoleon Bonaparte the great is widely quoted as having said that women were a good species designed for the kitchen. On his part, Ugandan despot President Idi Amin suggested that it would be a wise decision if he put women in charge of all big hotels because they were conversant with cooking.
The United States of America prides itself on championing the cause for civil liberties and democracy, but it's shocking that they never allowed women to vote in the national elections until 1926 after the nineteenth amendment of equal rights. Until recently in Africa, women were widely degraded that they were not permitted to eat delicacies like chicken, fish, grasshoppers which men enjoyed without any remorse. In fact, Africans considered the girl child important ONLY when it came to the time for paying bride price otherwise African men had the tendency of considering boys as the first-choice priority for amenities like education, health etc.

The Ugandan Version:
Therefore, given that trend of women marginalization, something had to be done to rectify those injustices against the girl child in particular, and women in general. After the end of the cold war in 1990, issues of women emancipation and affirmative action came to the attention of the world. It became such an issue that nobody opposed or challenged the need for women emancipation. During the drafting of the Ugandan constitution in 1994-95, senior women politicians became very vocal in asserting the rights of the girl child. Great women like Winnie Byanyima, Miria Matembe, Specioza Wandera Kazibwe, Victoria Ssekitoleko, Janat Mukwaya and many others legislated for affirmative action of women in the country.
They suggested that the girl child should be entitled for an extra entry point to Makerere University. This meant that although boys and girls were sitting for the same exams, the girl child was supposed to be awarded an extra entry point to university. They also legislated that every district should have a women representative in Parliament. This parliamentary seat had to be contested specifically by women in every district but at the same time, they had the right to challenge men for the constituency seat which had men in the mix. With the creation of every new district, you get a woman to contest unchallenged for a Parliamentary seat. Because women had not held big positions in African politics before, President Museveni exploited that opportunity by appointing the first African woman Vice President in Dr. Specioza Wandera Kazibwe.
The Scandal:
But it's interesting to note that Dr. Wandera Kazibwe immediately got involved in scandal after scandal, culminating into her exit from the Vice Presidency and her docket as minister of agriculture. She is actually remembered for swindling money which was meant to dig valley dams in Karamoja. Today, Karamoja suffers from extended droughts because of lack of valley dams. From Dr. Kazibwe, we have had the Ugandan President appoint several women to bigger positions, ending up scandalized to unbelievable proportions.
For instance, this week the parliamentary Committee on State Parastatals cross examined the executive director of Uganda Airlines, Ms Jenifer Bamuturaki, over USD120, 000 cash she was given to travel abroad but never did. When she was questioned by the COASSE Chairman Hon. Joel Ssenyonyi why she never traveled but still kept the money, the lady arrogantly refused to respond! During her reign as the director of the Ugandan Airlines, the country has lost over shillings 4.5BN in a space of just two years!
Just as the Bamuturaki debacle was unfolding, another arrogant woman by the names of Hon. Parcis Namuganza walked out of the Parliamentary committee which was cross examining the shenanigans she had been involved in the past by reasoning that they had to first produce evidence before they summoned her. But where does President Museveni get these women from? Why is it that they all end up in scandals? When Jennifer Musisi was given the role of Executive Director of Kampala City, she left the city dwellers in terrible tears as she embarked on demolishing structures she considered to be unfit for the city.
Her shock-and-awe working style actually left Kampala city in worse condition than where she found it. President Museveni has appointed another woman, Dorothy Kisaka, to run the KCCA affairs but with terrible results as she has embarked on an initiative called the Smart City Initiative which has involved demolishing roadside phone booths, kiosks and structures without recourse for humanity. In that initiative, the KCCA enforcement teams attack traders at night and scavenge on their produce. If an initiative is for the good of the people, why do you enforce it at night? Then, enter Justice Catherine Bamugemereire who was appointed to chair the probe into lands but almost made a mess of the probe by engaging in unnecessary shouting matches with the people she happened to cross examine.
Today the country is dominated by women in almost all spheres of life starting from the Vice Presidency which is occupied by the woman by the names of Hon. Jessica Alupo, the Prime Minister called Hon. Robina Nabanja, the Speaker of Parliament by the names of Hon. Annet Anita Among. And guess what? These ladies are already clashing over power. The other week, the Speaker clashed with the Prime Minister Nabbanja, over the Nyege-Nyege music event with each one giving conflicting directives on whether it should take place or not. Going by the trends, the country is braving for the probability of a woman President since they are already well positioned with the docket of the Vice President, to take over in case of any eventuality.
Having a woman President is not an issue of contention in itself, but having scandalous women is an issue that raises serious questions. Why should the President always appoint women with questionable integrity, in big positions of responsibility? Is he afraid of men? Research actually shows that while Sweden, Iceland and most of the Scandinavian countries lead in the gender equality initiative, in Africa its dictatorial leaders that have taken it to a higher level. If you checked countries with the highest number of women in big positions, you will find dictatorships like Rwanda and Uganda on the top list of gender equality. It seems that dictatorships tend to have inferiority complex of not wanting influential men around them. You might NOT have forgotten that Col. Muamar Ghaddafi was guarded by women. Are dictators terrified of men of high caliber around them?
Author Profile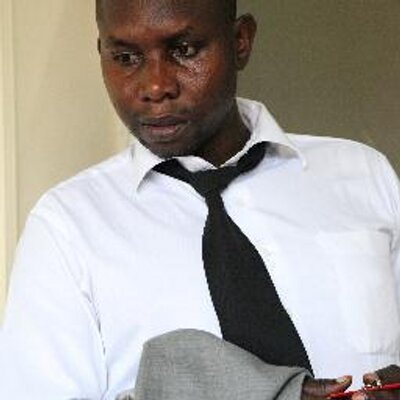 Fred Daka Kamwada is a seasoned journalist, blogger and political analyst for over a decade in Uganda