The DRC is the largest country in sub-Saharan African continent, only second to Algeria, and also, believed to be the size of Western Europe. But for the last 60 years, it has suffered the ignominy of being labeled the sick man of Africa! This, due to the poor leadership that has failed to galvanize it as a viable state.
For the last 24 years, it has been a sanctuary for over a hundred rebel groups with each trying to assert a different territorial presence. For the last few months, the M23 rebel group has been in the news for causing all sorts of chaos in the East, to the extent of taking over a whole town of Bunagana, prompting EAC member states to mobilize troops to secure peace.
The M23 openly insist that it was formed to protect the Kinyarwanda speaking Tutsi peoples in the Eastern enclaves of Kivu Province. The African leaders have done their usual drama of talking, talking and talking without reaching a fitting conclusion, yet the solution is all-over the place.

Congolese President Etienne Tsesekedi and all his predecessors starting from President Joseph Mobutu, Laurent Desire Kabila and his son Joseph Kabila, must have all known that this country is too big to be governed by one man from a remote Capital of Kinshasa – but they all put on a brave-pretense face that all was well.
This country started disintegrating in the 60s when the political dynamics failed to add up. This is when the first Prime Minister, Patrice Lumumba fell out with the Belgians whom he openly told to leave the country to the native Congolese. He also made statements which were interpreted as communist-leaning, which angered the capitalistic West, culminating into his brutal assassination.
From that moment, the country first became President Mobutu Tseseko's plaything before it degenerated into a theater of political schemes, economic exploitation and incessant civil wars. The Katanga province had tried to secede from Congo but was defeated. However, it was dissolved in 1963 following an invasion by United Nations Operation in the Congo (ONUC) forces, and reintegrated with the rest of the country as Katanga Province.
If the Katanga leader, Moise Tsombe had managed to secede from the bigger Congo, it would perhaps have translated into a direct blessing of that country with a huge possibility that it should have developed into one of the most advanced African countries on the African continent. And, it would have had the domino effect of tickling other provinces to follow suit and advance their self-determination agendas into viable stable states.
Therefore, it's fair to say that frustrating Katanga from seceding from Kinshasa was one of the most unfortunate episodes of that country. This stance, because it destroyed an opportunity for Congo to split basing on original, historical foundation, unlike other African countries that were designed and crafted by the colonialists.
Case for self-determination
Some of us feel that African countries which were designed by the colonialists at the Berlin conference of 1888, should be dismantled to fit into the dynamics and realities of African societies. This Berlin conference was the one that led to the unfair, insensitive territorial designs that have led to the constant bickering and under development of Africa.
History shows us that a country needs to have societies that are homogenous to qualify the billing of a sovereign country. When you look at most of the European countries, you will find that most of their territorial designs were carefully based on homogeneousness of societies. In fact, it's fair to say that Part of the reason why Japan and China managed to develop this much was because they were built on homogenous peoples who shared the same social-cultural values and a common history.
When Otto von Bismarck was fighting to unify Germany, he made sure that all German speaking communities are liberated and fused into what later became the mighty Germany you see today. Before Bismarck`s efforts, the Germans had been scattered all over Europe in different territorial enclaves.
He made the tough decision by starting from Prussia as a nucleus to liberate all Germans and made a famous proclamation that German unification was not going to be achieved by nice speeches of the politicians. He insisted it would be achieved by iron and blood. And indeed, by iron and blood, we got the emergence of the mighty Germany which still enjoys the honors of being the biggest economy in Europe.
Bankrupt Africa
Now this is what has failed to take place in most African countries. The leadership of African countries is aware that these territorial designs were dubiously crafted by the colonialists but they have spectacularly failed to do anything about it. Although some few intelligent Africans tried to resist this colonial territorial design, they were fought and defeated by the brainwashed fellow Africans.
For instance, in Nigeria there was the Biafra civil war which resulted from ethnic, economic, religious and political tensions which forced the Igbo ethnic group, the majority in the Eastern Region, led by a military officer Odemegu Ojuku, to announce secession from Nigeria. But the bankrupt and colonial Nigerian military officers fought and defeated the secession efforts of Biafra.
They forgot that the Ojukus who were fighting for self-determination of Biafra were trying to create a country based on original African territorial design composed of Africans from the same ethnic background and language. The territorial designs of the colonialists were so insensitive that they divided people who speak the same language into two. We shouldn't have had Ugandans divided along the borders of Kenya and Uganda, Sudan and Uganda, Zaire and Uganda and Rwanda and Uganda that has led to social disintegration and disharmony.
There is a case of two brothers assuming senior government positions in two different countries. Aggrey Awori became a minister in Uganda and his brother Moody Awori became Vice President of Kenya. What a shame! We should have had wars of self-determination to resolve those territorial contradictions. Despite of possessing limited education, President Idi Amin tried to dismantle those colonial territorial designs by trying to annex parts of Kenya and Tanzania that had Ugandans.
The Much-needed Splitting of Congo
Now for the case of Congo, you have ethnic groups that feel threatened by other ethnic groups compelling them to create local armies for protection, because the bigger state in Kinshasa cannot protect them. The Kinyarwanda speaking people have formed their army in the form of M23 on the pretext of self-protection.
Likewise, the wa-Ndande, the Lendu, the Hema, the Mai-Mai and many other ethnic groups have also formed their militia armies to protect selves from probable genocide. This scenario is enough to justify the self-determination of these people into viable states. But the problem is that the African leaders are too bankrupt to agitate for self-determination of these people.
They fear to tell Kinshasa that it should prepare for the secession of some parts of its territory into viable states to avoid this unending instability. They regard themselves as Pan-Africans, but they have no clue as to what needs to be done to achieve a viable stable African state. These African leaders demonize colonialists but have failed to dismantle the colonial territorial designs of the imperialists.
You cannot agitate for African unity in a continent of peoples who are disunited by ancestry and language, to an extent of annihilating each other. You need to first acknowledge these social differences before you unite into one. For instance, the Sub-Saharan Africa managed to easily unite with the Maghreb Arab north by first allowing the Arabs to forge their own territorial entities with respect to religion and language. But despite of that first act of seeking homogeneity, the Arab north managed to integrate with the Sub-Saharan south into one Africa after first taking care of their own homogeneity in their own backyard.
This is the same model that we need to introduce to parts of Africa that have failed to stabilize. Congo will only stabilize when an original African territorial design that respects ethnic differences and social dynamics is crafted out. How can a country bigger than Western Europe remain unstable for this long without getting dismantled into viable states?
The Way Forward
Since the issue is rotating around Rwanda and the interests of the Kinyarwanda speaking people in Congo, then a hard decision must be made to allow Rwanda to annex all territories with Kinyarwanda speaking people under one administrative unit. This would automatically mean that areas like Bunagana should be added onto Kigali to accommodate all the people who have something common with Rwanda.
In the same breadth, Uganda should seek to annex all the Rwenzori Mountain territories in a bid to integrate the Bakonjo on the Congo side into Uganda. This is because the Nande of Congo and the Konjo people of Uganda are a single ethnic group, which they call Yira (Bayira). They trace their origins to the Ruwenzori Mountains between the two countries.
The languages Nande and Konjo are close enough to be considered divergent dialects and therefore, be easily integrated into one Uganda. If Uganda doesn't possess the balls to do so, they should allow the Yiira Republic to go ahead with their secession plans. Uganda can also annex Congolese parts of Mahagi to integrate the Alu people in Orientale province.
After catering for the territorial interests of Uganda and Rwanda, other provinces of Congo should seek for self-determination by breaking off from Kinshasa and devolving into a viable sovereign state. And this can only be achieved by iron and blood, just as Otto Von Bismarck once remarked during the unification of Germany.
Author Profile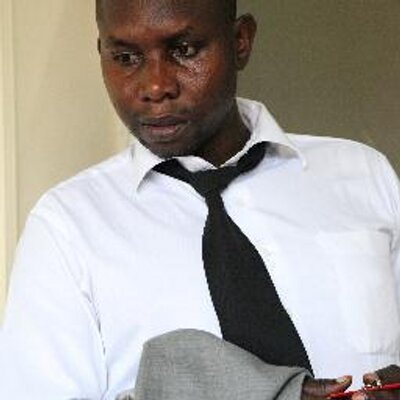 Fred Daka Kamwada is a seasoned journalist, blogger and political analyst for over a decade in Uganda