Last week, the state minister for Investment and Privatization, Hon Evelyn Annite managed to oversee the retake of Uganda Telecom Company, whose majority shareholder, Libya's LAP Green had opted out of business.
The two shareholders, Ugandan government and Lap Green were blaming each other for the mismanagement that caused UTL's bankruptcy. LAP Green decided to suspend all financial support to the incumbent operator before being finally dismissed by the government.
During that forum, she openly bragged that the UTL Company intends to have an all-Ugandan workforce. "We are having a company (UTCL) that is 100 percent Ugandan and the President has ordered that it should be run as a national company without involving investors," said Evelyn Anite. At the moment, the company has got a 5% non-Ugandans on its books but Annite categorically stated that UTL will not have any foreign expatriates in its ranks in the next few months.

The Ramifications
This statement not only sounds naïve! It also has the direct consequence of exposing Uganda as a country with a xenophobic agenda in the recruitment policy of its workforce. It not only has a sectarian connotation but also has the negative effect of exposing Uganda as a lone wolf player in the global economy.
It also means that Ugandans have no moral authority to complain about racism and rejection of Ugandans who seek lucrative jobs in foreign countries. Yet the reality of the global economy is that each country pursues liberal economic policies that are all embracing in consistence with the spirit of the international labor organization that seeks to spread equal job opportunities with free movement of labor across the global spectrum.
It's this same chauvinistic policy that is being pursued at the Uganda Airlines which has the employment ratio of nationals to expatriates standing at 92% (Ugandans) to 4.7% (non- Ugandans) Having such an employment ratio may not be a problem. But pushing it as a policy makes it sound very sectarian. It's not consistent with the growing spirit of regional integration, the unity of Africa and globalization in general. Bragging about an all-Ugandan workforce is even worse than President Idi Amin's economic war that saw him expelling Indians from Uganda with the populist objective of indigenizing the economy.
The Controversy around BUBU
It's as controversial as the Buy-Uganda-Build-Uganda (BUBU) policy that seeks to force Ugandans to buy Ugandan products at all costs, regardless of the quality or price of the product. This, supposedly in a bid to enforce an import substitution strategy. On so many occasions we have complained about this BUBU policy and argued that it's not consistent with the principals of the global economy.
It's more of a protectionist approach that seeks to lock out regional allies. Protectionism refers to government policies that restrict international trade to help domestic industries. Protectionist policies are usually implemented with the goal to improve economic activity within a domestic economy but can also be implemented for safety or quality concerns.
But this has issues in the sense that it's also a counter force to President Museveni's aspiration for a regional market through the forging of the East African Federation, the African Unity and Globalization in general. It's risky because it can provoke other countries to pursue the same protectionist policy that tantamount to rejection of your exports.
When countries are building a self-reliant economy, they don't go around shouting that they intend to stop imports and force their citizens to buy local products. They simply assemble superior products that out-compete other products on the global market. For instance, Germany produces the Benz Car product. But they don't stop Japanese Toyotas from penetrating the Germany economy!
While you find that America is producing Ford cars, they also have Benz and Audi cars from Germany, Fiat cars from Italy and Toyotas from Japan. But the Ugandan government has got the bankrupt tendency of thinking that the only way of building a local economy is by stopping foreign products from penetrating the local market!
They do this (block imports) by imposing very high taxes on the imported products, exposing the local citizen to a very high cost of living in the process. The best thing should be to quietly build industries that can produce goods that have better quality than the imported products. Now the onus is on the local citizen to decide to either buy the local product or opt for the imported ones.
But making proclamations about the import substitution sounds very primitive and brushy. And enforcing BUBU through a very tough tax regime is more than brutally against the locals and the regional actors. Why? Because it's another way of pursuing a protectionism policy that tends to have a boomerang effect as other countries can also do the same to your products.
For instance, when Uganda was forcing Ugandans to buy Ugandan sugar, Kenya also imposed a ban on Ugandan sugar from entering Kenya. The Kenyans went ahead to enforce a ban on Ugandan maize by claiming that it had poisonous germs that make it unsuitable for human consumption!
Kenya's Agriculture and Food Authority wrote to the Commissioner of Customs in the Kenya Revenue Authority, stopping any further importation of maize from Uganda with immediate effect, after citing high levels of mycotoxins, poisonous germs, in the maize imported from the two countries. When the Ugandan maize got stuck at the Busia-Malaba border, the local Ugandans cleverly converted it into animal/chicken feeds. When the NRM government realized that the poor-quality maize that had been rejected by the Kenyans had been converted into animal feeds, they quickly swung in action and imposed taxes on animal feeds, claiming that it was imported!
This led to a stalemate between the traders of these animal feeds and Uganda Revenue Authority. The consequence was, the price of chicken and the eggs rose higher. The poultry farmers had to close business because they couldn't afford the rising prices of chicken feeds. The URA officials insisted that they had express orders to tax these animal feeds because they were enforcing a patriotic BUBU vision which entails that Ugandans buy Ugandan products at all costs.
The animal feeds in question included CONCETRATES which they claim was imported well as it had local content in the form of local maize. This mess has led to the rising prices of local maize on the local market because the animals are competing with human beings for food. Today, the average price of maize has more than doubled from UGX2,000, to over UGX4,600 per kilogram! These are the pertinent reasons why the cost of living has become very tight in the country. Such scenarios are completely uncalled for.
Government should first build its production potential that can satisfy the local market before it embarks on blocking imports through aggressive taxes. These imported products supplement the quality on the market through useful completion. When you block imported rice, for instance, it will not help matters because the local rice producers will neglect their products since they are assured of a ready market of the locals.
This will help to reduce inflation that arises from the high prices which affect us when imports are taxed highly. The Ugandan government tends to implement good polices in a very a malicious manner. The way forward? If you want Ugandans to buy Ugandan products, it should come through a sustained sequence that does not hurt others.
It needs s to work on the quantity and quality of products that can automatically out compete the imported products from the market. Likewise, having an all-Ugandan workforce can be achieved quietly without making proclamations that make you look xenophobic. It's not necessary to get excited about it because it can attract unnecessary attention which has the negative effect of blocking Ugandans from getting opportunities to work abroad.
Author Profile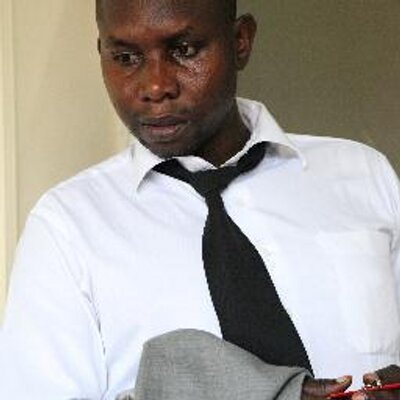 Fred Daka Kamwada is a seasoned journalist, blogger and political analyst for over a decade in Uganda