For the last forty years, the issue of the Banyarwanda has been one of the most contentious in this country. It's the most delicate issues on the landscape that evokes very serious emotions. But when subjected to sober analysis, you will find it to be a very simple and straight forward matter. It's a classic case of tolerance clashing with intolerance.
One of the most dangerous sentiments that has gained currency in the recent years has been the suggestion that the Banyarwanda are an endangered race that faces direct persecution in the region, whereas not. While it has led to the creation of M23 in Congo, it's growing slowly in country Uganda. The Rwandese have a unique but turbulent history behind them that started in 1959 when Gregory Kayibanda toppled King Kigeli that precipitated the influx of Rwandese refugees to Burundi, Congo and Uganda. As a result of this, many of them settled in Uganda and managed to integrate freely in parts of Ankole and the Buganda sub region in south western Uganda.
When they settled in, they managed to intermarry with most of the Bantu speaking tribes, mostly in south western Uganda, and even made efforts to forget their background by taking names and clans of the indigenous Ugandans. At that time and mostly before 1959, only extremely wealthy Ugandan men could manage to marry a Rwandese woman because of their beauty. It became a tradition that every Muganda chief had to marry a Rwandese woman to prove their worth in the community. In fact, Buganda kings including Kabaka Muteesa and even the current Kabaka, are known to have sired children with them. This same trend has continued to spread to most parts of Uganda.

Throughout that time, towards Uganda's independence and beyond President Idi Amin, there was no problem between Ugandans and the Rwandese. In fact, there are serious allegations that Gen Idi Amin had so many Rwandese in the various government departments. No single Ugandan was known to mention the word Rwandese in a derogatory manner because they were living in harmony with all Ugandans.
Enters Obote`s Anti-Rwandese Attitude: But everything changed after the fall of President Idi Amin and the emergence of the UPC government of President Apollo Milton Obote who, started to orchestrate a hate campaign against the Banyarwanda. This, by asserting that they were refugees who had to go back to their country. Obote's anti-Rwandese sentiment was orchestrated by two factors. One was that Obote believed strongly that the Rwandese had worked in Gen Idi Amin's notorious security agencies like the state research bureau for the 8 years he was in exile in Tanzania. Incidentally Amin had managed to recruit so many non-Ugandans from Zaire, Rwanda and with the majority from southern Sudan in the Ugandan security agencies.
When Amin was overthrown by the Tanzania Peoples Defense Forces (TPDF), a whole chunk of Zairean like the notorious Brig Maliyamungu, and a whole bunch of the Sudanese all fled the country. But the Rwandese did not move an inch. Obote was of the view that they had to also leave the country just like the Sudanese and the Zairean. The reason why the Rwandese couldn't leave was because the majority of them had intermarried with the Ugandans and secondly, they had been a few 'lucky ones' who had worked for Amin's government.
Unfortunately for them, Obote couldn't understand the dynamics of their continued stay in Uganda because he considered them as traitors who had worked with Amin. The second born of contention had also arisen from the fact that during the struggle to oust Amin, Obote had a military faction known as Kikosi Maluum which was bitterly opposed to another anti-Amin military faction known as FRONASA, led by a young man called Yoweri Museveni.
Although these two military factions were not necessarily a threat to Amin, they were putting up a fight to remove him from power. Since they had no military capacity to overthrow Amin by force of arms, they luckily co-opted Tanzanian President Julius Nyerere in the direct fight against the Ugandan dictator. During that war from 1972 up to 1979 when Amin fell, they were competing for attention from President Nyerere. Because Fronasa was led by Yoweri Museveni who had co-opted many young Rwandese in his ranks, Obote made a blanket accusation of Museveni being a Munyarwanda who had to leave the country, the same way the Sudanese and Zairean had done after the fall of Amin.
Museveni himself had been part of all the post Amin UNLF governments led by President Yusuf Lule and Godfrey Binaisa where, he served as minister of defence and later on rose to become the Vice Chairman of the Military Commission which was led by Paulo Muwanga. It is this Military Commission that eventually oversaw the 1980 elections. Ordinarily, unverified sources claim that Obote's Kikosi Maluum had to share power with Museveni's Fronasa. But Obote declined to consent to that arrangement. President Museveni actually writes in his book, Sowing the Mustard Seed, that most of his Fronasa boys like the late Fred Rwigyema, Paul Kagame, and others were disqualified from the army and denied a chance to go for further military training on grounds that they were not Ugandans.
When Apollo Milton Obote managed to maneuver the 1980 elections and assumed power, he embarked on the grand scheme to first of all, dismantle Fronasa by disarming them completely. The late Gen Elly Tumwine revealed that the reason why they attacked Kabamba in 1981 was to retrieve the guns which had been removed from them by Obote's UNLA. The second mission was to expel all Rwandese from Uganda. Obote assigned this heinous duty to one of his most trusted ministers by the names of Chris Rwakasis and another one, Peter Otai.
Rwakasisi actually managed to purge Banyarwanda from most parts of Ankole before he attacked the Luwero triangle to enforce the same mission. President Obote did not know that these xenophobic attacks were going to cost him the power that he loved the most. Meanwhile, Yoweri Museveni who was his arch enemy had gone to the bush and declared war on Obote's UPC government in 1981. This development of the Museveni bush war compounded matters for the local Banyarwanda because they all became branded rebels who had to be hunted down and most of them killed in the process.
As matters degenerated from bad to worse, most Rwandese in the Luwero triangle areas had no option but to join Museveni's rebel group in the bush war against Obote. When the war was going on, these Rwandese boys excelled in the fight against the UPC government and assumed powerful military positions. And as time went by, it was inevitable that these boys had to fight the Rwandese government which had expelled their parents back in 1959.
So, they eventually organized an attack on Rwanda in 1990 which culminated in their victory in 1994. But before they could achieve victory, the Hutus had orchestrated genocide on the Tutsis that horrified the world in 1994 where, an estimated million Tutsis were killed by the Hutu extremists. During the promulgation of the 1995 Ugandan constitution, the Constituent Assembly legislated the Rwandese as one of the tribes of Uganda, mostly due to the historical connections we have labored to explain in these pages.
Now as things stand, some opportunists are trying to create a rift between the Rwandese and Ugandans who have lived in harmony for very many years. These opportunists are hawking a suggestion that the Rwandese are being targeted violently by other Ugandans, something that is diabolically not true. Meanwhile another set of opportunists are playing a hate card similar to that of President Obote by claiming that the Rwandese have mismanaged their country, Uganda, and should therefore return to their motherland. These opportunists' groups are making the diabolical mistake of linking these Rwandese to the NRM government in general and President Museveni in particular.
The Reality
All these two versions are being spread by a set of haters and being advanced by complete idiots. Some Rwandese may be enjoying positions in government but it doesn't make all of them NRM or Museveni enthusiasts. In fact, many of the NUP supporters who were kidnapped in the aftermath of the 2021 elections were Ugandans of Rwandese origin. These heinous tribal sentiments must be resisted by all right-thinking citizens. This Rwanda-phobia is being advanced by haters, weaponized by opportunists and being spread around and believed by complete idiots. It's the same tribal sentiment which had been imposed on the Acholis by inciting other Ugandans to regard them as killers, whereas not. It's not true at all that ordinary Ugandans are against the Rwandese and Ugandans shouldn't succumb to such tribal blackmail.
Author Profile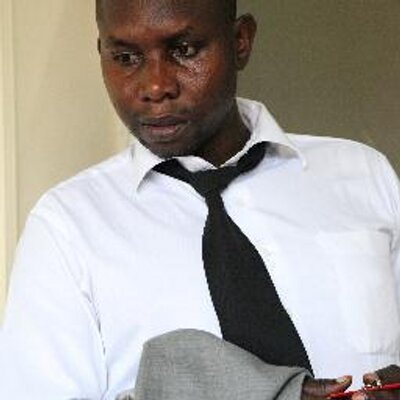 Fred Daka Kamwada is a seasoned journalist, blogger and political analyst for over a decade in Uganda