By Ronald Dennis Bukomba
There is a habit rising among Ugandan revelers of pelting objects such as plastic bottles, stones et cetera at performing artists in order to disrupt their shows and or push them off the stage. On Wednesday (January 1st 2020), it happened to Musician Ibrahim Mayanja commonly known as Big Eye as NBS Television's entertainment news bulletin, UNCUT, celebrated its first year anniversary at Uganda Museum.
He was pelted with plastic bottles, he tried to refuse leaving the stage but as the situation worsened, in order to ensure his safety and maintain calm at the show, the security team led him off the stage. And, immediately, calm was restored. He is not the only artist to have faced such violence.

In 2018, Bebe Cool (real name Moses Ssali) decided to stop performing publicly until further notice after he was "pelted with bottles and stones" at a festival in Kampala on 31st August 2018. The revelers were chanting pro-Bobi Wine and 'People Power Our Power' movement slogans. Other artists such as Catherine Kusasira, Jenifer Nakanguubi aka Full Figure among others have too, not been spared.
On December 26th 2019 musicians, Catherine Kusasira and Jenifer Nakanguubi alias Full-Figure similarly faced the wrath of angry revelers who were chanting People Power slogans at Nabugabo Sand Beach during their Boxing Day concert in Masaka. Catherine Kusasira had just been appointed by President Yoweri Museveni to work as Presidential advisor to the ruling Government. Although her name was missing on the most recent cabinet reshuffle. Again, while in Santon, South Africa on December 1st 2019, Catherine Kusasira was forced off the stage under similar circumstances.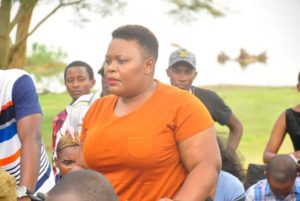 The implication
Firstly, such acts place artists' lives under a threat. There are artists like Bebe Cool who went to extreme and cancelled all public performances for up to three months. One can conclude that Bebe Cool suffered losses during that time. Other artists such as Big Eye are pleading to revelers to allow them work and earn a living. These affected artists' brands and reputation have been adversely affected. To our country, it is a sign of political immaturity and degenerating social behavior. This places a threat to the entertainment and tourism industry.
What is the cause?
Some people have accused Kyaddondo East MP Hon. Robert Kyagulanyi's People Power supporters of leading these attacks against musicians allied to the ruling party. This is because the attacks are made amid chants of the People Power slogans. However, we may identify the cause of this violent behavior from statements made by the affected musicians.
On September 2nd 2018, days after he had been violently pulled off the stage at a music show, Bebe Cool went to his Facebook page and posted thus: "I was pelted with bottles and stones by a group of people purportedly because I do not subscribe to their political beliefs." Bebe Cool has been openly campaigning for the ruling National Resistance Movement. He also led artists in 2016 who sang the "Tubonga Naawe" song for NRM during that year's General Elections.
When Catherine Kusasira was asked about whom to blame for all her disrupted music shows, in an interview with Observer (January 1, 2020), she responded thus: "All that, is the handiwork of people within the system that want to weaken me and prove their point to Museveni that I can't do the job he assigned me."
Be that as it may, Article 29 (1) (e) of the Constitution of Uganda grants every person the freedom to form and join associations or unions, including trade unions and political and other civic organizations. Therefore musicians in Uganda are free to join any political party without the fear of being targeted by anybody. It goes against the law to attack them.