My boyfriend and I have been together for a year now and just like other relationships, we have our ups and downs. Ali is his name. We met in the most romantic way possible. If I tell you about it, you might think its some kind of a fairy-tale; but Its not!
I first laid my eyes on Ali at a friend's party which I initially didn't want to attend. But, at end of the day I was really happy that I decided to go. He was the most handsome guy at the party to me and also had the most gorgeous eyes I had ever seen. His eyes had a sense of authority; the kind against which you wouldn't hesitate to get down and tie his shoe lace if he demanded it. He did smile a bit, though, in a serious cool kind of way. I loved him – a 'love at first sight' kind of thing – and, I believe he did too.
Now, he was gesturing his half smiles to me. Everything turned invisible when he came right in front of me and asked, "can I please talk to you?".

I was sure he was talking to me but still I asked, "Me?".
"Yeah, you," he replied.
I blushed and clinged to the hand he'd offered to me without hesitation. I supposed he wanted us to talk in a more quiet place. Since then, he and I became Inseparable. Our friends were all sure we wouldn't last a month together because of the fast pace which, in all honesty, scared me too.
Fortunately, we made a year last month and I can't believe it myself. This disbelief pushed me to try all kinds of ways to test his love for me. In our early stages i tried tricking him into us just being friends with benefits. Of course, he always chose the relationship over that! I offered an open relationship but still, he chose having me all to himself. Apart from that, we had the usual 'why is he texting you at this time?', 'who is she to you?', 'I need more time with you!' relationship kind of fights.
One day, I came up with the perfect way to test and know his intentions.
"I'm pregnant" I told him.
" What? Are you sure? Check again, it might be invalid."
I told him I'd check again and confirm. He didn't reply; nor talk in the two days that followed. I was disinclined to put him on the spot; I wanted to see him for him.
That evening I received a text from him: Babe,I'm outside your gate. I'm here to talk to your parents.
Me: You'rewhat? Why?
Him: Just comeandI'llexplain to you.We'll go to your parents and break the news to themafter that.
When I went to meet him, I told him everything about the test. I can't say that he was happy about it. But, that's a story for another day. At least now I knew that I had the right person by my side.
Do you have the right person by your side?
Author Profile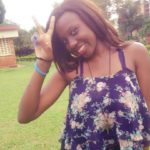 Ketra N Kisitu is a Student of journalism and mass communication at Kampala International University, an inspired writer and novelist