Dating a boy next door is one of the most amazing things that can happen to any teenage girl. I have watched a lot of movies about girls dating hanks that live next door and usually, they are good looking. The type with nice muscular bodies; sometimes they are rich and famous and other characteristics you know.
But also, in most cases, the boys have hidden ugly traits like obsession; some are murderers, others are tormented by their past; and all the annoying things that you guys have watched in movies like Boy next door,The resident, Obsessed, The stepfather; name it!
Growing up as middle classed people , our parents always made sure that most of our schooling was boarding oriented so, we spent very little time at home.

But then, as God loves his children, this time I hit the jackpot because the country was under lockdown. I was finally able to get a chance and fulfill my long time wish of dating a boy next door. Unfortunately I had no male neighbors; the fortunate part was that one of our neighbors had vacated. This meant that if I prayed hard – maybe – I would finally make my dreams come true.
I had a boyfriend but the lockdown made it impossible for me to meet him. So, my day ran along lines of food, sleep, movies; boring, right?
One day, when I was at the shop trying to argue with myself about whether to purchase milk or get airtime instead, some guy who didn't seem to belong in the neighborhood showed up at the front of the shop. He stood aside like he was so unique and patiently waited for the customers that came before him to leave.
I didn't want him to see me watch him but I couldn't stop feeding my eyes with his beautiful face. He was very tall in that his head almost touched the lamp that was hanging outside the shop. He wasn't all that thin but he sure did have well built abs. He had a fresh fragrance and a nice shaved cut. He wore and a very tight sweatshirt which enabled me to see the abs. He had a broken heart tattoo on the left side of his neck. To top it off, he had the most gorgeous eyes that I've ever seen. When I made eye contact with him, I didn't realize he was looking back at me.
The shopkeeper finally tapped me after calling my name for the 5th time.
"Have you made up your mind already? I want to work on that gentleman now," she said with a mocking smile. She had noticed how I was head over heels about him.
With that, I just stood up and headed home in embarrassment. Before I could take a turn, I looked back at the guy and he was looking back at me. My heart skipped!
Author Profile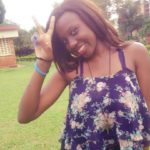 Ketra N Kisitu is a Student of journalism and mass communication at Kampala International University, an inspired writer and novelist